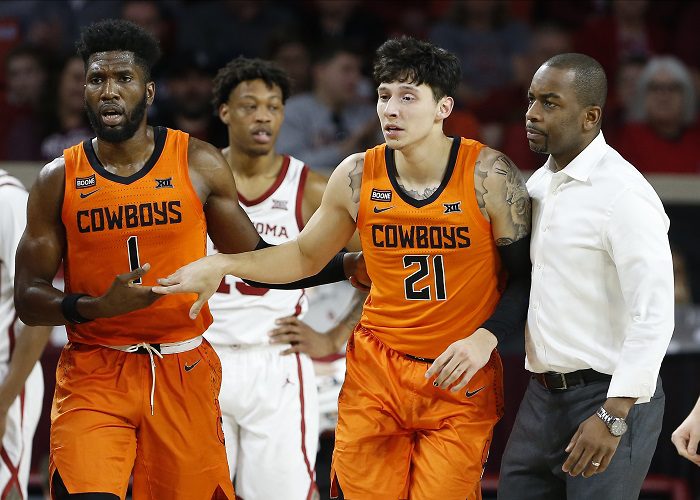 I remember the hope in the eyes of Lindy Waters III at Big 12 Media Days in October. It had been a long journey for him, Thomas Dziagwa and Cameron McGriff.
The three of them came to Oklahoma State in the same recruiting class, gathered by former head coach Travis Ford. They never played for Ford, of course. The Cowboys let Ford go and hired Brad Underwood away from Stephen F. Austin. Underwood took over for the 2016-17 season. The trio didn't bail. They played on.
A season later Underwood left OSU for Illinois in a pay dispute with Cowboys athletic director Mike Holder. The Cowboys elevated Mike Boynton Jr., Underwood's top assistant, to take over. The trio didn't bail, they played on. That season Waters, Dziagwa and McGriff grew as players — Waters and McGriff started — and the Cowboys reached the National Invitational Tournament.
Last season the Cowboys fell like a rock, finishing under.-500 and failing to make the postseason with Waters, Dziagwa and McGriff as starters. The transfer rules were significantly loosened, too. The trio could have put their names in the transfer portal and tried to find a new program for their final seasons.
The trio didn't bail. They played on.
Waters was so hopeful entering this season. So were the Big 12's coaches, ranking the Cowboys — with a full returning starting lineup and a well-respected recruiting class — in the middle of the pack in the preseason poll. I expected plenty from the Cowboys, too.
And now? The Cowboys are staring at their matchup on Wednesday with TCU with a winless record in Big 12 action. And, with a loss on Wednesday night it would match the Cowboys' 0-9 start to Big 8 action in the 1971-72 season.
Monday's action also added further distance between the Cowboys (10-11, 0-8 in Big 12) with the rest of the conference, as Baylor defeated Kansas State, 73-67, and Kansas defeated Texas, 69-58. The Bears and the Jayhawks remain the top two teams in the Big 12, and if the Cowboys lose on Wednesday that means the Cowboys will have as many losses (nine) as the Bears have wins (nine) in league action.
But it's more than wins and losses now. It's about morale. It's about a team that seems increasingly directionless. It's about a team searching, as head coach Mike Boynton Jr. put it after Saturday's loss to Oklahoma, a game I attended.
The optimism that Waters showed off at Big 12 Media Day is gone now, replaced by a season that is perilously close to slipping away.
Boynton knows it. He's been pulling strings the past few games, changing lineups, adjusting rotations and trying to squeeze everything he can out of this team. And, right now, nothing is working.
"We know what to do," Boynton said after the loss to the Sooners. "Can we be competitive enough to make sure it happens in the moment? That's the disconnect for us right now."
Right now the Cowboys are not competitive in the Big 12. Six of their eight losses have come by double-digits. In fact, none of their losses has been a one-possession game. They've consistently been the worst-shooting team in the Big 12 and their 3-point shooting — one of their strengths entering the season — has been off, too. The promise of Yor Anei as a solid center has disappeared, at least for the moment.
But the roots of this lack of success may lie in the team's lack of communication. It was evident on Saturday. Oklahoma forward Brady Manek scored 30 points and at times was left completely uncontested. It took the Cowboys eight minutes to adjust to that and put Isaac Likekele on Manek full-time. Meanwhile, other Sooners picked up the slack while defensive handoffs in the halfcourt and in transition didn't happen.
That was the kind of communication that Dziagwa was talking about on Saturday. He said the Cowboys need to communicate better on ball screens, away from the basketball and in the offense. And it doesn't sound like it's a new problem.
"It's been an issue for this team, particularly in moments of adversity," Boynton said. "Guys tend to go into their own shells instead of wrapping their arms around each other."
That, in of itself, is a huge problem. Adversity is something every college basketball team must overcome. The fact that Boynton would even acknowledge the idea that it's not happening pretty startling.
After Saturday's loss McGriff was quiet. He answered a couple of questions but you could barely hear his answers (it could have been the microphone). Dziagwa answered several questions, and he answered them much like his coach did later in the press conference, with some polished coach-speak that led me to believe that Dziagwa has a future in that profession. Just listen to his answer about team morale (and he asked for the question to be repeated).
"I don't think so," he said. "We have a great group of guys. Guys are optimistic. At the end of the day we just need to compete better and have better communication. It's really on us. But the guys in the locker room are optimistic and I think the positivity is there. But we'll go back to the drawing board and continue to get better."
The drawing board is running out of room, and the Cowboys are running out of real estate to turn this season around. But one thing you can count on when it comes to Wednesday.
Dziagwa, McGriff and Waters will play on, just as they have since they arrived on campus four years ago. This season just isn't going the way they had hoped.
**We now have FREE Big 12 Forums here at Heartland College Sports. Go sign up here and join our conversation! **