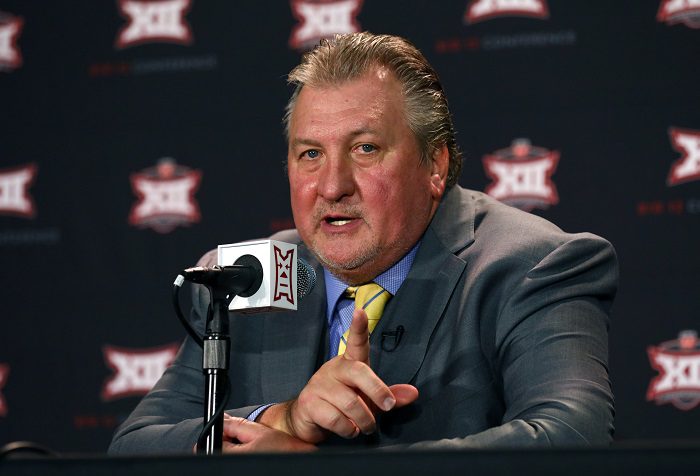 West Virginia head coach Bob Huggins has been in rare company for a while now. When he slipped into the 800-win club a few years ago, he was just one of ten coaches to do it. Without knowing for sure how much longer Huggins would coach, it was hard to project how much farther he would soar up the list.
The 66-year old doesn't appear to be slowing down, and after the Mountaineers' 66-57 win over Kansas State on Saturday, Huggins passed former Kentucky coach Adolph Rupp with his 877th career win, moving Huggins up to No. 7 on the list.
Huggins is probably not be done moving up the list, either. Two wins ahead of Huggins, at 879, is North Carolina's Dean Smith. After that there's a chance to catch another North Carolina coach, Roy Williams, whose Tar Heels are struggling this year. From there it's the 900-win club, which could come calling Huggins by next season. Former Connecticut coach Jim Calhoun and former Indiana head coach Bobby Knight are a smidge above 900 wins. Hugs could pass them both before you know it.
Some use longevity as an excuse to dismiss certain things about certain players and coaches. For Huggins, critics could use the fact that he's never won a national championship, and has only been to two Final Fours as a head coach (once with Cincinnati and once with West Virginia), as if it's easy for elite coaches to reach the Final Four. And, certainly, it's true that all of the coaches that are in front of Huggins at this moment have national titles. Huggins could still win one. This current edition of the Mountaineers looks built to be trouble in March.
But when the Basketball Hall of Fame comes calling — and it surely will at some point, hopefully this season so Huggins can enjoy the moment — it will get a coach who has done nothing but build and rebuild programs his entire life.
You've likely never heard of Walsh College, which is now a Division III school in North Canton, Ohio. Back in 1980, when Huggins arrived, he had been an assistant coach for just four years — two as a graduate assistant at West Virginia and two as a full-fledged assistant at Ohio State. In three seasons Walsh went from an under.-500 team to a 34-win team that won an NAIA district title.
Akron took notice and hired him. Five years later he had four 20-win seasons and his first NCAA Tournament berth. Then Cincinnati snatched him up.
We all know that Huggins made his national reputation with the Bearcats. And, if you look it up, you'll find that Cincinnati won back-to-back national titles in 1961-62 and reached the NCAA final in 1963. But that's not what Huggins inherited. The program he inherited was a shell of that success, one that had just four NCAA Tournament appearances and two NIT appearances between 1964 and 1989, the year Huggins took over.
His impact was immediate. The Bearcats made two straight NIT appearances in his first two seasons, following by that magical run to the Final Four in 1992, which ended with a semifinal loss to the Fab Five from Michigan.
The Bearcats never again missed the NCAA Tournament under Huggins. That 1999-2000 team, the one that won 29 game and rode undefeated through Conference USA play, may have been his best team. It may have led him back to the Final Four, if not for the broken leg of Kenyon Martin. His departure after the 2004-05 season was acrimonious, as he accepted a buyout of the final two years of his contract from university president Nancy L. Zimpher, who was ready to part ways with Huggins.
Cincinnati has remained good since Huggins' departure, but it has reached the Sweet 16 just once since Huggins left.
The Kansas State job was a good fit, but it was impossible to resist the allure of returning home to Morgantown, West Virginia. He was born there. He played at West Virginia. He graduated magna cum laude with a double major at WVU and earned a master's degree at WVU. If there was ever a coach pre-ordained to take over his alma mater, it was Huggins. It only happened because the Michigan Wolverines, the same program that ousted his Cincinnati Bearcats in 1992, stole John Beilein away.
Huggins has been back in Morgantown for 14 seasons now. That sounds almost impossible. His tenure in his hometown is nearly as long as his tenure at Cincinnati. He took the Mountaineers back to the Final Four in 2010 and has taken the program to four other Sweet 16 appearances. This year's team has the goods to be special. Plus, Huggins doesn't have to go anywhere. His contract runs through the 2026-27 season. This is his retirement job, and no one at WVU wants to push him out the door anytime soon.
Huggins' career is special, too. And every win from here means another chance to add to a resume that should leave him as one of the game's most important coaches.