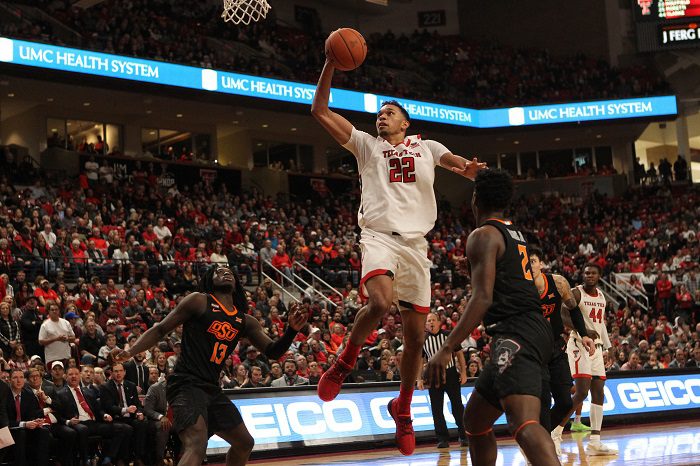 After reviewing each of the Big 12 games for Week 6 of the league season (ending Feb. 8), here is the Heartland College Sports Men's Basketball Starting 5.
UDOKA AZUBUIKE, C, KANSAS
I have to give it up to the big guy this week. He was huge in both wins against Texas and TCU. Against Texas he came off the bench and had 17 points and 12 rebounds in Allen Fieldhouse. Then, against TCU, he had 20 points, 15 rebounds and 5 blocked shots. The latter stat line was the first time Kansas had a player with those numbers since Cole Aldrich did it. I suspect that Azubuike will be the Big 12's Player of the Week.
KRISTIAN DOOLITTLE, F, OKLAHOMA
OU split for the week and Doolittle had a part to play in both games. Despite losing to the Texas Tech Red Raiders on the road, Doolittle had 8 points, 11 rebounds and 2 steals. Then, in the win against West Virginia, Doolittle had a double-double — 27 points and 12 rebounds. He also blocked a shot and had two steals.
DEVON DOTSON, G, KANSAS
Dotson had a double-double against TCU — 18 points and 11 assists. He also had three steals. Against Texas earlier in the week he scored 16 points, had 2 rebounds and grabbed 1 assist in the win over the Longhorns. I made the point in my Kansas piece on Saturday that, while Dotson's shooting numbers are down just a bit from last season, he's up in just about every other category and seems capable of carrying the load for Kansas come tournament time.
T.J. HOLYFIELD, F, TEXAS TECH
Holyfield had an impact in both games for the Red Raiders. In the win over Oklahoma he scored 21 points. He also had six rebounds, an assist, two steals and three blocked shots. Then, on the road at Texas, he only scored two points. But he had an impact anyway. Holyfield had eight rebounds, an assist, a steal and five blocked shots. Holyfield showed on Saturday that, even if you can't put points in the basket, you can do something positive for your team.
MACIO TEAGUE, G, BAYLOR
Teague was on here last week and he had another consistent and efficient set of games. Teague had 15 points against Kansas State. He also had four rebounds, three assists and two steals. Then, against Oklahoma State, Teague led the Bears in scoring with 24 points. He also had seven rebounds and an assists. It's getting harder and harder to ignore Teague as a potential All-Big 12 First Team selection. But there are a lot of great guards to choose from, too.
THE SIXTH MAN
THOMAS DZIAGWA, G, OKLAHOMA STATE
Putting Dziagwa back on the bench is starting to pay off for the Cowboys. In the win over TCU Dziagwa hit four 3-pointers and scored 14 points, which helped the Cowboys to their first Big 12 win this season. Then, in the loss to Baylor, he had 10 points, including a pair of 3-pointers. 
**We now have FREE Big 12 Forums here at Heartland College Sports. Go sign up here and join our conversation! **