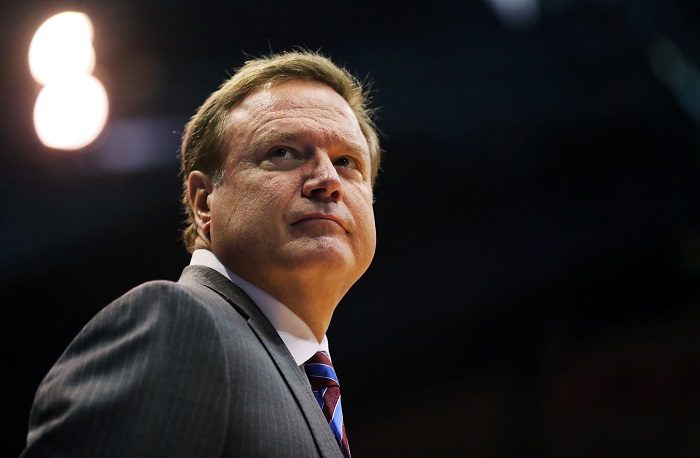 There are just eight head coaches in the history of Kansas basketball. That's since the 1898-99 season. 
One head coach, its first, is the "Father of Basketball," James A. Naismith. Another, Forrest "Phog" Allen, advanced modern coaching to the point where he created the National Association of Basketball Coaches and pioneered the sport's inclusion in the Olympics. The only Kansas coach to ever be fired was Ted Owens. He won 348 games, led the Jayhawks to two Final Fours and six regular-season conference titles.
To say the standards at Kansas are high is an understatement. You take this job, you'd better be ready to get the job done. And Bill Self has done just that since he arrived in Lawrence for the 2003-04 season.
On Saturday he won his 700th career game as the Jayhawks defeated TCU in Fort Worth (Kansas faces West Virginia on Wednesday as Self looks for victory No. 701). He's the second-fastest coach in college basketball history to reach that mark. He has the Jayhawks in contention for yet another Big 12 title, and if the Jayhawks managed to cash in it would be his 15th regular-season title at Kansas.
The Jayhawks did something to commemorate the win on Saturday, as Self told the media afterward.
#RockChalk HC Bill Self on what #KU did after his 700th win after his #Jayhawks played #TCU on Saturday. #KUvsTCU #Big12MBB @Heartland_CS pic.twitter.com/uStb34Z0hX

— Matthew Postins (@PostinsPostcard) February 8, 2020
When I wrote about Bob Huggins last week I made the point that sometimes great coaches like the West Virginia mentor can be dismissed as "longevity coaches," ones who have won a lot of games because they've been around a long time. That is, of course, a mistake when it comes to Huggins. 
Conversely, some might dismiss coaches like Self for the advantages they have. Does Kansas' history and national profile make it easier to recruit? Sure. But to be successful there you have to be able to coach, and it would be ridiculous to assume that Self can't. No one wins 700 games by accident.
You win 700 career games by being successful everywhere you've been.
Self's first head-coaching job was at Oral Roberts. After two losing seasons he pulled ORU above .500 and reached the NIT in his final season, 1996-97. I should point out that ORU was an independent at the time.
That caught the attention of Tulsa, and the Golden Hurricane hired Self to take over in 1997. Three seasons later he had led Tulsa to a pair of NCAA berths and a bravura run to the NCAA's Elite Eight in 2000, winning 32 games.
That was enough for Illinois, which needed to replace Lon Kruger after he left for the NBA and the Atlanta Hawks. Self picked up right where Kruger left off, winning 78 games in three seasons, leading the Illini to a pair of shared Big Ten regular-season titles, three NCAA Tournament berths and an Elite Eight berth in 2001.
Then Roy Williams finally went back home to Chapel Hill, and here we are. As great was Williams' run was at Kansas, we have to remember that Self did the one thing Williams could not in Lawrence — win a national title, coming in 2008.
His resume was more than enough to get Self in the Basketball Hall of Fame in 2017 (yes, he got in before Huggins, who still isn't in). Along with the national title, there are three Final Four appearances, 18 regular-season conference titles and nine conference tournament titles to his credit. But here's one aspect of Self's resume that sticks out. He has never finished worse than third in his conference since taking over at Tulsa in 1997. That's an incredible amount of success and consistency for any coach.
Those outside of Lawrence certainly have their quibbles with Self, not the least of which is the continuing NCAA investigation that seems to have retreated since the season began, and no doubt will resurface when the season ends.
You may think he has it easy in Lawrence with the five-star recruits and the mystique of Allen Fieldhouse. But remember that even the best shopper can be the worst cook.
In other words, bad coaching can screw up even the best talent. Self remains one of the game's best coaches because he can recruit and coach at such a level that it has enhanced the reputation of one of the nation's historic programs. 
Powered by RedCircle