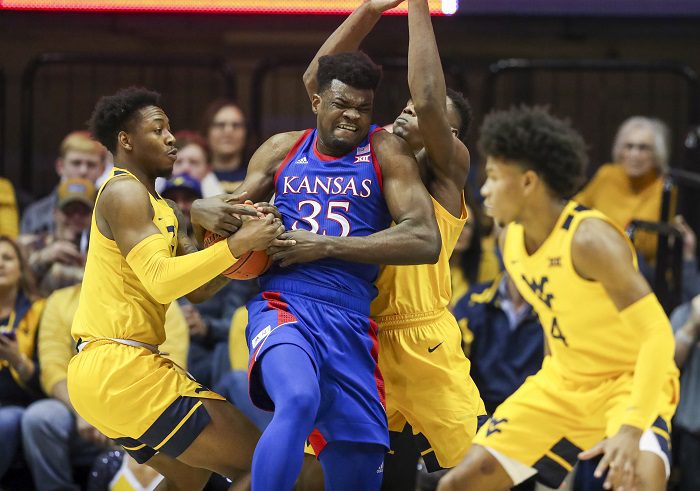 With seven games remaining in the Big 12 men's basketball regular season, here are five takeaways from the weeknight games, which wrapped up on Wednesday with Kansas defeating West Virginia and Oklahoma defeating Iowa State.
MARK FEB. 22 ON YOUR CALENDAR. That's when Kansas visits Baylor and the Big 12 regular-season crown may well be decided.
After the Jayhawks won on Wednesday night, a quick check of the standings showed that Kansas has a three-game lead on the rest of the field in the conference. Baylor, of course, remains undefeated, and has a four-game edge. It would take a complete collapse by both the Bears and Jayhawks to let the rest of the conference back into this race. Texas Tech, for instance, has games remaining against Baylor and Kansas, but even if it won both games help would be necessary.
There are many good reasons to believe this game will be the one. But, here's a really interesting one, considering that game is in Waco, Texas.
💪 @KUHoops and @BaylorMBB continue to dominate in @Big12Conference road games this season. pic.twitter.com/vTxotFMv5U

— FOX College Hoops (@CBBonFOX) February 13, 2020
So at 11 a.m. Central on Feb. 22 fire up ESPN and watch the game that will likely determine each team's fate when it comes to the Big 12 regular-season title. By the way, ESPN, you might want to do something about that game time. That's a showcase game now.
FREDDIE GILLESPIE, DRAFT PICK? That's what ESPN's Fran Fraschilla said about the Baylor senior during the Baylor-Texas broadcast. That's an interesting thought, so let's explore that for a bit.
There is little debate in my mind about Gillespie in terms of Big 12 awards in a few weeks. He will be the Most Improved Player of the Year and will either be First- or Second-Team All-Big 12. I think those are givens. Both his scoring average and his rebounding average are up by about four from last season to this season, and he's darned close to averaging a double-double this season (9.8 points and 8.8 rebounds). If the Bears reach the Final Four, Gillespie is going to be a huge part of it.
But the NBA? A week ago I put together a piece on the top draft-eligible Big 12 players and Gillespie wasn't on that list. I compiled it from ESPN.com and CBSSports.com. In fact, the only Bears player on the list was guard Jared Butler. So I dug deeper. At NBADraftRoom.com I found a mock draft from a few days ago that listed Gillespie as a second-round pick to the Oklahoma City Thunder.
I'm still a bit skeptical he'll be drafted, if only because the NBA Draft, of the four major sports, is the most volatile and you simply have no idea what teams will value. But his improvement from last year to this year is clear. I'll be in Waco on Saturday for Baylor's game with West Virginia, and I'll be interested to see how many scouts are in the Ferrell Center.
Gillespie's rise from Division III basketball to a starter for the nation's No. 1 team makes him one of the feel-good stories of college basketball. Being selected for the NBA Draft would be some exceptional icing.
'FIRE SHAKA.' That's not me saying it. But Texas students on the other hand …
We've got a "Fire Shaka" chant coming from the Texas student section.

— Jeff Howe (@JeffHowe247) February 11, 2020
Monday's loss to Baylor wasn't a kind one to Smart's job security. The Longhorns had their chances to end the Bears' undefeated run through the Big 12, but eight minutes of spirited play at the end of the game wasn't enough. However, in those eight minutes, I saw something that Smart should bottle up and use the rest of this season and I talked about it in my Monday Postgame Periscope.
@heartland_cs #Big12MBB Postgame Periscope w/ #SicEm #HookEm #WreckEm #GoFrogs https://t.co/YoghipRGDU

— Matthew Postins (@PostinsPostcard) February 11, 2020
To review, Texas is now 14-10 overall, but has lost six of its last eight games. Smart is in his fifth season and to this point the Longhorns don't have an NCAA Tournament win under him. I had thought, like many, that last year's run to the NIT title would act as a springboard for the Longhorns into this season. It hasn't worked out that way. At this point, based on the remaining schedule, I see the potential for four more wins for Texas, which would get them to 18 wins. If Texas can snag a couple of more wins in the Big 12 Tournament, that would at least get the Longhorns to 20. Is that enough for the NCAA Tournament committee? Maybe? Maybe not?
More importantly, is that enough for Texas alums and athletic director Chris Del Conte?
As reported by the Austin American-Statesman's Brian Davis, Smart would be due a $10 million buyout if Texas lets him go. The more important question is who would replace him? I put that out on Twitter and got a few interesting options, which I talked about in the Periscope. Certainly, if the Longhorns made a move one of their first calls would be to Texas Tech coach Chris Beard (I think it's more likely than not he would turn down the Texas job). But another name was suggested by a follower on Twitter that didn't make it into my Periscope — Illinois coach Brad Underwood, who has returned the Illini to the Top 25 this season. Big 12 fans are familiar with him from his one season in Oklahoma State (and, at this point, some Cowboys fans probably want him back).
I think one thing is for certain when it comes to Smart. We won't have resolution on his situation until the season is over. I think Texas wants to see what he can do with these Longhorns down the stretch before it makes a final decision.
TECH RISING. When I saw Texas Tech in person against Kentucky last month I made the point on a radio hit after the game that I thought the Red Raiders were ready to turn a corner. I think we're there.
Tech had a 2-4 stretch that culminated with the overtime loss to Kentucky. Since then the Red Raiders are 4-1, with the only loss a three-point loss to Kansas on the road. Among those four wins is the home victory over then-No. 14 West Virginia, a nice bounce-back after the loss to Kentucky. Since the Kansas loss the Red Raiders have won three straight (vs. Oklahoma, at Texas, vs. TCU) and returned to the Top 25 at No. 23.
The potential exists to enhance that ranking the next three weeks — at Oklahoma State, vs. Kansas State, at Iowa State, at Oklahoma and vs. Texas. Texas Tech has beaten all five of those teams already this season, so if they can sweep this stretch that would put the Red Raiders at 21 wins and certainly bump them into the Top 20.
Why is that important? The Red Raiders end the season at Baylor and hosting Kansas, and those games have the potential to alter seeding in the Big 12 Tournament. I could see Texas Tech claiming the No. 3 seed coming out of regular-season play and that would likely keep them away from Baylor until the Big 12 title game, should they get that far.
This surge is due to a few factors. I think Jahmi'us Ramsey is finally back in a groove and has led the Red Raiders in scoring three of the last five games. The 3-point shooting has improved, led by Davide Moretti. The Red Raiders are playing nine deep comfortably now. Chris Clarke is back from his ankle injury. Texas Tech is becoming a team that no one in the NCAA Tournament is going to want to play.
The overall record matters of course. But it also matters how you're playing at the right time. And Texas Tech is starting to look like a team that's peaking at the right time.
BRACKETOLOGY SEEDING. Let's take a quick look at ESPN.com and CBSSports.com Bracketology as of Wednesday night.
ESPN.com: Baylor (1 seed), Kansas (1 seed), West Virginia (3 seed), Texas Tech (6 seed), Oklahoma (10 seed).
CBSSports.com: Baylor (1 seed), Kansas (1 seed), West Virginia (3 seed), Texas Tech (8 seed), Oklahoma (8 seed). Texas is a First Four Out team.
Our Pete Mudo talked to VSiNLive's Greg Peterson and he agrees with the assessment of both ESPN.com's Joe Lunardi and CBSSports.com's Jerry Palm.
"How many #Big12 teams will make the #NCAATournament?" @GUnit_81 of @VSiNLive gives his thoughts on this week's show!

Full interview here: https://t.co/tK93RGVEif pic.twitter.com/oWTTwJ0VQx

— Heartland College Sports (@Heartland_CS) February 12, 2020
If you're into NIT Bracketology (and gosh, who isn't), here is where Big 12 team stand at dratings.com:
Texas (4 seed), TCU (7 seed).