Baylor Bears
Baylor Bears, Kansas Jayhawks Tied With Three Teams for Best NCAA Championship Odds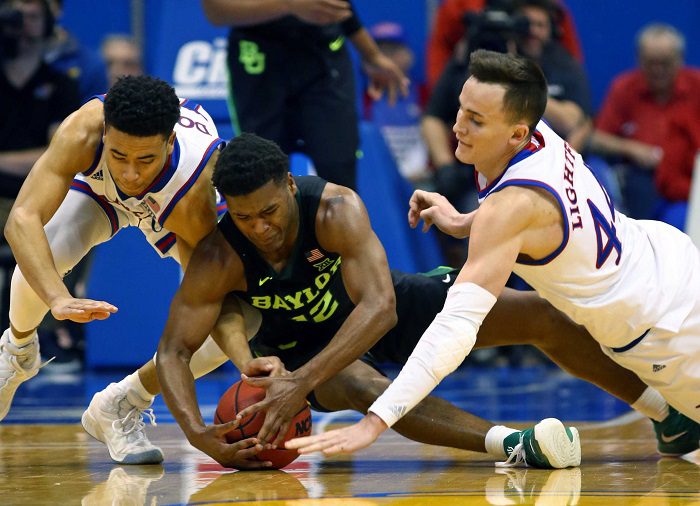 In a year where college basketball is struggling to find its identity, the odds makers are having issues as well. We are halfway through the month of February and there is no clear-cut favorite to win the NCAA Tournament. In fact, there are five teams tied for the best odds to win the National Championship this season and two of them are in the Big 12.
The Baylor Bears and Kansas Jayhawks joined Gonzaga, Louisville and Duke with the best odds to be the National Champions. The Jayhawks and Bears continue to roll through Big 12 play, with each having a good week thus far.
But while there hasn't been those one or two standout teams that the national is captivated by, there doesn't seem to be a ton of talent behind the top four. ESPN proposed the following question in an article this week: Can anyone touch the projected No. 1 seeds?
Then, if you go over to CBS Sports, Gary Parish wonders if there are any great teams in college basketball this season.
Both are fair questions. And while it won't matter much come March, it's made for a season that's biggest story thus far has been the brawl between the Kansas Jayhawks and Kansas State Wildcats. That's not what the NCAA head honchos want to be dealing with or hearing about.
Baylor has itself a test on Saturday as it gets ready for the West Virginia Mountaineers, while Kansas had no trouble taking care of the Oklahoma Sooners. But even in the Big 12, as Matthew Postins and I talked about on the Heartland College Sports podcast this week, it's clear that there is a drop off in the conference after the top two teams and then another drop off to the bottom half of the conference.
In recent seasons it felt like any team could beat any team in the Big 12 on any given night. That has not been the case during the 2019-20 season. And while it might mean that a team in the conference is better suited to make a run at a National Championship, it hasn't made for nearly as interesting of a regular season in the conference.
The Big 12 has produced Final Four participants in three of the past four seasons (Oklahoma, Kansas, Texas Tech), but only the Red Raiders ended up playing for a National Championship, and lost last year to Virginia. We'll see how things play out differently this March, if at all.
**We now have FREE Big 12 Forums here at Heartland College Sports. Go sign up here and join our conversation! **