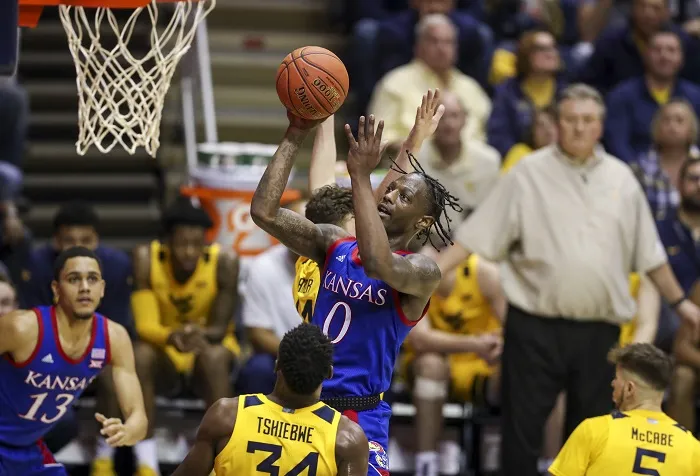 After reviewing each of the Big 12 games for Week 7 of the league season (ending Feb. 15), here is the Heartland College Sports Men's Basketball Starting 5.
JARED BUTLER, G, BAYLOR
Butler picked up the slack with MaCio Teague out with a wrist injury, as he connected on five 3-pointers and scored 21 points in the Bears' win over West Virginia, their sixth win over a ranked team this season. In the hard-fought win over Texas on Big Monday, Butler had nine points, five rebounds, two assists and two steals. Right now he's considered a Top 100 NBA Draft prospect by ESPN.com.
KRISTIAN DOOLITTLE, F, OKLAHOMA
The senior continues to put up steady numbers for the Sooners, who split this past week. In the win over Iowa State Doolittle loomed large with 20 points and 6 rebounds. Then, in the loss to Kansas on Saturday, he put up a double-double — 27 points and 12 rebounds. He's the one Sooner with a shot at first-team all-conference honors at the end of this season and was just named the Big 12 Player of the Week. He's had two double-doubles in his last three games and double-digit rebounds in four of his last five.
MARCUS GARRETT, G, KANSAS
Marcus Garrett finally put up some serious offense to go with his All-Big 12 defensive credentials. Against Oklahoma, Garrett scored a season-high 24 points, along with 5 rebounds, 7 assists and 4 steals in a win over the Sooners. In the road win over West Virginia earlier in the week, Garrett only scored nine points, but he also produced seven rebounds, four assists and five steals.
MICHAEL JACOBSON, F, IOWA STATE
It hasn't been the season that Jacobson was hoping for in Ames. But the senior blew the roof off of Hilton Coliseum on Saturday against Texas, producing 21 points, 13 rebounds and 3 assists in an 81-52 victory. Yes, he only had two points in the loss to Oklahoma, but he also grabbed four rebounds and dished out an assist.
ISAAC LIKEKELE, G, OKLAHOMA STATE
The sophomore guard was key to both of Oklahoma State's wins this past week. Against Kansas State Likekele scored nine points, grabbed seven rebounds and dished out five assists. He saved a better game for the weekend matchup where OSU upset Texas Tech. Likekele scored 14 points, grabbed 7 rebounds, dished out 6 assists and had 3 steals as the Cowboys beat the Red Raiders by three points. The Cowboys have now won three of their last four games after an 0-8 start to conference play.
THE SIXTH MAN
MATTHEW MAYER, F, BAYLOR
There were some solid candidates this week, but with MaCio Teague's injury the Bears needed more from Mayer and they got it. The sophomore scored 13 points and snagged 8 rebounds in just 17 minutes of action against West Virginia, going 5-of-8 from the floor. It was the perfect bench game for the Bears, who had to insert their normal bench star, Devonte Bandoo, into the starting lineup for Teague.
**We now have FREE Big 12 Forums here at Heartland College Sports. Go sign up here and join our conversation! **