Big 12 News
Big 12 Baseball Opens Up With Successful Weekend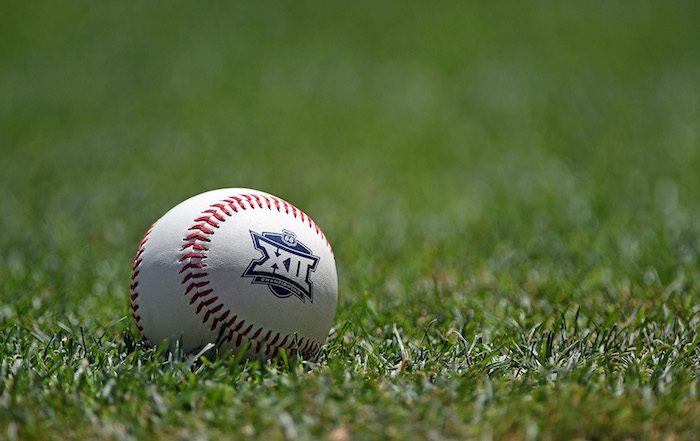 While the weather may not be baseball ready, I hope you are because opening weekend was here in college baseball this past weekend and we had a full slate in the Big 12. While some teams started off hot, others struggled a bit but no matter what, I will go over each weekend series from all nine (Thanks Iowa State) Big 12 baseball teams.
Texas Longhorns (3-0)
Friday: Beat Rice 7-4
Saturday: Beat Rice 4-0
Sunday: Beat Rice 5-4
The Longhorns started off the year with a three-game sweep over the Owls and believe it or not, it is the first 3-0 start for Texas baseball since the 2009 season. Zach Zubia and Murhpy Stehly went yard in game one to lift Texas up on Friday night while the pitching dominated on Saturday night thanks to starting pitcher Ty Madden. Madden also had Pete Hanson and Andre Duplantier II help seal the deal to keep the Owls scoreless in game two. In the series finale Texas jumped out to a 5-1 heading into the bottom of the sixth but managed to squeak by with a 5-4 to complete the sweep.
Next Up: vs UTSA on 2/18
Baylor Bears (2-1)
Friday: Lost to Nebraska 19-7
Saturday: Beat Nebraska 8-7
Sunday: Beat Nebraska 7-2
After a disastrous first game (where they gave up 11 runs in the first inning), Short Stop Nick Lofton's three RBI's helped push the Bears over the Huskers although Baylor did go into the fifth inning up six to one. In the series finale, Baylor pitcher Hayden Kettler shook off a bit of rust before getting control as Nebraska went scoreless in the final six innings.
Next Up: vs Arkansas-Pine Bluff on 2/18
TCU Horned Frogs (3-0)
Friday: Beat Kentucky 5-1
Saturday: Beat Kentucky 7-1
Sunday: Beat Kentucky 10-5
While third baseman Connor Shepherd had three ribbies in game one, the TCU pitchers (Johnny Ray, Haylen Green, Marcelo Perez and Riley Corelio) combined for eleven strikeouts. The bats were even better in game two and thanks to some excellent pitching once again, the Wildcats had no answer for the TCU arms. The Sunday matchup was another hitting shot for TCU. Short Stop Tommy Sacco had four RBI's and the Horned Frogs went yard three times thanks to Gene Wood (twice) and Gray Rodgers.
Next Up: vs Abilene Christian on 2/18
Texas Tech Red Raiders (4-0)
Friday: Beat Houston Baptist 5-1
Saturday: Beat Houston Baptist 24-3 and Beat Northern Colorado 22-4
Sunday: Beat Northern Colorado 14-3
Tech didn't do anything crazy in the season opener but on Saturday and Sunday, the bats came alive and that's an understatement. In the first Saturday game, Tech combined for six dingers and three of them came from true freshman Nate Rombach as he racked up a whopping seven RBI game. He did much of the same in game two on Saturday as he had four RBI's including another home run. Meanwhile, on Sunday the Red Raiders managed the run rule Northern Colorado and thank goodness. I know Tech beat down some bad teams, but those bats stayed on fire all weekend long.
Next Up: vs Tennessee on 2/21 for the Round Rock Classic
Oklahoma Sooners (2-1)
Friday: Lost to Virginia 6-0
Saturday: Beat Virginia 7-2 and 5-1
The Sooners kicked the 2020 season off in the Wahoos Classic out in Pensacola, Florida. It was a sloppy game one for the Sooners as they mustered just two hits on Friday night however things turned in their favor on Saturday. In game one of the doubleheader, Oklahoma jumped out to a 6-0 lead in the fifth inning and pitcher Levi Prater struck out five in just a little over four innings of work. In the second game, first baseman Tyler Hardman broke a 1-1 tie in the seventh inning with a two-run blast to give the Sooners the lead as they never looked back. Give the pitchers credit because Dane Acker, Wyatt Olds and Jason Ruffcorn combined for eleven strikeouts.
Next Up: vs Texas Southern on 2/18
Oklahoma State (1-2)
Friday: Lost to Grand Canyon 10-3
Saturday: Beat Grand Canyon 6-4
Sunday: Lost to Grand Canyon 9-3
It was a sloppy start in the desert as the Pokes were down 7-1 after three innings on Friday night. Starting pitcher Bryce Osmond was rocked for five runs in just two short innings and the Cowboys could never quite dig out of that hole. However, the offense picked up on Saturday as they racked up a three run eighth inning thanks to some key hits by Kaden Polcovich, Jake Thompson and Alix Garcia. Even though the Antelopes made things interesting in the ninth, the Cowboys got by. But just like in the Friday game, Grand Canyon lit up another Oklahoma State pitcher as Justin Campbell gave up five runs in three innings and it turned into a 5-0 ballgame in the third inning. And just like in game one, the Pokes couldn't dig themselves out.
Next Up: at Arizona State on 2/18
Kansas Jayhawks (2-1)
Friday: Lost to Belmont 6-0
Saturday: Beat Belmont 5-1
Sunday: Beat Belmont 7-6
The first game score sums it all up. The Jayhawks started their road series opener in a 6-0 dud as they only had three hits and the pitching never seemed to get on track. But the tide turned in the final two ball games. By far Kansas played their best ball on Saturday with a 5-1 victory where they put together a three run eighth inning thanks to three walks from Belmont. On Sunday, Kansas chalked up a five run first inning thanks to Jack Wagner, James Cosentino and Skyler Messinger to give the Jayhawks a 5-0 lead. But thanks to some shaky pitching, Belmont tied the game up in third inning. Luckily for Kansas, catcher Anthony Tulimero hit an RBI double in the fourth and short stop Benjamin Seems hit a home run in the seventh to hold off Bruins for the series win.
Next Up: at Charleston Southern on 2/20
Kansas State Wildcats (1-2)
Friday: Lost to UTRGV 5-0
Saturday: Lost to UTRGV 5-3
Sunday: Beat UTRGV 4-0
It was interesting to see the Wildcats open the season down in deep south Texas and perhaps even more interesting was the fact that they dropped two straight to open the year. In the first game, Kansas State had just one hit in the entire ballgame. In game two, they were up 3-1 but the Vaqueros rallied behind a three run seventh inning. In that game, Eric Torres came in to relieve Connor McCullough, but it didn't go well at all. Finally, in game three, Kansas State got their first victory in a clean 4-0 ballgame. While each team had six total hits, Dylan Phillip hit a two-run bomb in the fourth to get on the board first. Kansas State will get their shot to tie the series on Monday as they once again take on UTRGV in Edinburg, Texas.
Next Up: at UTRGV on 2/17
West Virginia Mountaineers (2-1)
Friday: Beat Jacksonville 3-0
Saturday: Lost to Jacksonville 4-3
Sunday: Beat Jacksonville 2-1
Just like the last four teams on this list, West Virginia started things off on the road in well, you guessed it, Jacksonville, Florida. Game one was basically a snoozer as it went scoreless for the first six innings but finally left fielder Braden Zarbnisky's knocked in two runs in the seventh inning to give the Mountaineers the push they needed on Friday. Game two was a bit of a heartbreaker. Even though Austin Davis hit two RBI singles (sixth inning and eighth inning), West Virginia blew a 3-1 lead in the bottom of the eighth. Thankfully, the Mountaineers battled back on Sunday as they gave up just three hits and one run all game long as starting pitcher Jake Carr gave up the three hits while the bullpen held Jacksonville scoreless and hitless in the final four innings.
Next Up: vs Canisius on 2/18
**We now have FREE Big 12 Forums here at Heartland College Sports. Go sign up here and join our conversation! **