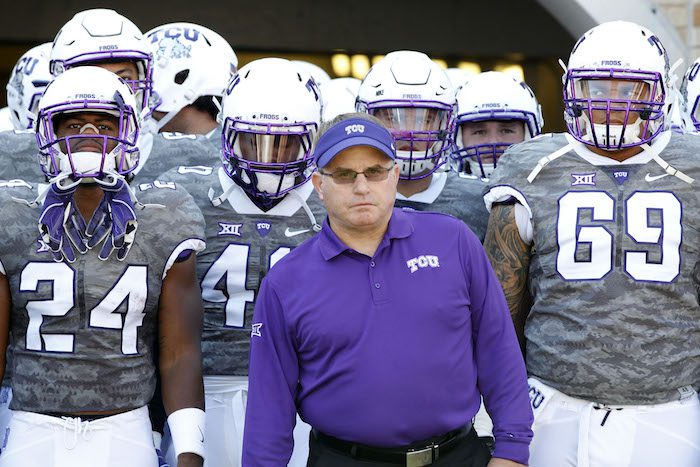 College basketball is heading down the home stretch, college baseball has started, but let's not forget (I know many of you aren't) that spring practice is already getting underway across the country. We will handle spring previews for every Big 12 football team and roll them out based on when their respective spring practices begin. Next up is the TCU Horned Frogs who will start up spring practice on Friday, February 28th.
MOST EXCITING RETURNEE: QB Max Duggan
This wasn't a hard decision here. TCU's offense wasn't very good last season but anytime you have a true freshman quarterback, it can be like a wild roller coaster ride. While Max certainly had his freshman moments, there were flashes that showcased what he can do. He isn't a great passer yet by any means, but his toughness and his gamer like attitude make him a great competitor. Max can make plays with his arm or his legs and hopefully this spring will play a big part of his development to take that next step for the 2020 season.
MOST EXCITING NEWCOMER: OT Brandon Coleman (Trinity Valley C.C.)
Much like their rival Baylor, TCU struggled up front last season and now has a new offensive line coach in Jarrett Anderson who was previously the inside receivers/tight ends coach. Of course, replacing nearly, the entire offensive line from last season puts a great need there and JUCO tackle Brandon Coleman is someone to keep track of during spring ball to take the reins at one of the two tackle spots possibly.
OFFENSIVE STORYLINE TO WATCH: The Development of Max Duggan
I mentioned earlier that Max Duggan was the most exciting player returning but make no mistake, there is still plenty for him to work on. While he does have the skillset to become a good quarterback in the Big 12, there are some things that he will have to address during the offseason, and it starts with spring football. Max completed just 53.4% of his passes last season and threw for fifteen touchdown passes on ten interceptions. Not only will he need to work on his accuracy, but he needs to do a better job of taking care of the football and making those correct quick decisions that a quarterback must make under pressure. It will be interesting to see just how quickly he can become a better quarterback to get this offense back in gear.
DEFENSIVE STORYLINE TO WATCH: The Secondary
Even with the defensive line losing Ross Blacklock, there are plenty of others coming back up front and even at the linebacker sports with a guy like Garrett Wallow returning. However, TCU loses a lot of bodies in the back end of the defense including All-Big 12 corner Jeff Gladney. But the good news is that TCU has plenty of young talented guys that will get their shot this season. 
**Want to win a $25 gift card?  Go sign up here and join our conversation! The best poster each week wins a gift card to your favorite establishment!**