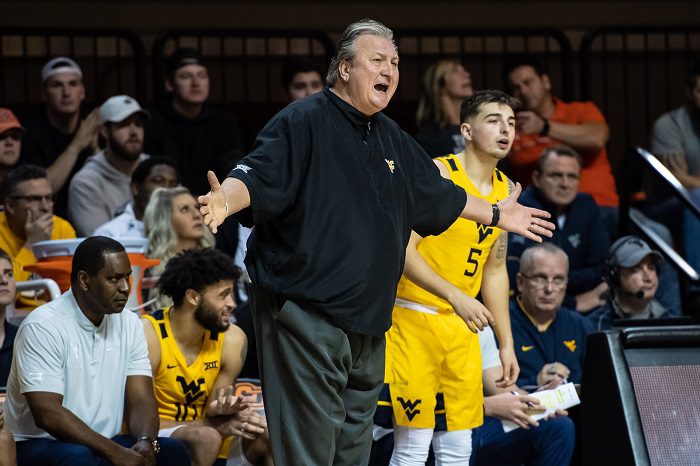 Last season, a defeated and visibly-leeched West Virginia team hosted Coastal Carolina at home on March 23rd in Morgantown in the CBI. The Chanticleers, far from a vaunted hardwood program at this, or any point in college basketball history, hung over 100 points on the Mountaineers and rode back to South Carolina winners. Just over 11 months since that infamous day in the coliseum, West Virginia looks a sight better having won posted 19 wins and currently sitting at no. 16 nationally in the NCAA's NET rankings. Additionally, the Mountaineers have collected wins over powerhouses like Ohio State and Texas Tech (at the time ranked no. 2 and no. 22 nationally, respectively). So, to be right on March's doorstep and a virtual lock for a tournament spot, what could there be to complain about?
Quite a bit, actually. 
19 wins was never supposed to be West Virginia's ceiling.  Less than a month ago, bracket brain Joe Lunardi had the Mountaineers pegged as a two seed for the tournament.  This was a team that, six days after drumming TCU by 32, napalmed Texas by 38 points- the worst loss in Shaka Smart's tenure in Austin.  Since their last truly convincing win over Iowa State on February 5th, West Virginia has either consciously or inadvertently lost its bearing.  Those same TCU and Texas squads that West Virginia pounded into coal dust have since bested a hapless Bob Huggins squad that is now among the worst nationally in three point percentage (.289), free throw percentage (.637) and three pointers attempted (491).  This is a team that, despite brandishing some considerable frontline talent in Oscar Tshiebwe, Derek Culver and Jermaine Hailey and, as far as minutes played, one of the deepest benches in the nation, has simply forgotten how to win. 
There's some level of furor across the online community over WVU's current slide and what's behind it.  There's some segment of the fan base that wants to blame Huggins for not re-inventing his offense as often as he does his defense.  Yet another segment of the gold and blue nation seems to think the team has lost its heart and its competitive verve. Then there's a third segment of the fan base that seems perfectly content with the current win total.  The main argument there is that this team has actually overachieved to this point and it's just a young team dealing with young team-struggles.  A year removed from a rash of attrition and bad locker room culture, how could anyone reasonably expect this group to contend for a deep tournament run, much less a Big 12 title?  Personally, I don't buy that and I think, if anything, it discredits how good this team has shown it can be. 
 It's not unfair to hold Huggins, now 8th all-time in career wins, or his team to a high standard.  Ever since John Beilein resuscitated this program in the early 2000's, West Virginia has won and, at times, won big.  Since arriving in Morgantown, Huggins has engineered wins against more talented opponents via nothing more than sheer stubbornness.  The Press Virginia era ended when Jevon Carter and Daxter Miles, Jr. went on to the professional ranks. The nucleus of this current Mountaineers team, no longer full-court vice-gripping opponents into submission, is running everything through a pair of athletic, powerful bigs and bottling teams up in half court.  Moreover, Huggins has enviable resources on his bench to the extent that he can and has tired other teams out simply by rotating up to 12 people across 40 minutes. All of that is to say that West Virginia is not lacking anything critical. So while they continue to fall further and further out of the media's good graces, it's disingenuous to simply write this season off and hope for a better-aligning of the stars come next year. 
West Virginia can and should be good, right now.  It's a season of discord across the college basketball landscape and therefore presents an opportunity to win and advance that rarely ever presents itself.  While it seems unlikely that WVU will be able to take down Baylor in its season finale, the Mountaineers have either beaten or played down to the wire with every other team in the league, including Kansas.  Does West Virginia looks deflated? Yes. Do Emmitt Matthews and Jordan McCabe need to once again start playing like starters? You bet. Is this team forlorn? Not yet.  
Two of the Mountaineers final three games are at home starting with tomorrow's re-match with Oklahoma on ESPN2 and then next Saturday's swan song against the soaring Bears.  Because the basketball gods are fickle, perhaps the light bulb will click on and Mountain Mama will once again bask in the warm glow of made field goals and early leads. Perhaps all the media praise during December and January amounted to the fabled "kiss of death" that coaches so often fear and the losing, however undesirable, has been slowly inoculating the team and leading them back to what originally had them rattling off win after win in P5 league.
I'm not saying West Virginia needs to suddenly re-emerge from the ether and tear their way to a national title- they won't; they're still a year away.  God-willing, both Tshiebwe and Culver return next year to take the floor alongside current redshirt Jalen Bridges (no. 91 nationally) and incoming monster Isaiah Cottrell (no. 69 nationally) to produce possibly the most talented roster Bob Huggins has ever assembled.  But, here and now, it's about West Virginia being accountable. If the slide continues and they enter March as a six seed or below, they've only themselves to blame. Huggy bear and his guys don't need anyone making excuses for them- they need to believe in themselves.  Ultimately, nothing is more powerful than belief.
**Want to win a $25 gift card?  Go sign up here and join our conversation! The best poster each week wins a gift card to your favorite establishment!**