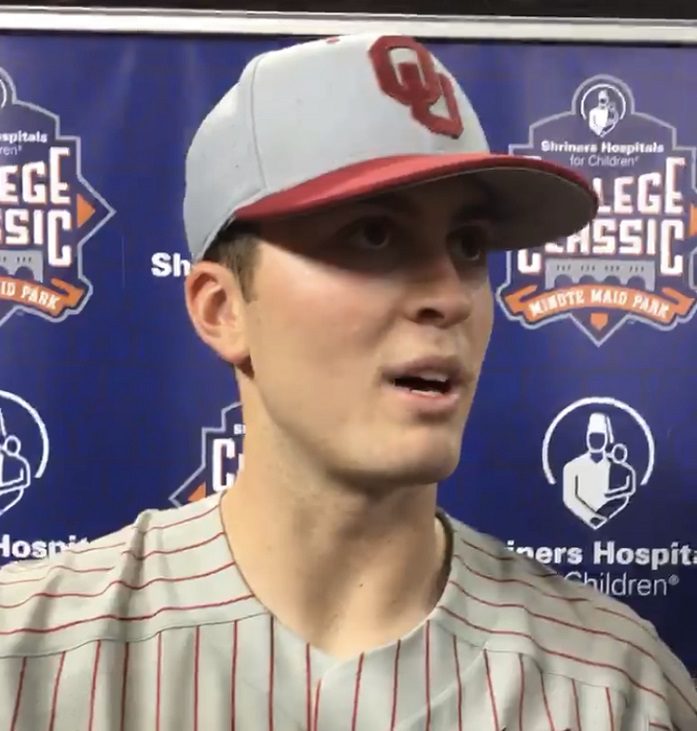 On a sleepy Sunday morning start in Minute Maid Park down in Houston, day three of the Shriners Hospitals for Children College Classic was wrapping up. Oklahoma had beaten a top ten team in Arkansas on Friday afternoon before dropping a heartbreaking loss to Missouri in extra innings on Saturday. Perhaps Oklahoma's toughest test was going to be facing the eleventh ranked LSU Tigers on Sunday. 
Dane Acker took the mound for the Sooners and heading into this game, he had started in two games. One against Virginia on opening weekend where he allowed just one hit in five innings and his last start against Illinois State last weekend where he gave up five runs in seven innings. What happened on Sunday against LSU was pure greatness.
In the first two innings, Acker struck out four LSU batters and at that point, he could feel the momentum. He struck out two more in the third and due to an error in the fourth inning, his no hitter stayed in-tact. Perhaps his best stuff was in the fifth inning as he made three LSU batters leave the plate speechless as he struck out three on just eight pitches.
LSU finally started making some contact in the sixth and seventh innings, but it didn't lead to a hit as Oklahoma's fielding helped Acker and he was still hitless through seven.
But there was also another storyline through seven innings. LSU starting pitcher AJ Labas was also throwing a no hitter of his own through seven. "I was sitting in the dugout trying not to think about it." Acker said. "Their pitcher did a great job as well. We were just trying to battle it out. I looked up and he has got it and I looked down and I got it. We were trying to see who could go the longest there."
However, LSU pitcher AJ Labas couldn't finish the deal because in the top of the eighth inning, Oklahoma's Justin Mitchell hit a solo shot into the Crawford Boxes here and gave the Sooners a 1-0 lead. Labas would finish the inning but his day was done after that. In the bottom of the eighth, Dane Acker would strike out one more and had two pop ups to end the inning. At that point, he was just three outs away.
The Sooners were held scoreless in the top frame and then every eye in this ballpark was on Acker to finish the deal. Keep in mind, LSU was still just a single crack of the bat away from a tie game with just a one run deficit.
After striking out the first batter, Dane had a 3-1 count twice for his final two outs, but his teammates had his back making plays. Acker gave love to his teammates saying, "That last inning I dropped to 3-1 almost every batter and I just told myself to throw it in there and make them hit it and make our guys make a play and they did."
The Sooners ended up with the victory 1-0 and of course, what is a baseball celebration without an ice bath. With the win, the Sooners wrap up the weekend finishing 2-1 and sit at 9-3 overall. While a climb in the rankings is due for this team, there is still plenty of work to be done this season. To end his media session, Dane Acker was asked if there was anything that his team learned this weekend. He said "I learned that we can compete with anybody. Anybody in the nation."
**Want to win a $25 gift card?  Go sign up here and join our conversation! The best poster each week wins a gift card to your favorite establishment!**