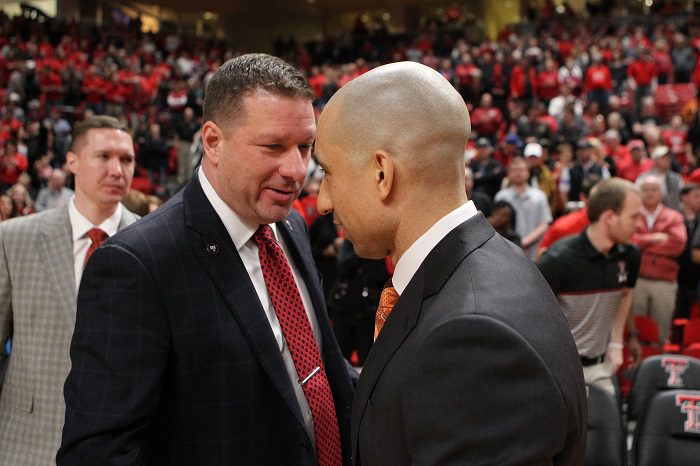 With the 2019-20 Big 12 Men's Basketball season now in Big 12 play, here are the HeartlandCollegeSports.com power rankings as of March 2.
1. Kansas (Last rankings: 1)
Kansas made it really easy with a 2-0 week. Baylor made it even easier by losing to TCU on Saturday. Kansas is the league's unquestioned No. 1 team now.
Next: Kansas hosts TCU on Wednesday and then travels to Texas Tech on Saturday.
2. Baylor (Last rankings: 2)
It's not panic time in Waco, even with two losses in three games. The Bears will drop a bit in the AP poll, but they remain a Final Four contender and a head-and-shoulders No. 2 pick in the league, though. This week is a big one for momentum, though. Baylor doesn't want to be the team stumbling into Kansas City.
Next: The Bears host Texas Tech on Monday and then travel to West Virginia on Saturday.
3. Texas (Last rankings: 6)
Sometimes teams make it really simple on you. Texas has won four straight. The Longhorns' wins last week were over Texas Tech and West Virginia. Take a look at who Texas is looking down on now. Besides, Texas Tech and West Virginia went 0-2 for the week. Texas is playing better than both teams right now. The outside shooting is Texas' bread and butter and as long as that's working, Texas can keeping winning.
Next: Texas travels to Oklahoma on Tuesday and hosts Oklahoma State on Saturday.
4. Oklahoma (Last rankings: 7)
We have to give the Sooners credit for a 2-0 week. We also have to give the Sooners credit for beating two ranked teams in Texas Tech and West Virginia. So, just like Texas, the Sooners make a big jump. Kristian Doolittle is helping OU make a big push late in the season.
Next: The Sooners host Texas on Tuesday and travel to TCU on Saturday.
5. Texas Tech (Last rankings: 3)
Texas Tech is coming off an 0-2 week. They will fall out of the Top 25 yet again this week. They remain a dangerous team come tournament time because their offense can go off at any time. But that's also the most inconsistent part of their game at this point. I believe they're better than the teams below them on this list.
Next: Texas Tech is at Baylor on Monday and hosts Kansas on Saturday.
6. Oklahoma State (Last rankings: 5)
Oklahoma State drops just a bit here, if only because I think Texas Tech is a better team than the Cowboys (they did split their season series, with OSU winning the most recent meeting). With West Virginia in complete free fall, the Cowboys are looking like a team that could stay in the Top 6 of these power rankings going into the Big 12 Tournament, even though they'll likely play the tournament's first day.
Next: The Cowboys host Kansas State on Wednesday and then travel to Texas on Saturday.
7. TCU (Last rankings: 8)
TCU has now won three of its last five games, including an overtime win against West Virginia and an upset of Baylor at home on Saturday. The Horned Frogs are surging right now and P.J. Fuller has given them a new scoring option.
Next: TCU is at Kansas on Wednesday and hosts Oklahoma on Saturday.
8. West Virginia (Last rankings: 4)
I held out as long as I could. But the Mountaineers deserve to be here. Losers of six of their last seven, the Mountaineers look like a team that could exit the NCAA Tournament in the first round. What's wrong with them? At this point the question might be what isn't wrong with them?
Next: The Mountaineers travel to Iowa State on Tuesday and then host Baylor on Saturday.
9. Iowa State (Last rankings: 9)
Iowa State at least snagged a win over TCU early in the week. But the only thing keeping the Cyclones out of No. 10 is Kansas State.
Next: Iowa State hosts West Virginia on Tuesday and travel to Kansas State on Saturday.
10. Kansas State (Last rankings: 10)
The Wildcats have lost nine straight games. Enough said.
Next: The Wildcats travel to Oklahoma State on Wednesday and then host Iowa State on Saturday.
Note: Our final Power Rankings will come on March 9.
Powered by RedCircle