Big 12 News
TCU, Texas Tech Lead Dominant Big 12 Baseball Weekend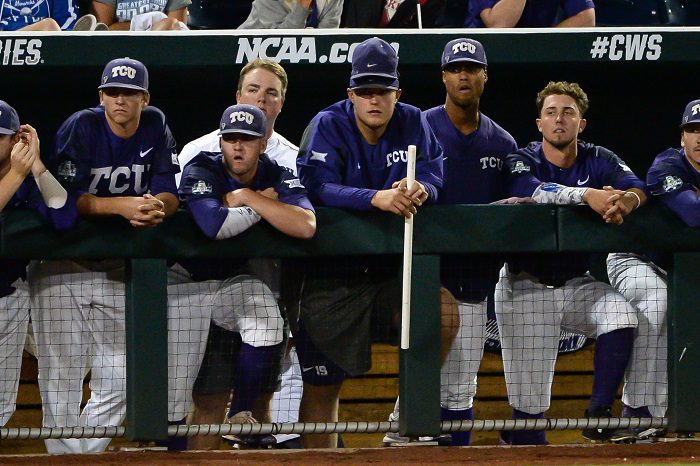 College baseball is still just getting in full swing as basketball is winding down. This past week, two teams stayed at home while others were on the road in tournaments. Now we just wrapped up the third weekend in baseball and even though it is still early, I will go over each weekend series from all nine (Thanks Iowa State) Big 12 baseball teams. Before I begin, I was covering the Shriners Hospitals for Children College Classic down in Houston as Big 12 teams Texas, Oklahoma and Baylor took on SEC schools Arkansas, LSU and Missouri. You can find a daily recap of that here.
TCU Horned Frogs (Weekend 3-0) (Overall 10-1)
Friday: Beat California 5-4
Saturday: Beat California 3-0
Sunday: Beat California 6-1
This was exactly the type of weekend TCU wanted. Bring out the brooms and sweep Cal. TCU got into an early hole on Friday as starting pitcher Johnny Ray gave up four runs in the second inning, but he settled in after that because Cal didn't score another run in the game. TCU chipped away into the Cal lead thanks to an error and a couple walks and ended up tying the game in the seventh due to a first baseman Austin Henry sac fly to tie it at four. But the dagger came in the eighth when third baseman Connor Shepherd hit a solo home run to put the Frogs over 5-4 for the comeback win.
There wasn't much action for the Saturday game. TCU shortstop Tommy Sacco hit a 2 RBI single in the second and centerfielder Sam Thompson hit an RBI triple in the fifth to give the Frogs a 3-0 lead. The pitching by Charles King allowed TCU to never look back as he went seven innings without allowing a single run. Sunday's matchup was by far the easiest. TCU got a 2-0 lead through five innings thanks to a Gene Wood and Hunter Wolfe RBI, but pitcher Russell Smith deserves credit. He struck out eight in six and 1/3 innings and allowed just one run. TCU would put up three more in the seventh inning for insurance to cruise to an easy 6-1 win to complete the sweep. Next up, TCU will host UT Arlington on Tuesday.
Texas Tech Red Raiders (Weekend 3-0) (Overall 11-1)
Friday: Beat Florida Atlantic 7-1
Saturday: Beat #9 Florida State 6-5
Sunday: Beat #9 Florida State 4-3
Much like TCU, the Red Raiders had themselves one hell of a weekend in the sunshine state. Friday's game against FAU turned into a pitching battle between Clayton Beeter (Tech) and Corey Ireson (FAU) because there was not a single run scored in the first four innings. A Brian Klein RBI double gave Tech a small lead by after a throwing error by Tech in the fifth tied the game at one. The difference was the big eighth inning for the Red Raiders as they piled on three runs followed by a Cody Masters two-run homer in the ninth.
Texas Tech had to dig out of a 4-1 hole on Saturday and wound up pulling starting pitcher Bryce Bonnin after four innings. But first baseman Cole Stilwell hit a three-run double in the fifth to tie the game at four. The Seminoles would tack on a run the following inning but in crunch time, down 5-4right fielder Dru Baker's solo blast tied the game up at five in the ninth. From there, Dylan Nuese hit a single and due to a throwing error by Florida State, Tech put one more on the board to win it. On Sunday, Tech jumped out to the early 2-0 start aided by a Cole Stilwell solo shot, but Florida State's Elijah Cabell's three run homer gave the Noles a 3-2 lead in the fifth. But once again Tech answered with a Cal Conley solo shot and a Cody Masters sac fly to give the Red Raiders a 4-3 lead in the eighth. Next up, Tech will host UNLV on Tuesday March 3rd.
Oklahoma State Cowboys (Weekend 1-2) (Overall 8-4)
Friday: Lost to UCLA 8-1
Saturday: Lost to Illinois 4-2
Sunday: Beat #13 Texas A&M 8-5
The Pokes spent this past weekend up in Frisco for the Frisco College Classic. As nice as it sounded, it wasn't a pretty first two games for the Cowboys. Oklahoma State starting pitcher Parker Scott was rocked in the first two innings on Friday as UCLA racked up five runs to take a 5-0 lead. Even reliever Ryan Bogusz struggled to finish an inning allowing three more runs in the seventh. And with the cold bats, the Cowboys never stood a chance getting just three hits on the night.
The second game started off nice when shortstop Hueston Morrill hit a solo bomb in the first inning against Illinois but just like the day before, the pitching fell apart and the bats went cold again. Illinois scored a run in the second and third inning along with the seventh and ninth inning. Meanwhile the Cowboys never scored again after the Morrill solo shot.
The final game for the Pokes was interesting. The Aggies rocked starting pitcher Bryce Osmond for four runs in the second inning to give the Ags a 4-1 lead, but the Cowboys fought back. Eventually, the game was tied at five heading to the ninth and the Pokes had an inning to remember scoring three runs in the final inning for the win.
Kansas Jayhawks (Weekend 1-3) (Overall 5-6)
Friday: Lost to Michigan State 8-7
Saturday Game 1: Beat Ball State 9-3
Saturday Game 2: Lost to Ball State 7-4
Sunday: Lost to Western Carolina 5-3
What a rough weekend for the Jayhawks. They remain on the road yet again but this time for the First Pitch Invitational in Greenville, South Carolina. Kansas started game one against Michigan State with a 1-0 lead but starting pitcher Ryan Cyr was torched giving up seven runs through six innings. However, Kansas would tie the game up at seven thanks to a walk and two throwing errors in the eighth and ninth innings. But the Jayhawks got their heart broken as MSU's Zach Iverson hit the game winning RBI in the bottom of the ninth.
The Jayhawks would start Saturday with a doubleheader against Ball State. In the early morning game, Kansas got off to a 2-0 lead thanks to a short stop Benjamin Sems RBI single and a crazy steal of home plate from a double steal. Ball State would take the lead in the sixth (3-2) but the Jayhawks got hot in the sixth inning piling on seven runs to coast to a 9-3 win.
Game three started good as left fielder Kaimana SouzaPaaluhi hit a two-run shot and a Benjamin Sems RBI got Kansas to a 3-0 lead. The Jayhawks would add another run, but the Kansas pitching started to fall apart. Starting pitcher Cole Larsen gave up four runs through six innings and Gabriel Sotomayor and Daniel Hegarty gave up a few more to lose the early lead to drop the game. Unfortunately, I couldn't get a good box score on the final game, but Kansas dropped the final game 5-3 against Western Carolina to wrap up a weekend to forget. Next up is their home opener against Creighton on Wednesday March 4th.
Kansas State Wildcats (Weekend 3-0) (Overall 6-5)
Friday Game 1: Beat Fairleigh Dickinson 8-1
Friday Game 2: Beat Fairleigh Dickinson 12-1
Saturday: Beat Fairleigh Dickinson 20-1
It was a short weekend for the Wildcats with three games in two days but for the first time all season, Kansas State played at home in newly renovated Tointon Family Stadium. In the first game of the Friday doubleheader, Kansas State used pitchers Carson Seymour and Luke Hauswirth to pitch all nine innings as they combined to allow just five hits and one run. Meanwhile the bats were solid led by first baseman Terrance Spurlin who led the team with three RBI's.
Game two on Friday was not much different than game one. Starting pitcher Connor McCullough struck out nine through seven innings and allowed just one run. One again, first baseman Terrance Spurlin led the way with three RBI's as the Cats poured in the runs totaling up to a 12-1 win. Lastly do I really need to say much about a 20-1 win? Out of 297 teams, Fairleigh Dickinson's RPI is sitting at 291st according to D1 Baseball. That means they are one of the worst teams in all of baseball. Next up, Kansas State travels to Stanford for a four game road series starting Friday March 6th.
West Virginia Mountaineers (Weekend 2-1) (Overall 7-4)
Friday: Lost to VCU 4-1
Saturday: Beat William & Mary 13-4
Sunday: Beat Richmond 13-1
The Mountaineers participated in the Central Virginia Challenge as they faced off against three Virginia schools all on the road. Friday's game was dull as neither team had a run through the first five innings. That changed when WVU starting pitcher Jackson Wolf gave up three runs in the sixth inning and reliever Skylar Gonzalez gave up another to go down 4-0. The line WVU score came from a Tyler DeMartino RBI single in the ninth.
Saturday and Sunday were cake walks. While starting pitcher Ryan Bergert gave up four runs in five innings against William & Mary, the offense picked up the slack driving in nine of the thirteen runs in the first three innings and Paul McIntosh had a whopping five RBI's on the day. Sunday's game was even more of a breeze as just abut every Mountaineer had a hit on the day for the easy 13-1 win. Next up, West Virginia will host Kent State on Wednesday March 4th. 
**Want to win a $25 gift card?  Go sign up here and join our conversation! The best poster each week wins a gift card to your favorite establishment!**