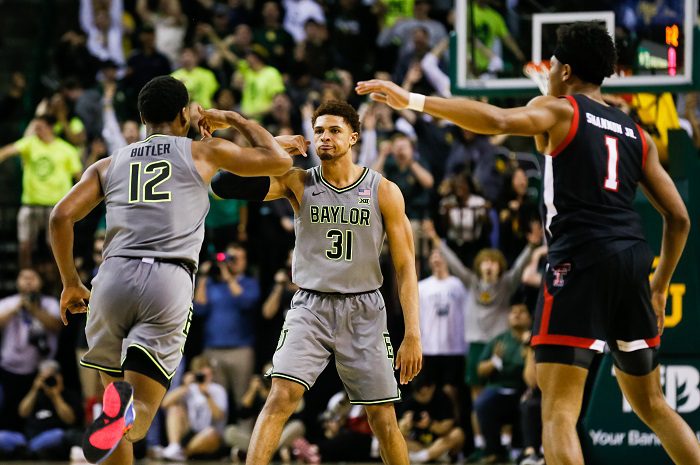 Baylor had spent so long at the top of the national rankings that it's possible we forgot the No. 4 Bears know how to scratch and claw and fight.
The Bears reminded everyone of that truth on Monday night, as they outlasted Texas Tech, 71-68, in overtime.
Baylor remained mathematically in line for a share of the Big 12 title, but the Bears must win their finale in West Virginia on Saturday, and needs Kansas to lose one of its remaining two games. The Bears will be no worse than a No. 2 seed in the Big 12 Tournament next week in Kansas City. The Bears also avoided their third loss in four games. They had only 48 hours to prepare after losing to TCU on the road on Wednesday.
The Bears (26-3, 15-2) forced overtime on a Devonte Bandoo 3-pointer with 1:43 left in regulation, and then held on for dear life as the Red Raiders (18-12, 9-8) tried to steal one at the Ferrell Center. In a sloppy final 1:42, Bandoo was the only player from either team to get a shot away, but it didn't fall. The Bears and Red Raiders combined for five turnovers.
In overtime a pair of Freddie Gillespie free throws with 3:28 left gave the Bears the lead for good. Baylor even pushed the lead to four points on a MaCio Teague 3-pointer. But the Red Raiders didn't go away, cutting the lead down to one point on three different occasions, the last coming on Kyler Edwards' 3-pointer with 50 seconds left, making it 69-68.
The Red Raiders thought they were going to get a shot at the lead after Gillespie missed a jumper with 18 seconds left. But Tech's Chris Clarke turned the ball over after the rebound. Jared Butler got credit for the steal and drew a foul from Kevin McCullar. Butler made both three throws to give the Bears a 3-point lead, and then survived Tech's Davide Moretti missing a 3-pointer with six seconds left to take the win.
Bandoo, stepping into the starting lineup in place of Mark Vital, scored 18 points, including four 3-pointers. Butler had 17 points and Teague had 14 points. Gillespie had just four points, but he also had 10 rebounds.
Tech shot 50 percent from the floor, but it wasn't enough as 20 Red Raider turnovers robbed them of shooting opportunities. McCullar and Jahmi'us Ramsey each had 13 points, while Moretti had 11. Russel Tchewa slipped into T.J. Holyfield's normal place in the starting lineup. Holyfield had nine points off the bench, while Tchewa didn't score and played only five minutes.
Texas Tech will be tied with either Texas or Oklahoma for third place in the Big 12 by the end of action on Tuesday night. The Longhorns and Sooners were a game behind the Raiders entering Monday's game and the pair play each other Tuesday night. So the winner will share third place. 
**Want to win a $25 gift card?  Go sign up here and join our conversation! The best poster each week wins a gift card to your favorite establishment!**