Big 12 News
Devon Dotson Leads Big 12 in Odds to Win Player of the Year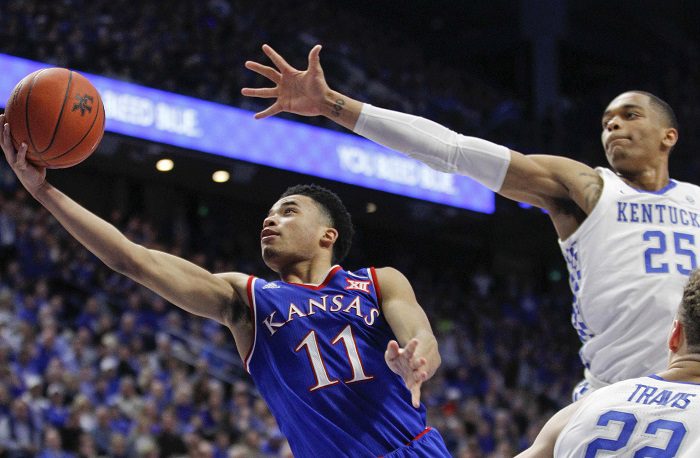 Devon Dotson Leads Big 12 in Odds to Win Player of the Year
As the college basketball season heads down the home stretch of the 2019-20 season, questions remain as to who has the best chance of winning the Naismith Player of the Year honors. In the Big 12, there is not a big favorite, but Kansas Jayhawks guard Devon Dotson is the player with the best chance.
After the Kansas Jayhawks beat the Baylor Bears last Saturday in Waco, Devon Dotson is now the leader for the No. 1 team in the country heading into the final week of February, with the Big 12 Conference Tournament just over two weeks away. Now, all the bookies start working really hard on their exact and final odds. You can already see an increase in downloads of the best sports betting apps worldwide and we all know why. The fans are thrilled and are waiting for the madness to start, which of course includes the Big Dance that is right around the corner.
So for the Naismith Player of the Year Award, Dotson is right now listed with 9/1 odds to win, which is tied for the fifth-best odds in the nation. Leading the way is Michigan State's Cassius Winston, followed by North Carolina's Cole Anthony and Marquette's Markus Howard. Then it's Louisville's Jordan Nwora and Seton Hall's Myles Powell.
Dotson is then tied with Duke's Tre Jones and Memphis' James Wiseman.
This season, Devon Dotson is averaging 18.2 ppg, 4.2 apg and 4.0 rpg, while shooting 47% from the floor. He had 29 points last week against Iowa State on 11/14 shooting, but against Baylor he struggled a bit with 13 points on 5/11 shooting and 1/4 from three-point range.
Dotson was a 2019 Third-Team All-Big 12 Selection and he put his hat into the ring for the NBA Combine, but wisely decided to come back to Lawrence for his sophomore campaign where he's turned into one of the best players in college basketball.
He's one of three McDonald's All-Americans on the KU roster as they head down the home stretch of the season.
The Kansas Jayhawks have four games left in the regular season. On Monday night they'll take on the Oklahoma State Cowboys at home, followed by the Sunflower Showdown next Saturday at Kansas State, then they'll close out the season against TCU and Texas Tech next week. The Big 12 Tournament begins the following week in Kansas City, Missouri at the Sprint Center.