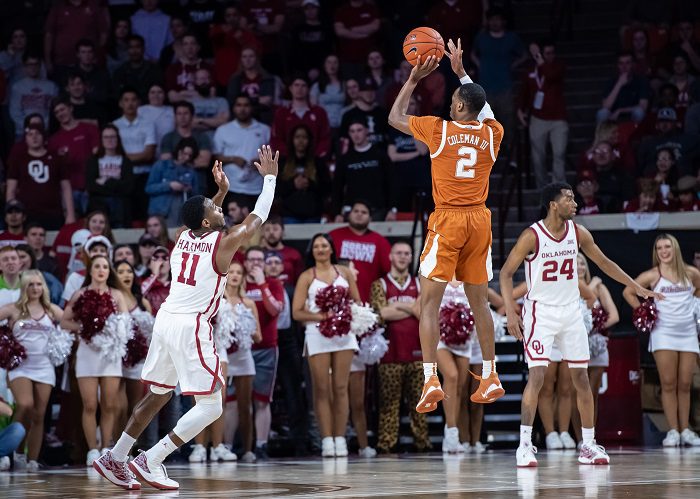 Texas Longhorns, NCAA Tournament team? That's the discussion now.
The Longhorns (19-11, 9-8) won their fifth straight game on Tuesday night, defeating Oklahoma, 52-51, on this shot.
MATT COLEMAN. NAILS. 🔥

Texas takes down Oklahoma! pic.twitter.com/gofXP15htd

— Heat Check CBB (@HeatCheckCBB) March 4, 2020
Nice to see you Mr. Coleman.
In the other Big 12 game of the night, West Virginia (20-10, 8-9) stopped some of its own bleeding with a 77-71 win over Iowa State, giving the Mountaineers just their second road win in Big 12 action.
But back to Texas for a minute. Three weeks ago Texas went to Ames, Iowa, lost 81-52 to the Cyclones to lose its fourth straight game and everyone in Austin wanted to set head coach Shaka Smart's chair on fire.
Since then? Texas has beaten TCU, Kansas State, West Virginia, Texas Tech and Oklahoma in a run the Longhorns haven't been on since a six-game winning streak in December. In between that six-game winning streak and the current five-game winning streak, the Longhorns hadn't won more than two games in a row.
The Longhorns looked dead three weeks ago. And up until Tuesday's game the Longhorns were winning games with great shooting. But on Tuesday the Longhorns had to win on guts, as they shot 33.9 percent from the floor and 29.6 percent from the 3-point line. Texas also did it, once again, without Jericho Sims and Jase Febres, who are still out with injuries. In fact, Smart reported on Tuesday that Febres would miss the rest of the season due to knee surgery.
Matt Coleman was the only Longhorn in double figures with 21 points. He also had three rebounds, two assists and a steal. Royce Hamm Jr. and Brock Cunningham had 11 rebounds each.
Oklahoma had a horrible night shooting (28 percent from the floor and 10 percent from the 3-point line), but ended up with three players in double figures — Kristian Doolittle (20 points, 10 rebounds), Austin Reaves (13 points) and Brady Manek (10 points). But Manek and Reaves were a combined 1-of-10 from the 3-point line and that had an impact on the final result.
The win puts Texas in a tie for third place in the Big 12. The Longhorns and Red Raiders split their season series, so we'll have to wait until Saturday to see if the results of the season finale can break the tie. But there's no question the Longhorns are the hottest team in the conference that isn't Kansas.
Entering Tuesday's game, ESPN's Joe Lunardi still had Texas out of the NCAA Tournament as part of his 'next four out.' In his mind, the Longhorns have ground to make up. CBSSports.com's Jerry Palm, meanwhile, had Texas among his 'last four in' going into the game.
So Texas is starting to build a case for making the NCAA Tournament, and in turn boosting Smart's prospects of staying at Texas another year.
The Sooners (18-12, 8-9) dropped into a tie for fifth place in the conference with West Virginia. The Sooners have lost four of their last six games, but the loss to Texas snapped a two-game losing streak. Going in Lunardi had Oklahoma as a solid No. 10 seed while Palm had Oklahoma as a solid No. 9 seed. It will be interesting to see if the loss impacts Oklahoma's seeding or status.
West Virginia won its 20th game of the season by beating Iowa State. More importantly, the Mountaineers applied a tourniquet of sorts to a recent stretch that saw them lose six of their last seven games going into the Iowa State game. Additionally, the Mountaineers had won just one Big 12 road game going into Ames, and that was their Big 12 road opener against Oklahoma State in January. So it gives the Mountaineers some hope that they can make a run on a neutral site in the Big 12 Tournament and the NCAA Tournament. Entering the game the Mountaineers were considered a seven seed by Lunardi and a six seed by Palm. So the win helps keep them solid.
West Virginia received the kind of offense it needs to win away from Morgantown, too. Derek Culver, back in the starting lineup, scored 17 points and had 9 rebounds. Miles McBride came off the bench to score 17 points. Oscar Tshiebwe had 11 points and 9 rebounds. Taz Sherman came off the bench to score 12 points.
Iowa State (12-18, 5-12) was in it until the end, thanks to a 21-point game from Rasir Bolton, which included a 10-for-11 night at the free-throw line. Prentiss Nixon added 19 points and Solomon Young had 11 points and 7 rebounds. Iowa State had just two points off its bench.
On Wednesday TCU travels to Kansas and Oklahoma State hosts Kansas State, and those results will gives us a final picture on what the final weekend of Big 12 action will look like. 
**Want to win a $25 gift card?  Go sign up here and join our conversation! The best poster each week wins a gift card to your favorite establishment!**