Big 12 News
Kansas Disputes Major NCAA Violations Against Bill Self, Basketball Program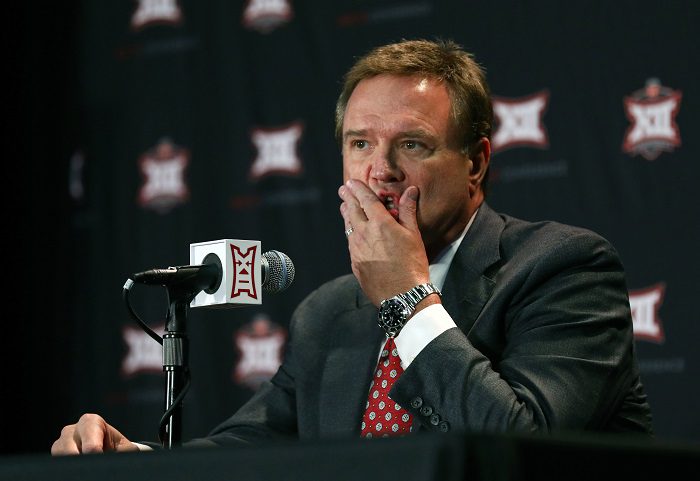 After reports surfaced on Tuesday that Kansas would be responding to the NCAA violations on Thursday, the notice came down on Thursday night with KU disputing all the allegations against the program.
The school cited four documents on the website with detailed responses.
Part of that response included Kansas saying, The University formally challenges each of the men's basketball related allegations in the Amended Notice of Allegations ("ANOA") as neither NCAA legislation nor the facts support the enforcement staff's allegations."
Meantime, head coach Bill Self responded by saying, "As for allegations against KU coach Bill Self, "there is no reasonable conclusion that members of the University, including the men's basketball staff, knew or should have known about any violations of NCAA rules. Head Coach Bill Self had no knowledge of any NCAA rules violations or illicit conduct exhibited by Adidas, its employees or its consultants."
The response is the next step in allegations of major violations regarding KU basketball, which is currently in the top spot in the Big 12 (and the nation).
Back in September, KU said it "emphatically rejects" the allegation that Adidas reps were considered boosters and agents by the NCAA. This was just one of seven violations KU was charged with, which included five for men's basketball and two for football. Each of the basketball charges were Level 1, the most severe, while KU was also cited with lack of institutional control.
The next month at Big 12 media days, Bill Self remains just as evasive, and preferred to keep the focus solely on the court.
The Kansas City Star has a full list of all of the allegations that the NCAA is hitting KU with.
As for what is next: the NCAA enforcement staff will reply to Kansas' response and then it's likely a hearing date will be set for an NCAA infractions panel to consider the allegations and possible penalties. Kansas could appeal any penalties applied by that infractions panel.
Powered by RedCircle
**Want to win a $25 gift card? Go sign up here and join our conversation! The best poster each week wins a gift card to your favorite establishment!**