Big 12 News
2020 Big 12 Basketball Tournament Schedule Set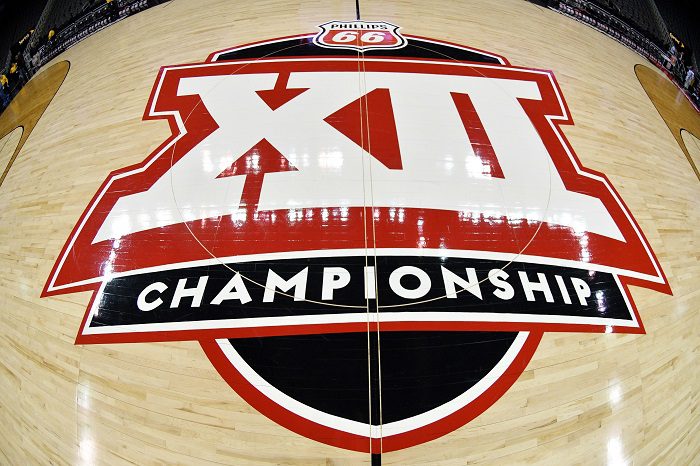 The Big 12 Tournament gets underway Wednesday March, 11th through Saturday March 14th in Kansas City, Missouri at the Sprint Center. All 10 Big 12 teams will participate in the event. The winner of the tournament gets an automatic bid to the NCAA Tournament.
Last year, the Iowa State Cyclones beat the Kansas Jayhawks 78-66 in the final. However, Kansas has won the most Big 12 Tournaments (11). The event has been held in Kansas City since 2010.
The Kansas Jayhawks and Baylor Bears should be the favorites heading into the tournament, with both teams ranked inside the Top 10 of the NCAA rankings throughout most of the 2019-20 college basketball season.
2020 Big 12 Tournament (Sprint Center, Kansas City, MO)
First Round, Wednesday, March 11
Game 1: No. 8 Oklahoma State vs. No. 9 Iowa State, 6 p.m. (ESPNU)
Game 2: No. 7 TCU vs. No. 10 Kansas State, 8:30 p.m. (ESPNU)
Quarterfinals: Thursday, March 12
Game 3: No. 4 Texas vs. No. 5 Texas Tech, 11:30 a.m. (ESPN or ESPN2)
Game 4: No. 1 Kansas vs. Game 1 winner, 2 p.m. (ESPN or ESPN2)
Game 5: No. 2 Baylor vs. Game 2 winner, 6 p.m. (ESPN or ESPN2)
Game 6: No. 3 Oklahoma vs. No. 6 West Virginia, 8:30 p.m. (ESPN or ESPN2)
Semifinals: Friday, March 13
Game 7: Game 3 winner vs. Game 4 winner, 6 p.m. (ESPN or ESPN2)
Game 8: Game 5 winner vs. Game 6 winner, 8:30 p.m. (ESPN or ESPN2)
Championship: Saturday, March 14
Game 9: Game 7 winner vs. Game 8 winner, 5 p.m. (ESPN)
**Want to win a $25 gift card? Go sign up here and join our conversation! The best poster each week wins a gift card to your favorite establishment!**