Big 12 News
All-Big 12 Men's Basketball 2020 Awards Announced: HCS Edition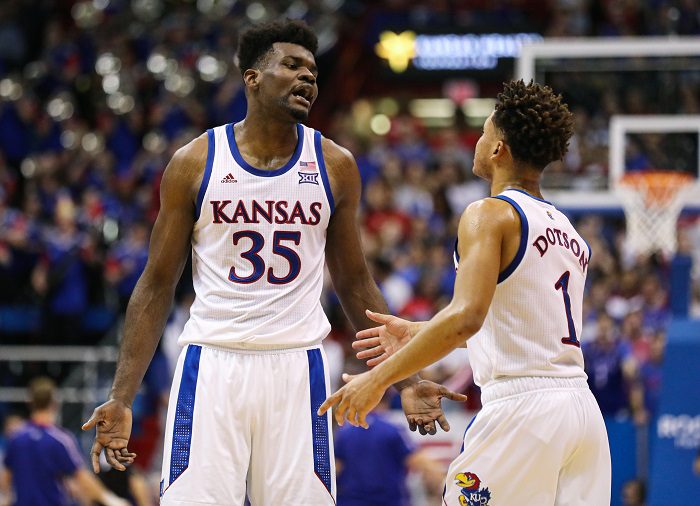 The Big 12 Tournament starts Wednesday in Kansas City. Before that HeartlandCollegeSports.com presents its All-Big 12 Men's Basketball team for the 2019-2020 season. Selections were made before the Big 12 released its team on Sunday, March 8. (Stats do not include Saturday's results).
Player of the Year: Devon Dotson, G, Kansas
To me, this award came down to three players — Dotson, Kansas center Udoka Azubuike and Baylor guard Jared Butler. And I wrestled with the selection for a couple of weeks. Ultimately I went with Dotson. The sophomore led the conference in scoring for the season (18.1 ppg) and for league action (17.5). To me, the fact that he was so consistent in league action is more important than the overall season. Azubuike has had a great stretch to close the season. Butler is probably the closest to Dotson in terms of consistency at the guard position this season. Dotson improved in every area of his game and, without him, frankly the Jayhawks would be dead in the water (or at least not Big 12 regular-season champions). He failed to hit double figures in scoring just once this season (9 points against Baylor on Jan. 11). As the Jayhawks have handed more of the passing load to Marcus Garrett, Dotson has only gotten more consistent as a scorer, which is what Kansas needs from him going into the NCAA Tournament.
Coach of the Year: Scott Drew, Baylor
This was probably the easiest decision among the superlatives. We all knew Drew had a good team coming back this season. But no one knew it would be historic. The Bears put together its longest winning streak in team history (and the longest winning streak in Big 12 history). The Bears put together their best start to conference play ever. They emerged as the No. 1 team in the nation in mid-January and stayed there the most weeks of any team this season. (and the most weeks in school history). Aside from the history, Drew made the single most critical decision of any Big 12 coach this season — he turned his back completely on his tricky-to-deal-with 1-3-1 zone and embraced man-to-man defense as the team's primary weapon. And the Bears emerged as one of the nation's best defensive teams as a result. Drew said it was about his personnel and getting the best out of them. That's Coach of the Year material — knowing your personnel and adjusting what you do to work for them.
Freshman of the Year: Jahmi'us Ramsey, G, Texas Tech
It was a close race here between Ramsey and West Virginia's Oscar Tshiebwe, who averaged 11 points and 9 rebounds for the bulk of the season. But while Tshiebwe's rebounding average remained steady in conference play, his scoring average dropped a bit. Ramsey averaged 15 points per game for the season AND maintained that average in Big 12 play. In Big 12 play Ramsey finished in the Top 6 in field goal percentage, Top 2 in 3-point percentage and Top 20 in steals per game. With, at times, an inconsistent perimeter game, Ramsey's steadiness was influential in keeping the Red Raiders in the hunt for the NCAA Tournament. Ramsey hit double figures in 12 of his final 14 league games.
Newcomer of the Year: MaCio Teague, G, Baylor
This was another close debate for me, between Teague and Iowa State's Rasir Bolton. Teague, of course, sat out last year as a redshirt, so to me he's eligible for this award. So is Bolton, who transferred from Penn State and didn't have to sit out. For the whole season, their numbers are nearly identical — Bolton at 14.6 ppg and Teague at 14.0 ppg. Teague is a Top 20 rebounder (4.74 per game) and Bolton is a Top 15 passer (2.8 per game). They were two of the top three free throw shooters in the Big 12 all season, and they were among the Top 15 in 3-pointers made. It was hard to differentiate. So I looked at their respective numbers in just Big 12 games. Bolton averaged about a point more (14.2 ppg) than Teague (13.5 ppg), plus Teague missed a couple of games. Teague remained a better rebounder (4.6 per game) and Bolton's passing improved a bit (3.0 per game). The one significant area of differentiation was behind the 3-point line, where Teague was No. 6 in Big 12 play in 3-point percentage (36.8 percent) and made one-half more 3-pointer a game than Bolton. That's how close this was. Baylor's incredible season carried Teague over the top, but Bolton is going to be ISU's primary option next season. Note — Oklahoma's Austin Reaves and Texas Tech's Chris Clarke were also considered here.
Defensive Player of the Year: Udoka Azubuike, C, Kansas
So we had to go to advanced metrics here. But, first, on raw numbers he deserved consideration. In Big 12 play he led the Big 12 in rebounding (11.7 per game), defensive rebounding (7.5 per game) and blocked shots (3.1 per game). There is no more intimidating presence inside in the Big 12 than the 7-footer, whose overall game has taken off this season. But, in advanced metrics, according to FoxSports.com, Azubuike had the third-best defensive rating in the nation going into this weekend's games (82.1). Devon Dotson could have been considered here. So could Baylor's Freddie Gillespie. But Azubuike's presence on the floor changes how teams play offense, and that underscores his tremendous impact defensively.
Sixth Man of the Year: Andrew Jones, G, Texas
Jones spent the majority of this season on the bench for the Longhorns, even though he has started the final stretch of this season due to injuries to players like Jase Febres. But, entering Saturday, he was the only Big 12 player with significant bench time this season that was in the league's Top 20 in scoring (11.1 ppg in Big 12 games, 11.6 ppg the entire season). Jones' recovery from leukemia over the past two years has been inspirational. The fact that he's been a serious contributor for the Longhorns all season is beyond what any of us could have expected after his diagnosis.
Most Improved Player of the Year: RJ Nembhard, G, TCU
A surprise? Well, probably. Many people handed this award to Baylor's Freddie Gillespie at midseason. And I don't want to discount Gillespie's improvement from last year to this year, as his scoring average is up by about four points and his rebounding average is up by nearly five points. But it's not like Gillespie was an unknown quantity coming into this season. He worked his way into the starting lineup in place of Tristin Clark and, frankly, improved quite a bit from January to the end of last season. I expected good things from Gillespie this season and he's delivered. Nembhard, on the other hand, was a relative unknown after last season when he averaged 4.4 points per game coming off the bench. This season his scoring average has gone up by more than seven points, his assist average has gone up by nearly three per game and he's given the Horned Frogs a solid No. 2 option on offense. Nembhard's improvement, based on where he left off last season, was impressive.
FIRST TEAM
G — Devon Dotson, Kansas, Soph.
G — Jared Butler, Baylor, Soph.
F — Kristian Doolittle, Oklahoma, Sr.
F — Freddie Gillespie, Baylor, Sr.
C — Udoka Azubuike, Kansas Sr.
Notes: Azubuike, Dotson and Butler were givens since I considered them for player of the year. Azubuike had a huge stretch for Kansas to end the season and Butler is one of the best shooters and defenders in the conference. Doolittle was one of the most consistent forwards in the Big 12, with a smooth blend of scoring, defending and play-making as he became the Sooners' No. 1 scoring option. Gillespie rounds out the team, completing his ascent from Division III player to Division I star. He may not have the sheer numbers of other players in the Big 12, but he was the best two-way forward in the conference this season and was as consistent as any of the other four players on the first team.
SECOND TEAM
G — Desmond Bane, TCU, Sr.
G — MaCio Teague, Baylor, Jr.
G — Jahmi'us Ramsey, Texas Tech, Fr.
G — Matt Coleman III, Texas, Jr.
F — Oscar Tshiebwe, West Virginia, Fr.
Notes: It's a guard-heavy group, to be sure. Bane finished up as the Big 12's leading scorer, and if his team had been better he might have reached the First Team. Teague was a solid selection for the second team, as was Ramsey (who was our Freshman of the Year) and Coleman, who was Texas' most consistent guard all season. Tshiebwe is the only forward, a player that averaged nearly a double-double, and while his offense was up-and-down in February, his defense and rebounding never wavered.
THIRD TEAM
G — Marcus Garrett, Kansas, Jr.
G — Mark Vital, Baylor, Jr.
G — Rasir Bolton, Iowa State, So.
F — Brady Manek, Oklahoma, Jr.
F — Cameron McGriff, Oklahoma State, Sr.
Notes: Garrett became the Jayhawks' best passer this season, along with already being its best perimeter defender. Once he adds the consistent scoring he will be unstoppable. Vital is the best 6-foot-5 rebounder in the country and does more dirty work than any player in the Big 12. Bolton ended the season as Iowa State's second-leading scorer. Manek was OU's No. 2 option offensively and emerged as a tougher player than ever under the basket. McGriff was OSU's consistent presence inside all season and turned his game up in February as the Cowboys were making a push for the NIT.
ALL-FRESHMAN TEAM
G — Jahmi'us Ramsey, Texas Tech
G — DaJuan Gordon, Kansas State
G — De'Vion Harmon, Oklahoma
G — Miles McBride, West Virginia
F — Oscar Tshiebwe, West Virginia
**Want to win a $25 gift card? Go sign up here and join our conversation! The best poster each week wins a gift card to your favorite establishment!**