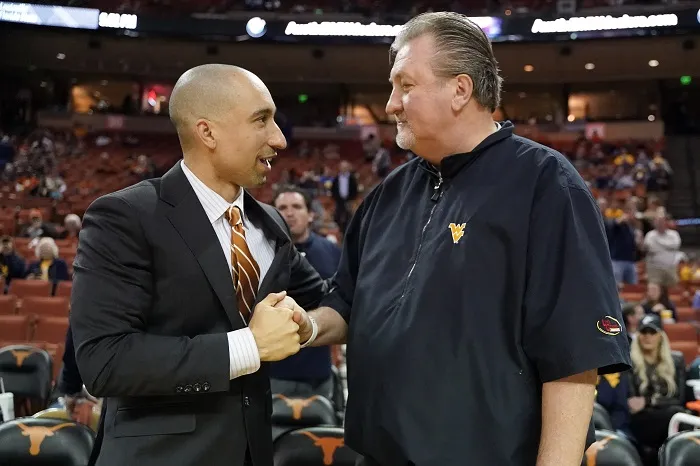 With the 2019-20 Big 12 Men's Basketball season now complete, here are the HeartlandCollegeSports.com power rankings as of March 9.
1. Kansas (Last rankings: 1)
Kansas finished the Big 12 season undefeated on the road and as the nation's No. 1 team. The Jayhawks haven't lost since Jan. 11 against Baylor.
2. Baylor (Last rankings: 2)
The Bears have now lost three of their last five games. That slump should be of some concern to head coach Scott Drew as the Bears try to maintain their standing as a No. 1 seed in the NCAA tournament. But in the context of the Big 12, the Bears remain the No. 2 team in the league despite the 1-1 week. The Bears beat Texas Tech in overtime on Monday.
3. West Virginia (Last rankings: 8)
A huge jump? Yeah, I'll grant you that. But this was a topsy-turvy week in the Power Rankings. The Mountaineers won both games, beating Iowa State on the road — and the Mountaineers hadn't won a road game in two months — and then upset Baylor at home. The Mountaineers absolutely needed that going into the Big 12 Tournament. I think this also exposes just how close the teams are in this league once you get past KU and Baylor, and before you get to Iowa State and Kansas State. It's a soft middle where anything can happen every night. It just happened to be West Virginia's week.
4. Texas (Last rankings: 3)
It doesn't feel totally right having Texas above Oklahoma State in the Power Rankings, considering OSU just beat Texas. But I think, when you look at both teams objectively, Texas is just a bit better. They've won five of their last six games and played their way into the NCAA Tournament conversation. Matt Coleman, Andrew Jones and Courtney Ramey are carrying this team and they'll have to carry an even bigger load in Kansas City next week.
5. Oklahoma State (Last rankings: 6)
Oklahoma State has now won eight of its last 13 games, including the last three to end the regular season. Cameron McGriff and Isaac Likekele are playing great basketball right now, and I have every expectation that the Cowboys will win at least one game in Kansas City. It won't be enough to get them into the NCAA Tournament. But it will be enough to get them into the NIT draw, and the Cowboys had a good experience with that two years ago. With all of the young talent on this team, the postseason experience would benefit the program greatly.
6. Texas Tech (Last rankings: 5)
The Red Raiders are not in a good spot going into Kansas City. You can excuse the 0-2 week with losses to Baylor (in overtime) and Kansas. Tech is an average team in this conference this season, but they still have enough talent to make a run in Kansas City and secure its spot in the NCAA Tournament. But I did not expect Tech to be in the bottom half of my Power Rankings come March.
7. Oklahoma (Last rankings: 4)
A steep drop with the loss to Texas, but the Sooners rallied to beat TCU and that win may keep them securely in the at-large field for the NCAA Tournament.
8. TCU (Last rankings: 7)
TCU nearly had a big win over Oklahoma at home. But surrendering a double-digit lead in the second half is not a way to carry momentum into the Big 12 Tournament. The Horned Frogs remain over .500, but they must win their first tournament game to remain over .500 and entice the NIT committee into inviting them into the postseason.
9. Kansas State (Last rankings: 10)
The Wildcats snapped their 10-game losing streak on Saturday with a win over Iowa State. So, just for that, we will move them up a spot.
10. Iowa State (Last rankings: 9)
Iowa State lost its final three games of the season, including a loss to Kansas State on Saturday. So the Cyclones end the season at the bottom of our power rankings.
Note: All teams advance to the Big 12 Tournament starting on Wednesday. These are our final Power Rankings for the 2019-20 season.  
**We now have FREE Big 12 Forums here at Heartland College Sports. Go sign up here and join our conversation! **