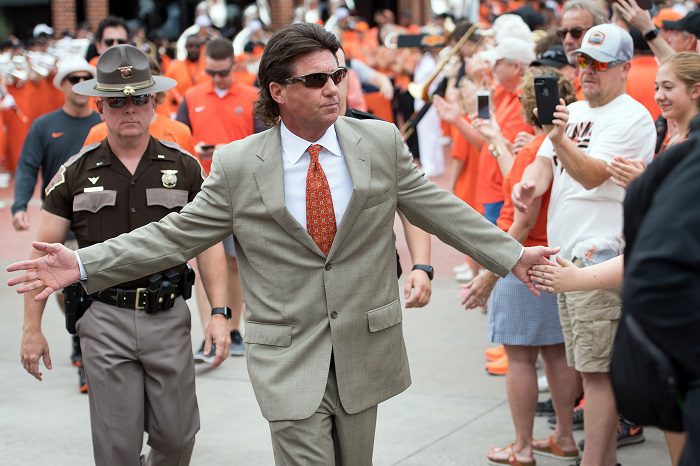 College basketball is heading down the home stretch, college baseball has started, but let's not forget (I know many of you aren't) that spring practice is already getting underway across the country. We will handle spring previews for every Big 12 football team and roll them out based on when their respective spring practices begin. Next up is the Oklahoma State Cowboys who will start up spring practice on Monday, March 9th. Here is a full list of when each Big 12 football team starts spring ball, plus a spring game date and time.
Most Exciting Returnee: Chuba Hubbard
Heck, you could've justified quite a few players here, but Hubbard is the obvious choice to stand out considering the common belief was that he was going to take his talents to the NFL. Hubbard was the nation's leading rusher in 2019 with 2,094 yards and over 160 rushing yards per game. He was also named the Big 12 Offensive Player of the Year. Hubbard is a player that will likely get preseason Heisman attention as he tries to join the legendary Barry Sanders as the only Oklahoma State player to win the award.
Most Exciting Newcomer: QB Shane Illingworth
I understand Oklahoma State has its starter in Spencer Sanders, but let's be fair in saying Sanders' redshirt freshman season had its ups and its down. And while the ups started to surpass the downs as the season went on, it'll still be interesting to see what Illingworth has and what exactly Mike Gundy is working with behind Spencer Sanders in 2020. Illingworth is more along the lines of what Gundy has had success with in the past, a pro-style QB, who is 6'5", 230 pounds, and was the No. 6-ranked pro-style QB in the class of 2020.
Offensive Storyline to Watch: Tylan Wallace's knee
Tylan Wallace tore his ACL in the middle of last season and decided to come back to Oklahoma State for the 2020 season. Now the question is: what kind of shape is that knee in? The Pokes are hoping that it's 100%, the problem is we may not know the answer until summer camp.
BUT, if Wallace sees any action in spring ball, even just some drills, it will be a sign of encouragement. So don't expect to see Wallace doing much at all, but anything he is seen doing is better than nothing. Also this will give us a chance to get a look at some of the guys at the position. Oklahoma State lost four wide receivers to the transfer portal this offseason. We know what Landon Wolf and Dillon Stoner are. But will Braydon Johnson take the next step after a solid 2019 campaign. He's one of the fastest players on the team and he had 491 receiving yards, while averaging 21.3 yards per reception. Jonathan Shepard and Langston Anderson might be two to keep an eye on.
Defensive Storyline to Watch: Who replaces A.J. Green?
And that might be the only question for the Oklahoma State defense that is returning 10 of 11 starters from last year's team. Granted, Green is a big loss and he will find himself on an NFL roster, but still, that's a heckuva situation for this defense to find itself in during a season they hope to be Big 12, and dare I say, College Football Playoff darkhorses. So to replace Green, expect true sophomore Thomas Harper and Tanner McCalister (who is listed as a safety) to get a strong look. Harper saw action in 12 games last season, mostly special teams, but did record 13 tackles. McCalister had 31 tackles and 1.5 tackles for loss. For what it's worth, McCalister was the bigger prospect coming out of high school where he was a four-star player and the No. 41 cornerback prospect in America (according to ESPN).
Powered by RedCircle
**We now have FREE Big 12 Forums here at Heartland College Sports. Go sign up here and join our conversation! **