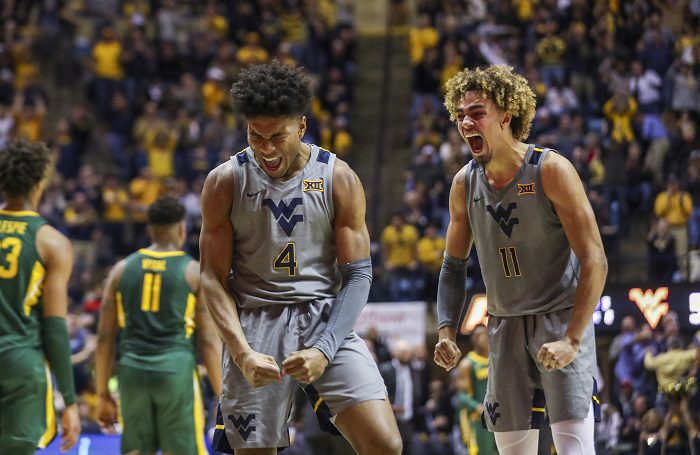 If you watched any part of West Virginia's 12 point upset over the vaunted Baylor Bears on Saturday, you likely drew the same conclusion as everyone else who tuned in: this team is back.
In front of a sold out senior day crowd at the coliseum, Oscar Tshiebwe, Miles McBride and co. put on a show on both ends of the floor en route to breaking down an ultra-talented Baylor squad and stringing together a full-on highlight reel, to boot.  The same Mountaineers that looked listless in the month of February (3-9 during that span) looked legitimately inspired on Saturday after letting Baylor jump out to an early 9-0 lead in the openings minutes. Whether it was Emmitt Matthews, Jr. holding court above the rim, Jermaine Haley leading the charge on fast breaks or the Tshiebwe/Culver trust controlling all manner of life in the paint, this was not at all the same team Scott Drew and the Bears bested in Waco back on February 15th. 
And what immaculate timing, given that the Big 12 tournament kicks off Wednesday in Kansas City starting with Oklahoma State (8) and Iowa State (9).  The Mountaineers (21-10, 9-9 in-conference), enter as a six seed set to battle in the first round with a Sooner team that swept its in-season series with the Mountaineers.  That is to say, there is no easy out for Bob Huggins and his guys, nor did anyone anticipate an easy path in tournament play given the way the 'Eers struggled this last month and change. 
But to call Saturday's court-storming upset over Baylor anything but galvanizing would be disingenuous.  Whatever weird alchemy Huggins was able to achieve in the week since West Virginia scrapped and clawed for an elusive road win over Iowa State on March 3rd is proving to be truly deep magic.  It wasn't that shots were falling for West Virginia on Saturday – and indeed they were – they had the look of a team that rediscovered the power of belief.  If this team has truly found its center, it could be bad news for the rest of the conference. 
Try to remember, West Virginia, despite losing both contests to top-ranked Kansas was in the fight on both occasions and has collected wins over every other conference member outside of aforementioned Oklahoma.  The point is, even at its lowest point, the Mountaineers were still competing and had opportunities to win games before ultimately falling short. If you don't finish and put in 40 minutes of real, god's honest work, you don't win.  If West Virginia is gassed up to work over the next week the same way it did on Saturday, they have a real opportunity to run the table. 
What will anchor West Virginia are the same things that have kept them afloat since the beginning of the season: rebounding (1st in the Big 12), defense (27th nationally in points allowed) and depth (13 players have logged minutes this season).  While all of those things can and will buoy you, scoring will ultimately lift you in critical moments.  Thankfully, Emmitt Matthews, who has been MIA for the majority of the season, had a monster showing against an elite Baylor defense by going for 18 points and four rebounds.  Add in the fact that go-to scorers like Miles McBride and Sean McNeil also posted double digits and the recipe for success becomes clear: run & gun and stay relentless on the glass. 
We've now arrived at the dog days of the season where everyone across the country is in relatively the same shape.  Guys are tired, banged up and feeling the amount of miles they've logged over the course of 30-odd games. Talent helps, sure, but so does being obstinate in the face of fatigue.  Surly teams refuse to get tired and Bob Huggins, the bear himself, knows a thing or two about being stubborn. Assuming this mindset has permeated the locker room, the Mountaineers can also take heart in their ability to perpetually trot out fresh legs.  West Virginia's bench has accounted for over 1,000 of the Mountaineers' 2,179 points scored this season. With over half of its production coming from outside its starting five, Bob Huggins has the ability to toggle sets and schemes with more fluidity than almost any other coach in the country and when you're preparing for the possibility of slugging it out with a big team like Kansas or guarding the long ball against the likes of Texas Tech, that marriage of numbers with versatility is of infinite value. 
Really, what it all comes down to, is the landscape of the conference as a whole.  Baylor and Kansas are the heavyweights, there's no denying it. After those two, though, the conference topography plateaus considerably.  With West Virginia sitting in a log jam at second place along with Texas, Texas Tech and Oklahoma, it stands to reason that someone has to emerge from the throng.  Based on West Virginia's senior day heroics, no other team on the outside looking in is carrying as much fire heading into tournament play than the Mountaineers. 
If ever there was a time to get hot and stay hot, it's right now.  Where these Mountaineers have been during this long, cold winter stretch is anyone's guess.  The truth is, it matters not. Tournament play is its own, chaotic universe and in March, chaos reigns supreme.  For master conductor Bob Huggins, chaos is a symphony tried and true. Kansas City: get ready for a show. 
**We now have FREE Big 12 Forums here at Heartland College Sports. Go sign up here and join our conversation! **