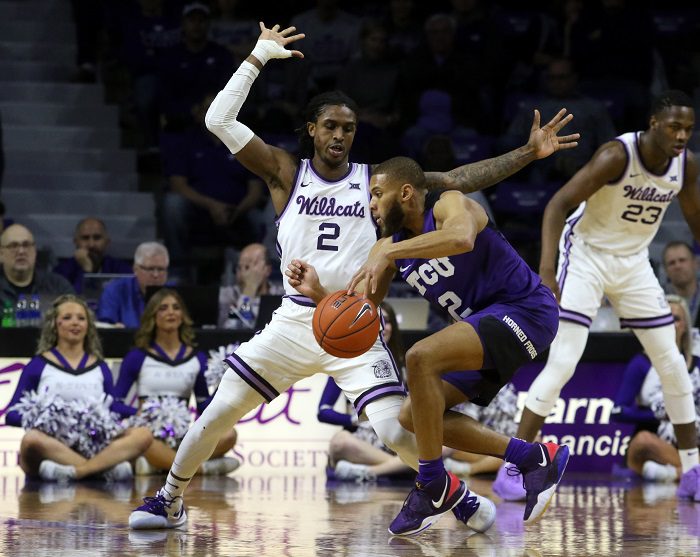 The Big 12 Men's Basketball Tournament begins on Wednesday at the Sprint Center in Kansas City. HeartlandCollegeSports.com will be there for the entire event. Today we preview the second game of the tournament — Kansas State vs. TCU.
No. 7 TCU (16-15, 7-11) vs. No. 10 Kansas State (10-21, 3-15), 8:30 p.m. CT, ESPNU (time is dependent on completion of Game 1)
Season series (2-0 TCU): TCU def. Kansas State, 59-57, in Manhattan, Kan., on Jan. 7; TCU def. Kansas State, 68-57, on Feb. 15 in Fort Worth, Texas.
Winner gets: a Thursday game with No. 2 seed Baylor at 6 p.m.
Projected starting lineups
TCU: G Desmond Bane, G RJ Nembhard, G Jaire Grayer, G Edric Dennis, C Kevin Samuel
Kansas State: G Xavier Sneed, G Cartier Diarra, G Mike McGuirl, G DaJuan Gordon, F Makol Mawien
Player to watch
TCU: Bane. The senior ended the season as the Big 12's second-leading scorer with 16.6 points per game. But he's also TCU's most complete player, ending the season averaging 6.3 rebounds, 3.9 assists and 1.5 steals per game. He's one of the league's top 3-point shooters, averaging 44 percent from distance, tops in the Big 12. He'll get plenty of attention from NBA scouts this summer.
Kansas State: Sneed. If there's one player that can really screw you up when you play Kansas State, it's Sneed. He ended his senior season with a 31-point effort in a win over Iowa State, but he ended the season averaging 14.4 points per game. In an otherwise dismal season for the Wildcats, Sneed has been one of the few bright spots.
Heading into the Tournament
TCU: The Horned Frogs started the season off well, but they didn't play a particularly strong schedule, with their three losses coming to quality teams (Clemson, USC and Xavier). Once Big 12 action hit TCU surprised many by starting 3-0, with wins over Iowa State, Kansas State and Oklahoma State. After that, the Horned Frogs fell hard, at one point losing six straight games. But the Horned Frogs managed to stay above .500 all season, though they lost their final two games of the season to Kansas and Oklahoma (preceded by a win over then-No. 2 Baylor). The Horned Frogs are trying to stay in position for an NIT berth, and a win over Kansas State would ensure they remain over .500, even if the Horned Frogs turn around and lose in the next round.
Kansas State: Most knew going into the season that it would be a transition year in Manhattan, but no one knew just how bad it would get. The Wildcats were never really competitive, losing their first four league games before managing to upset West Virginia at home, 84-68. After that, the Wildcats lost 12 of 13 games, including a 10-game losing streak that stretched from the beginning of February into early March. The season-ending win over Iowa State finally broke the skid, but by then the Wildcats had firmly secured the No. 10 seed in the Big 12 Tournament. While Sneed and Diarra had fine seasons, the Wildcats can look at a bench of players that didn't develop behind the trio of Dean Wade, Kamau Stokes and Barry Brown Jr. in the years prior as a big reason for the team's skid this season.
Number to know
TCU: 35.3. Thanks largely to Bane, the Horned Frogs have the second-best 3-point percentage in the Big 12 this season.
Kansas State: 41.5. That is Kansas State's shooting percentage this season, worst in the Big 12 this season. Who wins?: The money should be on TCU. The Horned Frogs still have a potential NIT bid to play for, are coming off a win over Baylor two weeks ago and have a better matchup inside with Samuel on Mawien. The Horned Frogs need this win to keep themselves above .500 and to keep the NIT committee interested in sending them an invite. The fact that the Horned Frogs have beaten the Wildcats both times certainly adds fuel to the idea that the Horned Frogs should win. But don't discount the idea that Kansas State could win this game. First, Sneed is highly motivated as a senior. Second, the Wildcats should have a pseudo-home court advantage with Kansas City being so close to Manhattan. But, in the end, TCU seems like the better team right now and, with the carrot of a rematch with Baylor, should take the win in the nightcap.
Here is a full look at the Big 12 Tournament schedule for the week.
**Want to win a $25 gift card? Go sign up here and join our conversation! The best poster each week wins a gift card to your favorite establishment!**