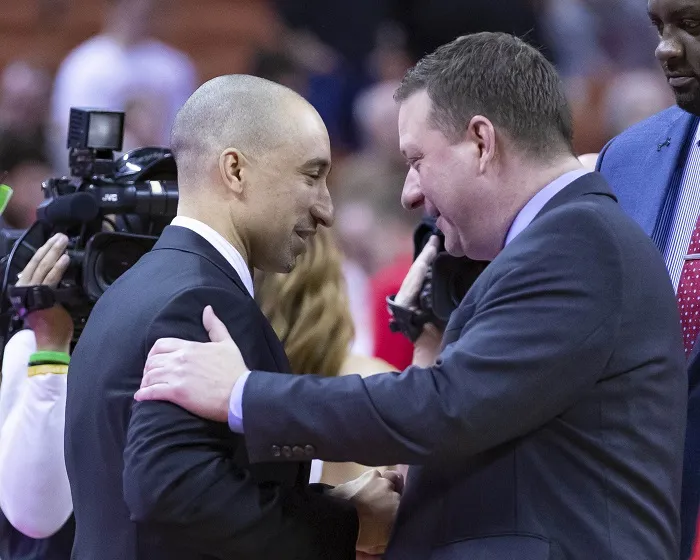 Texas, Texas Tech tip off the second day of the Big 12 Tournament
The Big 12 Men's Basketball Tournament continues Thursday at the Sprint Center in Kansas City. HeartlandCollegeSports.com will be there for the entire event. Today we preview the first game of the Thursday morning session — Texas vs. Texas Tech.
No. 4 Texas (19-12, 9-9) vs. No. 5 Texas Tech (18-13, 9-9), 11:30 a.m. CT, ESPN/ESPN2
Season series (tied 1-1): Texas Tech def. Texas, 62-57, in Austin, Texas, on Feb. 8; Texas def. Texas Tech, 68-58, in Lubbock, Texas, on Feb. 29.
Winner gets: a Friday semifinal game at 6 p.m. CT.
Projected starting lineups
Texas: G Andrew Jones, G Matt Coleman III, G Courtney Ramey, F Kai Jones, F Royce Hamm Jr.
Texas Tech: G Kevin McCullar, G Jahmi'us Ramsey, G Kyler Edwards, G Davide Moretti, F TJ Holyfield.
Player to watch
Texas: Kai Jones. With Jericho Sims and Gerald Liddell out, and with forward Brock Cunningham's status uncertain after his ankle injury during practice on Wednesday, Jones has seen his floor time skyrocket, and the Longhorns' season finale against Oklahoma State showed a glimpse of what he can do — 20 points, 7 rebounds, 1 assist, 1 block and 2 steals in 32 minutes. The 6-foot-11 forward is slender, has a long wingspan and is still working on his defense. But he can give the Longhorns a boost inside, and he'll need to do that and stay out of foul trouble, to keep Texas Tech from double-teaming the Longhorns' guards. It would be difficult to expect another 20-point outing. What the Longhorns need from Jones is to play well enough to keep the Red Raiders honest down low.
Texas Tech: McCullar. I'm interested to see how or who Texas will use to defend him. The freshman has averaged 10.2 points and 5.8 rebounds in his last five games, and at 6-foot-6, McCullar's guard/forward combo skills make him a hard matchup. When I saw him against Kentucky in January he flew off the floor and into high-wire situations around the glass. His shooting, overall and from the 3-point line, has improved in Big 12 play. But the Red Raiders have the outside shooters they need. What they need from McCullar is to drive to the basket, draw fouls (he's an 80 percent free-throw shooter in Big 12 action) and play good defense. He's peaking at just the right time.
Heading into the Tournament
Texas: The Longhorns were the hottest team in the Big 12 for nearly three weeks, answering the bell after losing Sims and guard Jase Febres with a five-game winning streak that included wins over two ranked teams, West Virginia and Texas Tech (and those wins were back-to-back). The loss to Oklahoma State in the finale — and a bad one, at that — took some of the wind out of that streak. But the Longhorns did enough during that stretch to play their way back into the NCAA Tournament conversation and to take some of the heat off of Shaka Smart's coaching seat. Overall, they're on an upswing, but their injuries have significantly sapped their depth.
Texas Tech: The Red Raiders have been the epitome of up-and-down this season. They started the season winning five in a row, then lost three in a row and snapped that streak by beating then-No. 1 Louisville. Since Big 12 play, consistency has been hard to come by, except for a stretch in late January and early February in which the Red Raiders won four out of five. They're trending down at the worst time, as the lost their final four games going into Kansas City, with the last two coming against Baylor (in overtime) and Kansas.
Number to know
Texas: 248. That's the number of 3-pointers Texas has made this season, second-most in the Big 12 behind TCU.
Texas Tech: Two. That's the number of wins Texas Tech has over Texas in the Big 12 Tournament in six tries. 
Betting: Texas Tech should be coming out favorite to take out the Longhorns, but despite the odds still as TBA status, Sascha Paruk from SportsBettingDime figures Tech will be favored by 4.5 points, but we won't be certain until gameday.
Who wins?: The rubber match could be an NCAA Tournament bubble game. Texas squandered its chance to reach 20 wins by failing to beat Oklahoma State, and likely doesn't want a second- blemish against a Texas Tech team it beat last month. Texas Tech, which reached the national finals last year, is also on the bubble, though it can lean on that win over Louisville as an example of its tournament bona fides. Whatever happens we know how it's going to go down. If Texas wins, it will be because their 3-point shooters — Andrew Jones, Ramey and Coleman — go off. If Texas Tech wins, it will be because their defense comes to play and Ramsey has a fine game. As they say, defense travels. Tech is the pick. 
**Want to win a $25 gift card?  Go sign up here and join our conversation! The best poster each week wins a gift card to your favorite establishment!**