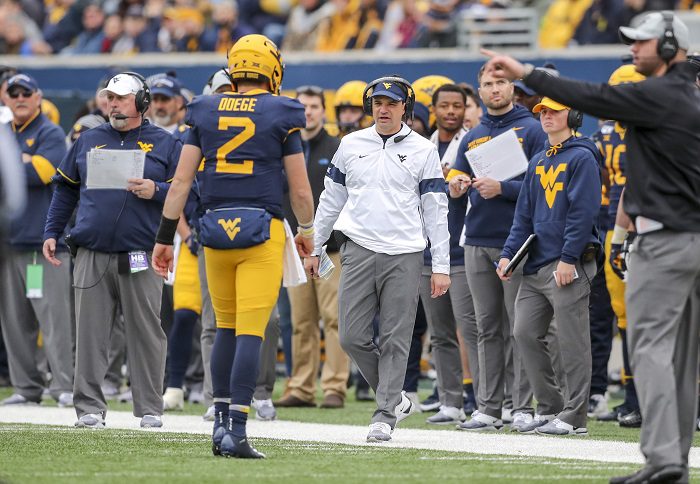 College basketball is heading down the home stretch, college baseball has started, but let's not forget (I know many of you aren't) that spring practice is already getting underway across the country. We will handle spring previews for every Big 12 football team and roll them out based on when their respective spring practices begin. Next up is the West Virginia Mountaineers who will start up spring practice on Tuesday March 10th.
Most Exciting Returnee: The Stills Brothers
Darius and Dante Stills both came to Morgantown with hype, actually Dante had more hype than Darius, but it's Darius, a rising senior, who was the First-Team All-Big 12 selection in 2019, while Dante, a rising junior, was a Second-Team selection. Darius led the Mountaineers with 14 tackles for loss and was tied for the team lead with seven sacks. Meantime, Dante tied his brother for the most sacks on the team with seven, and was second on the team with 11.5 tackles for loss. These two have been connected since they each arrived on campus one year apart, and this year their story could have a fascinating next chapter in their last season playing together (at least in college).
Most Exciting Newcomer: Garrett Greene
I realize Jarret Doege is who everyone expects to see under center next season after the way he finished the season, but in spring, the "sexy" positions always get more attention and are easier to judge, so why not go with the incoming freshman QB Garrett Greene? He was one of Neal Brown's first commitments at WVU out of Tallahassee, Florida. He was the No. 21 dual-threat quarterback in the country in the Class of 2020 and considering the QB job in Morgantown is not set in stone, why not keep an eye on Greene, who has enrolled early, and let's see what he's got.
Offensive Storyline to Watch: Who's at quarterback?
The Mountaineers have 18 players who have started at least one game … on offense. But one of the biggest questions is who is going to lead the offense. I spoke with coach Neal Brown this week (the interview will be up on our podcast next week, 3/17, so be sure to go subscribe to our Heartland College Sports podcast), and I did not get the sense that Jarret Doege had the job locked up and that he will have to earn it. Granted, based on how he played at the end of the season, when WVU won two of three games, he has to be the favorite, but regardless, anytime there is a semblance of a quarterback battle in spring camp, it's always the most intriguing storyline to keep an eye on. And based on how inconsistent it was last season in Morgantown, fans will be glued.
Defensive Storyline to Watch: An Inexperienced Secondary
The Mountaineers are stout along the defensive line as we mentioned above, but the secondary has a few more questions. Granted, this unit came together late last season, helping WVU hold each of its final two opponents to under 300 total yards, but the secondary is turning over. Cornerbacks Keith Washington and Hakeem Bailey are gone, along with safety Josh Norwood. The three combined for 57 starts. Sean Mahone and Tykee Smith are back in the mix, but the rest of the unit is wide open. WVU has two cornerbacks enrolled early in Jackie Matthews and Jairo Faverus, and the team's top prospect in the Class of 2020 is David Vincent-Okoli, but he's not expected to be enrolled until the fall. Oh, and don't forget about Dreshun Miller, the team's top prospect in the 2019 class, where he was the No. 3 JUCO cornerback prospect in America. He missed all of last season with an injury, but is expected to be a favorite to land a starting job this year. Let's keep an eye on what his knee looks like this spring after last season's injury.
**We now have FREE Big 12 Forums here at Heartland College Sports. Go sign up here and join our conversation! **