Big 12 News
Big 12 Conference Cancels All Competitions Through End of Academic Year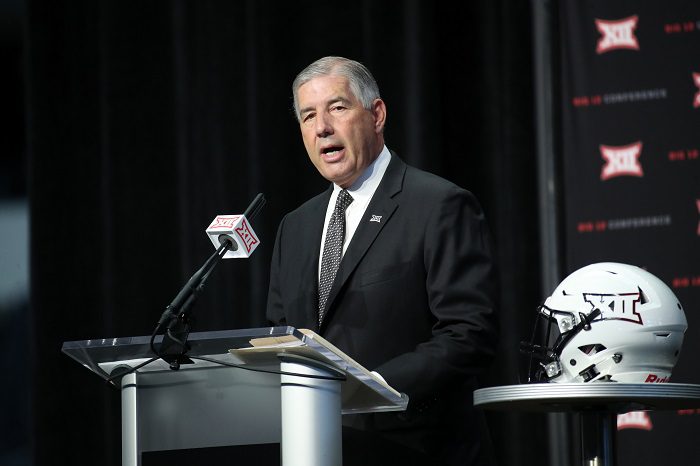 The Big 12 2020 athletic season is over.
The conference sent out a release a little after 6 p.m. central time, taking the unprecedented step of declaring that all athletic activity for the rest of the school year —whether it was non-conference or conference — was canceled, in response to the COVID-19 coronavirus crisis.
"Due to the on-going developments related to COVID-19 the Big 12 Conference announces that all organized team activities whether organized or voluntary, including team and individual practices, meetings, and other organized gatherings, have been suspended until March 29 and will be re-evaluated at that time. In addition, all conference and non-conference competitions are cancelled through the end of the academic year, including spring sports that compete beyond the academic year."
Kansas State was one of the first Big 12 schools to have a public reaction to the announcement, via kstatesports.com. Athletic Director Gene Taylor was quoted as saying that "we all have to do our part in helping make our community, state and nation as safe as possible."
"We must continue to emphasize the safety and well-being of our student-athletes, coaches, staff and University community," Taylor said through the release. "I know this is a very difficult time for our teams and student-athletes, and even our fans, but we all have to do our part in helping make our community, state and nation as safe as possible. As we have stated before, this is a very serious and fluid situation with many layers and we will continue to work closely with appropriate medical professionals, the Big 12 Conference and our University administration to monitor the situation."
KUSports.com reporter Matt Tait got immediate reaction from a couple of Kansas coaches, including baseball coach Ritch Price, who told Tait that he had never been in this position before.
"It's kind of uncharted waters and we've just got to wait and see," Price told Tait.
There was some hope that the spring sports, including baseball and softball, could resume in the next few weeks. On Thursday the Big 12 announced that it would suspend regular-season competition until at least March 29.
That decision forced the cancellation of the Texas Relays, the second-largest track and field event in the U.S., behind only the Penn Relays. That cancellation not only hurts Big 12 stars, but starts from other college division and Texas high schools. The Relays were first held in 1925, with only one interruption, from 1932-34, due to the Great Depression.
The announcement leaves open the possibility that organized team activities could resume on March 29, which would leave open the possibility of some spring practices for football and other sports that have off-season activities. Earlier on Friday, the NCAA's Division I Council Coordination Committee announced that it would recommend to the NCAA's full body that seniors in spring sports like baseball, men's and women's lacrosse, softball and men's volleyball be offered an eligibility waiver, which would likely allow them to complete in the 2020-21 academic year. That work group is also considering offering a similar recommendation for seniors in winter sports, which would include men's and women's basketball. There is no timetable for an approval.
**Want to win a $25 gift card?  Go sign up here and join our conversation! The best poster each week wins a gift card to your favorite establishment!**