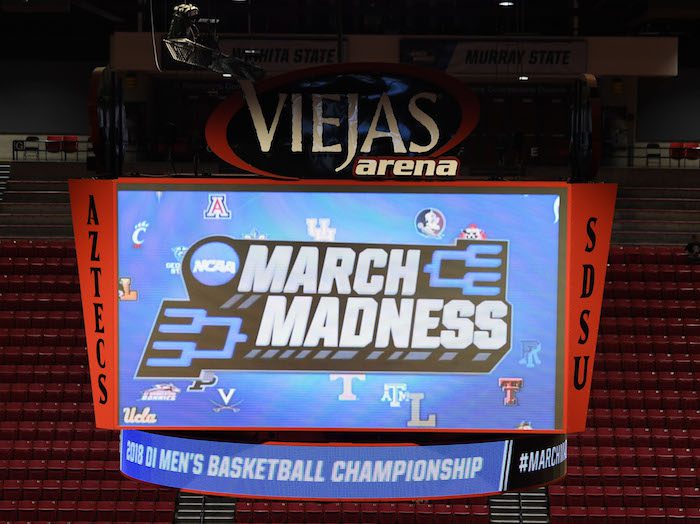 This March Madness Big 12 Rewind for 2001 takes you back to how the teams in the Big 12 Conference did in the 2001 NCAA Tournament.
The Big 12 in 2001
For the second straight season the Iowa State Cyclones won the Big 12 regular-season title. For the second straight season six Big 12 teams made the NCAA Tournament. But what happened in Kansas City and the NCAA Tournament was much different.
Iowa State finished 25-6 and 13-3 in the Big 12, despite losing Marcus Fizer to the NBA. By season's end five players finished in double figures in scoring, led by seniors Jamaal Tinsley (14.3 ppg), Martin Mancik (13.2 ppg), Kantrail Horton (10.7 ppg) and Paul Shirley (10.0 ppg). The Cyclones were as productive as a Big 12 team got that season, as it put together a 10-game winning streak in league play, a streak that included two wins over Kansas in a six-day period. Iowa State would head to Kansas City as the Big 12 Tournament's No. 1 seed.
Kansas, Oklahoma and Texas ended up in a three-way tie for second place at 12-4 in Big 12 action. All three won at least 25 games and spent a good portion of the season in the AP Top 25. Oklahoma State, despite substantial losses from the previous season's Elite 8 team, finished 10-6 in the Big 12, while Missouri went 9-7 under second-year coach Quin Snyder. As it turned out, those six teams would be the only Big 12 teams above .500 and would be the six Big 12 teams selected to the NCAA Tournament.
Nebraska (7-9 in Big 12) finished a game ahead of Baylor (6-10) in the final regular-season standings, but the Bears, led by Dave Bliss, claimed an NIT berth. Colorado, Kansas State, Texas A&M and Texas Tech all finished well under .500 in the Big 12. Kansas State had a new coach, Jim Wooldridge, while Texas Tech would win just nine games overall. The Red Raiders would fire James Dickey after the season, and a new coach — a legend at that — would take over the Red Raiders in 2001-02. But we'll get to that in our 2002 rewind.
The regular-season award winners included Tinsley (player of the year), Oklahoma State G Maurice Baker (newcomer of the year), Iowa State G Jake Sullivan (freshman of the year) and Iowa State head coach Larry Eustachy (coach of the year). The All-Big 12 First Team included Tinsley, Baker, Baylor F Terry Black, Kansas F Nick Collison and Missouri F Kareem Rush.
At the Big 12 Tournament in Kansas City, No. 1-seeded Iowa State fell to No. 8 Baylor, 62-49, a win that likely clinched the Bears' NIT berth (where the Bears lost in the first round to New Mexico). The other higher seeds — No. 2 Kansas, No. 3 Oklahoma and No. 4 Texas — all won in the quarterfinals. In the semifinals Texas ended Baylor's Cinderella run, while Oklahoma upended Kansas by five points. In the championship game Oklahoma secured the automatic NCAA Tournament berth with a 54-45 win over Texas.
Oklahoma's Nolan Johnson was the tournament's Most Outstanding Player. Baylor G DeMarcus Minor, Rush, Oklahoma G Hollis Price and Texas F Chris Owens were selected to the All-Tournament team.
On Selection Sunday Iowa State was selected as a No. 2 seed. Oklahoma and Kansas were both No. 4 seeds. Texas was a No. 6 seed, Missouri was a No. 9 seed and Oklahoma State was a No. 11 seed. It was not the NCAA Tournament the Big 12 was hoping for.
First Round 2001 NCAA Tournament
Iowa State entered the NCAA Tournament as a second seed for the second straight year. The results were far different this time.
The Cyclones were on the losing end of one of the most memorable upsets in NCAA Tournament history, as the Cyclones lost to No. 15 seed Hampton, 58-57. At the time, it was just the fourth time a No. 15 seed had defeated a No. 2 seed in the first round. It was a disappointing end to another great season, and what was to come was going to be far worse.
Three other teams fell in the first round. Oklahoma, after reaching the Sweet 16 two years before, and winning a first-round game the previous year, fell to No. 13 Indiana State, 70-68, in overtime. The loss brought to an end the careers of five seniors, including Nolan Johnson, who led the Sooners with 13.2 ppg.
Texas found itself upset as well, as the Longhorns fell to No. 11 Temple, 79-65. That Temple team would be head coach John Chaney's last NCAA Tournament team, which would take him to the Elite Eight. But better things were ahead for Texas, however, as it was set to lose just two seniors, none of which were the four players that would eventually make it to the NBA — Maurice Evans, Chris Owens, James Thomas and Royal Ivey.
Oklahoma State lost to USC, 69-54. The Cowboys were set to bring everyone back next season, including a pair of future NBA players — Maurice Baker and Melvin Sanders. Baker finished the season as OSU's leading scorer with 19.8 ppg.
The only Big 12 teams with first-round wins were Kansas and Missouri. The Jayhawks defeated Cal State Northridge, 99-75, while Missouri defeated Georgia, 70-68, in a game that came down to the wire. 
Second Round 2001 NCAA Tournament
Kansas would be the only Big 12 team to move on to the Sweet 16. The Jayhawks destroyed Syracuse, 87-58.
Missouri wasn't as lucky. The Tigers faced No. 1 seed Duke, which mean that Snyder had to go up against his old mentor, Mike Krzyzewski. In a high-scoring affair, the Blue Devils won, 91-84. Kareem Rush had a big game for the Tigers, scoring 29 points, capping a sophomore season in which he averaged 21 ppg. Clarence Gilbert had 16 points and Tajudeen Soyoye added 11 points. Duke went on to win the national championship, led by Shane Battier, Jay Williams and Mike Dunleavy Jr.
Sweet 16 2001 NCAA Tournament
Kansas would wrap up the tournament with an 80-64 loss to No. 1-seed Illinois in the regional semifinals. With five players averaging double figures that season, and with future NBA players Nick Collison, Drew Gooden and Kirk Hinrich on the roster, the Jayhawks figured to be a formidable foe for the Illini. Illinois had a 12-point lead at halftime and never gave it up, led by Frank Williams, who scored 30 points. That Illinois team was guided by a new head coach, one that would become quite familiar to Big 12 fans in the coming years — Bill Self.
**Want to win a $25 gift card? Go sign up here and join our conversation! The best poster each week wins a gift card to your favorite establishment!**