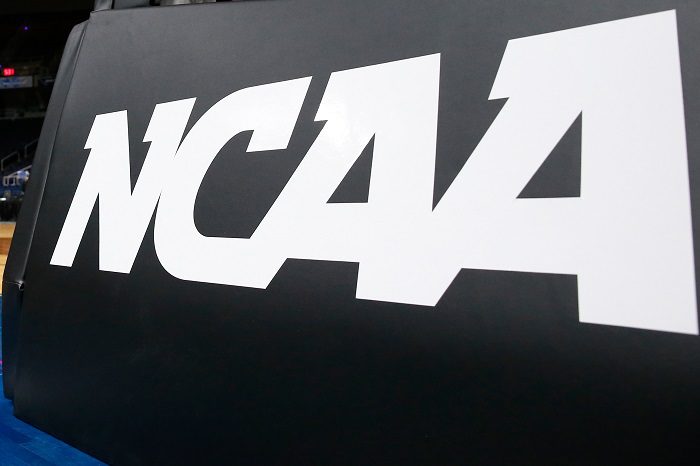 This March Madness Big 12 Rewind for 2002 takes you back to how the Big 12 Conference did in the 2002 NCAA Tournament.
The Big 12 in 2002
Three seasons must have felt like an eternity for the Kansas Jayhawks. That was three straight seasons without a Big 12 regular-season crown. Texas took it in 1999, while Iowa State won back-to-back titles in 2000 and 2001. Well, Kansas was having none of that in 2002. They not only won the regular season league crown, but they did it with a hint of dominance. The Jayhawks became the first team in Big 12 history to win a league title without a blemish.
That 16-0 regular season came at the expense of Oklahoma, which went 13-3 in league action, and Texas, Oklahoma State and Texas Tech, all of which went 10-6 in the Big 12. Missouri was the only remaining Big 12 team to finish above .500 in league action at 9-7.
Kansas was a team to be reckoned with, and not just in the Big 12. A lot was expected of them with the return of future NBA players Drew Gooden, Kirk Hinrich and Nick Collison, along with Jeff Boschee, who as a freshman led the Jayhawks to their last regular-season crown. Head coach Roy Williams blended them with a talented recruiting class that featured three players that would eventually go on to the NBA — Wayne Simien, Aaron Miles and Keith Langford.
Kansas started the season No. 4 in the nation and never dropped below No. 8. Kansas held steady in the Top 4 for most of the season. The Jayhawks were No. 1 for a week in January before a loss to UCLA in non-conference action. Kansas reclaimed the No. 1 ranking in mid-February and hung onto it going into the Big 12 Tournament.
By season's end Kansas had a seven-player rotation that ranged from averaging 19.8 ppg (Gooden) to Simien (8.1 ppg). It was as formidable as college basketball gets. How dominant was Kansas in the Big 12? The Jayhawks never scored fewer than 74 points in a game, scored at least 80 points in 14 of 16 league games and scored 100 or more points six times, one of which was a triple-overtime classic with Texas that ended with Kansas winning, 110-103.
Kansas dominated, but you could make the case that this was one of the best seasons in Big 12 history. Oklahoma found itself as a clear No. 2 in the league, and the Sooners were no slouch. They would win 31 games by season's end, and it might have been the best team in Kelvin Sampson's tenure in Norman. OU's leading scorer that season was a junior, Hollis Price, who averaged 16.5 ppg. Senior forward Aaron McGhee was right behind him, averaging 16.0 ppg, while guard Ebi Ere had 14.6 ppg. Three other Sooners averaged at least six points per game. OU finished the season No. 5 in the AP poll after starting the season at No. 25.
The Longhorns, Cowboys and Red Raiders were locked up in third place. Texas, in its third season under Rick Barnes, won 22 games overall. Holdovers Royal Ivey and James Thomas were just sophomores, and another sophomore, Brandon Mouton, led the Longhorns with 13.7 ppg. But freshman guard T.J. Ford would play a role in Texas' continued rise in the Big 12. The No. 17 national recruit hit the ground running, averaging 10.8 ppg and 8.2 apg. Ivey, Thomas and Ford eventually went to the NBA, as did Chris Owens, who averaged 15.7 ppg in his final season.
The Cowboys won 23 games overall and had three future NBA players on their roster — Maurice Baker, Ivan McFarlin and Melvin Sanders. But it was junior Victor Williams (13.1 ppg) and senior Fredrik Jonzen (12.3 ppg) who led the Cowboys in scoring that season. Head coach Eddie Sutton got plenty out of them, as the Cowboys started the season No. 18 in the nation, rose to No. 5 by the new year and eventually saw their ranking drop to No. 20 by season's end.
Texas Tech's rise was surprising. The Red Raiders won just three league games the season before and dismissed James Dickey. In his place athletic director Gerald Myers made the controversial decision to hire former Indiana coach Bobby Knight. The former Hoosiers legend had led them to three national titles, but his departure from Bloomington was acrimonious to say the least, as he was eventually dismissed after a chain of events that began with Knight being accused of choking a player during practice. After a year off Myers, who had been colleagues with Knight for many years (remember that Myers was the basketball coach at Texas Tech for 20 years before moving into administration), brought the Hall of Famer on to resurrect the Red Raiders. Knight did so immediately, as the Red Raiders were ranked for two weeks in late January and early February.
Texas Tech won 23 games that season, due in part to Knight. But a pair of future NBA players had a hand in it too — guard Andre Emmett (18.7 ppg) and forward Kasib Powell (15.1 ppg). Senior center Andy Ellis averaged 16.5 ppg.
Missouri would enter the postseason underestimated after a 9-7 Big 12 record. But Missouri won 24 games under Quin Snyder that season, and led by guard Kareem Rush (19.8 ppg) the Tigers had four players averaging double figures as they sought to be a factor in the Big 12 Tournament and beyond.
Kansas State and Nebraska would each go 6-10 in Big 12 action, followed by Colorado (5-11), Baylor (4-12), Iowa State (4-12) and Texas A&M (3-13). The Cyclones' fall was particularly jarring. Third-year coach Larry Eustachy — who had led the Cyclones to two straight NCAA Tournament appearances, two straight Big 12 regular-season titles and one Big 12 Tournament title — saw his Cyclones win just 12 games in 2001-02.
The regular-season award winners included Gooden (player of the year), Ere (newcomer of the year), Ford (freshman of the year) and Williams (coach of the year). The All-Big 12 First Team included Gooden, Hinrich, Rush, Price, Emmett and McGhee.
At the Big 12 Tournament in Kansas City, the Jayhawks were the undisputed No. 1 seed and cruised to the championship game. Their opponent was Oklahoma, which won both of its tournament games by double digits. In the championship game, Oklahoma had the upper hand, defeating Kansas, 64-55. It was the first time in Big 12 history that the top two seeds had reached the championship game.
Oklahoma's Hollis Price was the tournament's Most Outstanding Player. Collison, Gooden, McGhee and Ford were selected to the All-Tournament team.
On Selection Sunday the Big 12 would have a half-dozen teams in the event — Kansas (No. 1 seed), Oklahoma (No. 2 seed), Texas (No. 6 seed), Texas Tech (No. 6 seed), Oklahoma State (No. 7 seed) and Missouri (No. 12 seed). It would be an NCAA Tournament to remember for the Big 12 Conference.   
2002 NCAA Tournament: First Round
The Big 12 suffered two losses in the first round. Texas Tech lost its first NCAA Tournament game under Bobby Knight, falling to No. 11 seed Southern Illinois, 76-68. With Andre Emmett just a sophomore, good things were ahead for the Red Raiders.
Oklahoma State lost to No. 10 seed Kent State, 69-61. It was Oklahoma State's second straight first-round loss, but, like Texas Tech, good things were ahead for Eddie Sutton and the Cowboys.
As for the other four Big 12 teams, all of them would emerge from the first weekend of the tournament unscathed. Kansas beat Holy Cross, 70-59; Oklahoma beat Illinois-Chicago, 71-63; Texas beat Boston College, 70-57; and Missouri upset No. 5-seeded Miami (FL), 93-80.
2002 NCAA Tournament: Second Round
The conference kept right on trucking on the first weekend of the NCAA Tournament. Kansas made easy work of Stanford, 86-63. Oklahoma handled Xavier, 78-65. Texas needed every second to outlast Mississippi State, 68-64. And Missouri continued its improbable march to the Sweet 16 with a win over No. 4-seed Ohio State, 83-67. For the first time in Big 12 history, the conference had four teams in the Sweet 16.
2002 NCAA Tournament: Sweet 16
With the Final Four in sight, all four Big 12 teams had their eyes on winning the next two games. And three of them got it done.
Kansas would face its future coach, Bill Self, as the Jayhawks defeated Illinois, 73-69. If you know your Kansas history, it was payback. In the 2001 NCAA Tournament, Illinois beat Kansas in Self's first season in Champaign. Now, Kansas head coach Roy Williams and his team turned the tables. Kansas had a six-point lead at the break and didn't give it up, as the Jayhawks were led by Drew Gooden, who had 15 points and 13 rebounds.
Oklahoma pounded Arizona, 88-67, to advance to the Elite Eight. Missouri kept on rolling, too, defeating UCLA, 82-73. To this point in the tournament the Tigers had beaten a No. 4 seed, a No. 5 seed and a No. 8 seed.
The one loss came when Texas fell to No. 2 seed Oregon, 72-70. It was an off game for the Longhorns, who were led by James Thomas with 15 points and Brian Boddicker with 13 points. Oregon was led by the 'Lukes' — Jackson with 25 points and Ridnour with 20 points. The loss by Texas prevented what would have been an All-Big 12 Regional Final, as Kansas was in the same region. But there was still an All-Big 12 Regional Final that weekend.
2002 NCAA Tournament: Elite 8
The Big 12 had three teams in action on the NCAA Tournament's second weekend, and two would emerge from the weekend with an invitation to the Final Four.
Kansas, which had just been tested by Illinois, drilled Oregon, 104-86. Five Kansas players finished in double figures, led by Nick Collison, who had 25 points. Kansas had not made a Final Four appearance since 1993, and the invite left them uniquely positioned to try and win the program's first national title since 1988, when head coach Larry Brown led Danny Manning and the Jayhawks (known colloquially as 'Danny and the Miracles') to a national title.
If you're an astute fan, you know that Kansas defeated Oklahoma to win that 1988 national title. Well, the Sooners were looking for a rematch as they walked out to play Missouri in the Regional Final. Yes, the Tigers — who were on a Cinderella run the likes of which the Big 12 had not seen in its short history — were making their first Elite Eight appearance since 1994, when the Tigers were a No. 1 seed and eventually lost to Arizona.
Well, the magic ended for Missouri against Oklahoma, as the Sooners won, 81-75. The Sooners were up 41-33 at halftime. Hollis Price led the Sooners with 18 points, but three other OU players were in double figures — Ebi Ere (17 points), Aaron McGhee (15 points) and Quannas White (12 points). Rickey Paulding led the Tigers with 22 points, while Kareem Rush had 17 points.
With the victory, the Sooners were set to make their first NCAA Final Four appearance since that 1988 team, and the first under head coach Kelvin Sampson. Meanwhile, the Elite Eight appearance would be the high water mark of Quin Snyder's seven-year tenure in Columbia.
2002 NCAA Tournament: Final Four
Would there be a Kansas-Oklahoma rematch in the national championship game? In a word, no.
Oklahoma found itself playing No. 5-seeded Indiana, helmed by Mike Davis, who had taken over after Bobby Knight was fired. The Sooners fell, 73-64, as Indiana pulled away with a second half that saw the Hoosiers outscore the Sooners, 43-30. It was a bad time for Hollis Price to have an off-night for OU, as he scored just six points. Ebi Ere had 15 points and Aaron McGhee led with 22 points.
The Oklahoma loss was an upset. But the Kansas-Maryland game was a matchup of No. 1 seeds and it should have lived up to the billing of a down-to-the-wire game. But Maryland, under head coach Gary Williams, ended up defeating Kansas, 97-88. Maryland held a 44-37 lead at the break and, despite Kansas' best efforts, the Jayhawks could not get much closer. All five of Kansas' starters hit double figures in scoring, led by Nick Collison's 21 points. But Maryland's Juan Dixon led the way for the Terrapins, as he scored 33 points.
So both the Sooners and Jayhawks would have to watch as Maryland won its first national title, as the Terrapins beat Indiana two nights later in Atlanta.
**Want to win a $25 gift card? Go sign up here and join our conversation! The best poster each week wins a gift card to your favorite establishment!**