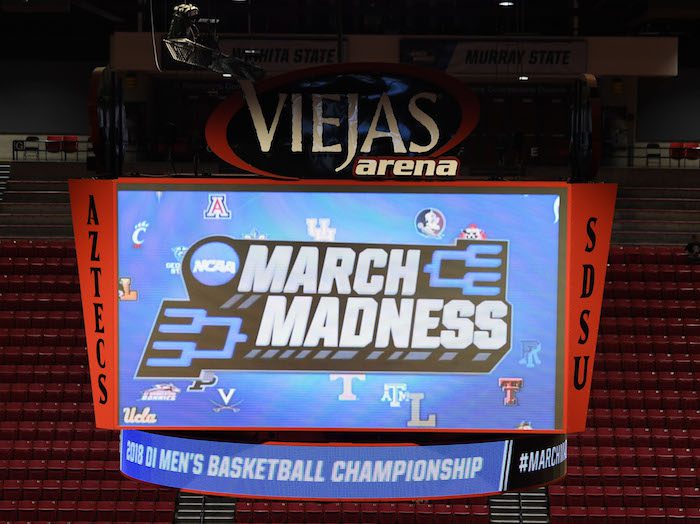 This March Madness Big 12 Rewind for 2004 takes you back to how the Big 12 Conference did in the 2004 NCAA Tournament.
THE BIG 12 IN 2004
When the Kansas Jayhawks lost to the Syracuse Orange in the 2003 National Championship game, the Jayhawks knew they were losing some great players. Little did they know they were about to lose their head coach, too.
The Jayhawks had been down this way before with Roy Williams. Back in 2000, Bill Guthridge, the hand-picked successor to North Carolina legend Dean Smith, retired. Williams spent a year on the UNC junior varsity as a player, and a decade on the UNC bench as a Smith assistant, before taking over at Kansas in 1988, right after Larry Brown left Lawrence for the San Antonio Spurs.
Williams would have been a natural fit for the Tar Heels. And for a week that spring the will-he-or-won't-he drama of whether Williams would head for Chapel Hill, N.C., dominated the sports news cycle. Finally, tearfully, Williams chose to stay in Lawrence. North Carolina hired a former Tar Heels player, Matt Doherty, one that had played with Michael Jordan on the program's 1982 national championship team. Doherty was coming off one season at Notre Dame, where he went 22-15 and took the Fighting Irish to the NIT championship game. Doherty had, oddly enough, spent seven seasons serving as an assistant under Williams at Kansas before heading to Notre Dame.
After three seasons Doherty hadn't measured up to UNC's high standard, even with a 53-43 record. UNC went to the NCAA Tournament his first season, but failed to do so the next two seasons. Tar Heel brass decided to let Doherty go. During the 2003 Tournament rumors of Williams going to North Carolina dogged the coach, at one point compelling Williams to say into a live mic, "I could give a s$#@ about North Carolina right now." During that time Kansas fired its athletic director, Al Bohl, who was believed to have a bad relationship with Williams. Some saw the move as a way to try and keep Williams in Lawrence. Bohl basically told the public that Williams got him fired.
It didn't work. Williams left Lawrence for North Carolina after the season. He won 418 games with the Jayhawks, led them to three Final Fours and missed the NCAA Tournament just one time, his first season.
So, Kansas had to go find a successor. The Jayhawks hired one of the program's recent tormentors and a coach with deep Big 8 Conference roots.
Bill Self played basketball at Oklahoma State in the 1980s. After one season as an assistant at Kansas (under Larry Brown) he spent seven years at Oklahoma State (under Leonard Hamilton and Eddie Sutton). Based on his work there, Oral Roberts, the private religious school located in Tulsa, Okla., hired Self to take over its basketball program in 1993. Self went 55-54 in four seasons, leading ORU to an NIT berth in his final season. Tulsa then hired him in 1997 and he led the Golden Hurricane to 74 wins and two NCAA Tournament berths in three seasons (including an Elite Eight berth in the 2000 Tournament). That caught the attention of Illinois, which was trying to hire a successor to Lon Kruger, who just left for the Atlanta Hawks.
Self took over the Fighting Illini in 2000 and took Kruger's recruits to a first-place tie in the Big Ten and an Elite Eight berth. Along the way that season Self faced Kansas in the Sweet 16 and beat the Jayhawks. The next year, in 2001-02, he led the Illini to another tie for the Big Ten regular-season title, but lost to Kansas in the tournament. In 2002-03 Illinois won 25 games and reached the NCAA Tournament again.
That was enough for Kansas. The Jayhawks snapped Self up to take over the Jayhawks for the 2003-04 season. It was a coaching transition that would go well for the Big 12.
The other major coaching transition couldn't have happened in a worse way.
Dave Bliss had an uneventual four years at Baylor going into the Summer of 2003. He was 61-57 and led Baylor to an NIT berth in 2001. But on June 12, 2003, everything changed.
Patrick Dennehy, a Baylor basketball player, died that day. It took more than a week for Waco, Texas, authorities to piece things together. But when the dust settled Dennehy's teammate, Carlton Dotson, was arrested and charged for Dennehy's murder. It took more than a month for authorities to find Dennehy's body. Dotson eventually pled guilty and was sentenced to 35 years in prison.
But that isn't what got Bliss fired.
After Dennehy's memorial service in August, Dennehy's girlfriend told NCAA investigators that Bliss had paid for portions of the tuition of two players, including Dennehy, totaling $7,000. Bliss and his staff witnessed a live scrimmage of a player they were recruiting. That was a violation. Plus, NCAA investigators found that Bliss was not reporting failed drug tests. On Aug. 8, 2003, Bliss resigned. And Baylor had to find someone to take over — and fast.
The job was basically radioactive at this point. But, somehow, Baylor talked Scott Drew into it.
Drew, the son of Valparaiso head coach Homer Drew and the brother of Valpo NCAA Tournament hero Bryce Drew, spent nearly a decade on his father's bench at Valpo before Homer Drew decided to retire. Scott was elevated to head coach and in one year he led the Crusaders to 20 wins, a conference title and a berth in the NIT.
Scott Drew moved on to Baylor, inheriting a program where he had three months to prepare for the team's first game and most of the team's players had chosen to transfer after Dennehy's death and Bliss's resignation. Plus, the Bears were ineligible for postseason play that season. It would take Drew time to build something on the Brazos, and fortunately everyone in Waco was patient.
There was another coaching change that offseason. Iowa State's Larry Eustachy, resigned on May 5, 2003. Why? Well, apparently he partied like he was still in college. On two separate occasions Eustachy found himself in questionable situations on the road. In Columbia, Mo., there were photos of Eustachy enjoying adult beverages with young co-eds after the Cyclones lost to Missouri. Later, Eustachy hit a fraternity party at Kansas State after his Cyclones lost to the Wildcats. Unfortunately for Eustachy, the Des Moines Register had photos of Eustachy's sojourn in Columbia. Eustachy admitted he was headed for rehab for alcohol abuse. By May he was out and Wayne Morgan, the former head coach at Cal State-Long Beach was in. Morgan spent the 2002-03 season on Eustachy's bench in Ames.
Only four Big 12 teams would make the NCAA Tournament and five of them would make the NIT, and that made the Big 12 Tournament critical for some teams. Oklahoma State won the regular-season crown (14-2), followed by Texas (12-4) and Kansas (12-4). Colorado (10-6), Texas Tech (9-7) and Missouri (9-7) all finished above .500. Oklahoma (8-8) finished .500. Kansas State (7-9), Kansas State (6-10), Nebraska (6-10), Baylor (3-13) and Texas A&M (0-16) rounded out the league. That season would cost A&M coach Melvin Watkins his job.
The regular-season award winners included Oklahoma State guard Tony Allen (player of the year), Oklahoma State guard Joey Graham (newcomer of the year), Iowa State guard Curtis Stinson (freshman of the year) and Oklahoma State's Eddie Sutton (coach of the year). The All-Big 12 First Team included Allen, Colorado center David Harrison, Kansas forward Wayne Simien, Oklahoma State guard John Lucas and Texas Tech guard Andre Emmett. Emmett would become the first player in Big 12 history to earn All-Big 12 First Team honors three times.
The Big 12 Tournament returned to the American Airlines Center in Dallas, Texas. Baylor, on probation, didn't play. And, for the first time in Big 12 history, the No. 1 and No. 2 seeds advanced to the championship game. There, Oklahoma State, the No. 1 seed, defeated Texas, 65-49. Allen would be named the tournament's most outstanding player, with two other OSU teammates — Lucas and Joey Graham — making the team, along with Simien and Texas guard Brandon Mouton.
Oklahoma State had been one of the nation's dominant teams that season, as they rose from a preseason No. 25 ranking to a season-ending ranking of No. 4. Kansas got to No. 1 early in Self's first season, but ended up at No. 16 in the final poll. Texas Tech spent a good portion of Big 12 play ranked, while Texas — coming off its Final Four run — started and ended the season at No. 12 in the AP Top 25, despite losing guard T.J. Ford to the NBA.
Oklahoma State, which was 9-1 against teams in the Top 25 that season, was selected a No. 2 seed. Kansas and Texas were both No. 3 seeds, while Texas Tech was a No. 8 seed.
FIRST ROUND
The Big 12 ran the table in the first round of the NCAA Tournament. Oklahoma State made easy work of Eastern Washington, 75-56. Texas handled Princeton, 66-49, while Kansas pounded Illinois-Chicago, 77-53. The only close game of the bunch was Texas Tech, which slipped by Charlotte, 76-73. For the first time since the Big 12 was formed, no league team lost on the tournament's first two days.
SECOND ROUND
Texas Tech found itself on the losing end of the second round, falling to No. 1-seeded St. Joseph's, 70-65. That game ended the career of Texas Tech legend Andre Emmett, who left Tech as its second-leading scorer all-time. He was taken in the second round of the NBA Draft by the Seattle Supersonics, and he embarked on a long pro career that saw him play in the NBA and overseas. Emmett was killed on Sept. 23, 2019, in Dallas, Texas.
The rest of the Big 12 kept dancing. Oklahoma State kept right on rolling, defeating Memphis, 70-53. Kansas easily took care of Pacific, 78-63. And Texas sent home North Carolina and new head coach Roy Williams, 78-75.
SWEET 16
For the second straight season, the Big 12 had the opportunity to send three teams to the Final Four. But the dream ended in the Sweet 16.
Texas lost to Xavier, 79-71, in Atlanta. Texas could have used T.J. Ford that night. Brandon Mouton led the Longhorns with 29 points. But none of the other starters hit double figures. Brian Boddicker had 11 points and P.J. Tucker had 10 points off the bench. Romain Soto led the Musketeers with 27 points.
The other two Big 12 teams cruised. Oklahoma State eased by Pittsburgh, 63-51, while Kansas throttled UAB, 100-74. Perhaps the pair could meet in San Antonio at the Final Four?
Well, one of them would get there.
ELITE EIGHT
Oklahoma State was making its first Elite Eight appearance since the 2000 NCAA Tournament. The Cowboys were loaded, with five different players going on to the NBA later on. Tony Allen had proved his bones the previous year as a transfer, and this season he was the Cowboys' leading scorer, averaging 16 points per game. John Lucas, the son of NBA coach John Lucas, also went on to the NBA, along with Joey Graham, Ivan McFarlin and Stephen Graham. The Cowboys were one of the most experienced teams in the Big 12, and it showed in the Elite Eight as the Cowboys took on St. Joseph's, the No. 1 seed in the region and coached by Phil Martelli.
That St. Joseph's team featured a pair of future NBA players in Jameer Nelson and Delonte West. But the Cowboys were better that day, winning 64-62. Lucas led the Cowboys with 19 points, while Joey Graham had 17 points and Tony Allen had 12 points. McFarlin had 12 rebounds, along with nine points. It was Lucas, of course, that hit the game-winner in the final seconds to send the Cowboys to the Final Four for the first time since 1995.
Kansas wasn't as lucky. Bill Self's first NCAA Tournament as Kansas head coach had been a relative breeze to that point. But that changed in the regional final against Georgia Tech. Self, of course, inherited a great team from Roy Williams. The team featured four future NBA players — Wayne Simien, Keith Langford, J.R. Giddens and Aaron Miles. Simien was the star, averaging nearly a double-double for the season.
The game went to overtime, and there the Yellow Jackets ended up winning, 79-71. Jarrett Jack led Georgia Tech with 29 points and 9 rebounds. Giddens and Langford had 15 points each, while Miles and Simien each had 11 points. It was Giddens, of course, that sent the game to overtime for the Jayhawks. 
But Kansas couldn't cash in during the overtime, as the Yellow Jackets outscored the Jayhawks, 13-5.
FINAL FOUR
Oklahoma State had not won a national title since 1946, when Henry Iba capped off the program's back-to-back titles in 1945 and 1946. Head coach Eddie Sutton sought to change that in San Antonio, as the Cowboys prepared to face Georgia Tech, which had just vanquished Kansas. Sutton went all in with his five starters, and four of them hit double figures —Joey Graham (17), Ivan McFarlin (16), Tony Allen (13) and John Lucas (11).
Oklahoma State had the game tied with about 30 seconds left … and then … Will Bynum.
With that, Oklahoma State's run to a third national championship ended.
**Want to win a $25 gift card? Go sign up here and join our conversation! The best poster each week wins a gift card to your favorite establishment!**