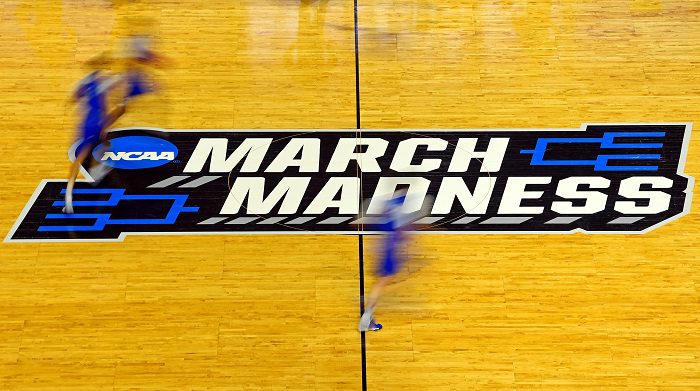 This March Madness Big 12 Rewind for 2005 takes you back to how the Big 12 Conference did in the 2005 NCAA Tournament.
THE BIG 12 IN 2005
After the coaching upheaval in the Big 12 going into the 2003-04 season, the relative lack of turnover in the Big 12 for the 2004-05 season was nice to see. Only one job changed hands. It was necessary. And it had an immediate impact.
Texas A&M had never been a national powerhouse in basketball. The Aggies managed to reach the NCAA Tournament's regional semifinals twice — in 1969 and 1980. The program's last NCAA Tournament appearance had been in 1987 under Shelby Metcalf. Since then, the Aggies had done little in either the Southwest Conference or the Big 12 in men's basketball. Kermit Davis, Tony Barone and Melvin Watkins couldn't change that in a 17-season span. So in came Billy Gillespie.
Gillespie was a Bill Self protégé, having worked for Self at both Tulsa and Illinois. UT-El Paso hired Gillespie as its head coach in 2002, and in two seasons he took the Miners from a six-win team to a 24-win team with an NCAA Tournament appearance. That was enough for the Aggies. They swooped Gillespie up in 2004. By the time the 2004-05 season ended, the Aggies improved from seven wins to 21 and reached the NIT quarterfinals. The Aggies were about to be relevant. But in Gillespie's first season the Aggies finished in the middle of the pack in the Big 12.
The Big 12 race in 2004-05 came down to Oklahoma and Kansas. The Sooners were a team without a single future NBA player, but it hardly mattered. Junior forward Taj Gray (14.6 ppg), junior guard Terrell Everett (12.5 ppg) and junior forward Kevin Bookout (11.5 ppg) led the way for the Sooners. Meanwhile, Kansas had yet another stacked team, as second-year coach Bill Self kept the recruiting engine humming. Somehow, the Jayhawks managed to keep their senior triumvirate on campus, despite NBA overtures — forward Wayne Simien (20.3 ppg, 11 rpg), guard Keith Langford (14.4 ppg) and guard Aaron Miles (9.3 ppg). Future NBA guard J.R. Giddens (10.1 ppg) was a sophomore and coming into his own. The Jayhawks' other two future NBA players were freshmen and watched largely from the bench — center Sasha Kaun and forward Darnell Jackson.
Both would end up with a share of the league title at 12-4, but Oklahoma took home the No. 1 Big 12 Tournament seed with a 71-63 win over Kansas in Norma, Okla., on Feb. 21. It was Kansas' third straight loss in Big 12 play, and it would finish the season with four losses in their final six Big 12 games. Oklahoma won its final six Big 12 games to surge into that tie.
Oklahoma State, fresh off its Final Four appearance, finished one game out at 11-5. Head coach Eddie Sutton returned a stacked team with five future NBA players, four of which were seniors — forward Joey Graham (17.7 ppg), guard John Lucas (17.7 ppg), forward Ivan McFarlin (12.5 ppg) and guard Stephen Graham (6.5 ppg). The fifth future NBA player was a freshman, guard JamesOn Curry (9.4 ppg). Even without Tony Allen, the Cowboys were keen on getting Sutton back to the Final Four.
The departure of Andre Emmett left the Texas Tech Red Raiders with a big hole to fill, and the Red Raiders ended up having their best season under head coach Bobby Knight, finishing fourth in the Big 12 at 10-6 in league action. Knight blended holdovers like senior guard Ronald Ross (17.5 ppg) and forward Devonne Giles (11.3 ppg) with youngsters like sophomore guard Jarrius Jackson (12.5 ppg) and freshman guard Martin Zeno (12.5 ppg).
Iowa State bounced back to finished 9-7 in conference under second-year coach Wayne Morgan, while Texas took a big step back, finishing at 9-7 as well. Martin's first season was a fire drill in Ames. The second was much more settled, with sophomore guard Curtis Stinson fulfilling the promise of his solid freshman year by averaging 17.2 ppg. Senior center Jared Holman (13.6 ppg) and sophomore guard Will Blalock (12.3 ppg) also averaged double figures. Texas, in the meantime, had graduated much of the talent that got it to the Final Four two seasons prior. The Longhorns were young, but good things were ahead. Why? There was freshman guard Daniel Gibson (14.2 ppg), sophomore forward P.J. Tucker (13.7 ppg) and freshman forward LaMarcus Aldridge (9.9 ppg). If head coach Rick Barnes could just keep them together for a year or two, well, who knows what could happen?
Gillespie and the Aggies were 8-8 in league action, followed by Missouri (7-9), Nebraska (7-9), Kansas State (6-10), Colorado (4-12) and Baylor (1-15). Missouri would join Texas A&M in the NIT.
The regular-season award winners included Simien (player of the year), Gray (newcomer of the year), Gibson (freshman of the year) and Gillespie (coach of the year). The All-Big 12 First Team included Simien, Gray, Graham, Oklahoma State guard John Lucas and Texas Tech guard Ronald Ross.
After a two-year stint in Dallas, the The Big 12 Tournament returned to Kemper Arena in Kansas City, Mo. Each of the tournament's Top 4 seeds — No. 1 Oklahoma, No. 2 Kansas, No. 3 Oklahoma State and No. 4 Texas Tech — all won their quarterfinal contests. But, in the semifinals, the top two seeds fell. Oklahoma State upended Kansas, 78-75, despite the Jayhawks' obvious 'homecourt' advantage. Texas Tech upset Oklahoma, 69-63, setting up head coach Bobby Knight for his first Big 12 Tournament title game appearance.
Oklahoma State would win the championship game, defeating Texas Tech, 72-68, to win its second straight Big 12 Tournament championship. OSU forward Joey Graham was the tournament's most outstanding player. The rest of the team included Lucas, Missouri's Linas Kleiza, Simien and Ross.
Oklahoma State went into the NCAA Tournament as the conference's top seed, slotted at No. 2. Oklahoma and Kansas were both No. 3 seeds, while Texas Tech was No. 6. Texas, despite a loss in its first Big 12 Tournament game that year, earned a No. 8 seed. Iowa State earned a No. 9 seed. The goal was to put a Big 12 team in the Final Four for the fourth straight season.
FIRST ROUND
The first round would be marked by one of the biggest upsets in Big 12 history. No. 3 Kansas fell to No. 14 Bucknell, 64-63. If you were a Kansas fan your heart was broke. If you weren't then, well, let's just say your heart grew like The Grinch's heart that day.
The senior class that had come back for one more run at the NCAA Championship spent the rest of the tournament watching from the sidelines.
Texas also lost in the first round, falling 61-57 to No. 9 Nevada. But there was brightness on the horizon for Barnes and his young team.
Oklahoma State took care of Southeastern Louisiana, 63-50. Texas Tech handed UCLA a 78-66 loss. Oklahoma blew through Niagara, 84-65. And Iowa State won its first NCAA Tournament game since 2000, beating Minnesota, 64-53.
SECOND ROUND
Texas Tech was seeking its first trip to the Sweet 16 since that 30-win 1996 team under James Dickey. Well, Bobby Knight and the Red Raiders delivered, upsetting No. 3 Gonzaga, 71-69. Ronald Ross was a bad man in that game, with 24 points, 9 rebounds, 4 assists and 3 steals. That was the Gonzaga team featuring Adam Morrison, one of the best players in the country. It also featured forward Ronny Turiaf. The Red Raiders overcame Morrison's 25 points to claim the victory. For Knight it was his first trip to the Sweet 16 since 1994 at Indiana. Relive the final two minutes of that game in this video.
Oklahoma State also advanced to the Sweet 16, and the Cowboys needed less drama to do it, beating Southern Illinois, 85-77.
The rest of the Big 12 went down in the second round. No. 6 Utah upset No. 3 Oklahoma, 67-58, and Iowa State fell to No. 1 seed North Carolina (there's that pesky Roy Williams again), 92-65.
SWEET 16
Texas Tech bowed out of the NCAA Tournament in the Sweet 16 against a future Big 12 member — West Virginia. The Mountaineers cleared the tournament of the Red Raiders, 65-60. It was a mild upset, as the Red Raiders were a No. 6 seed and the Mountaineers were a No. 7 seed. Ronald Ross led Texas Tech with 16 points. Kevin Pittsnogle led the Mountaineers with 22 points.
The far more compelling game was No. 3 Oklahoma State against No. 2 Arizona. A tight game throughout, Joey Graham led the Cowboys with 26 points, while Ivan McFarlin had 15 points, John Lucas had 13 points and JamesOn Curry had 11 points. That Arizona team was a buzzsaw, too. Hassan Adams and Salim Stoudemire had 19 points each. Channing Frye had 15 points. Ivan Radenovic had 13 points. Arizona shot nearly 65 percent for the game. But the final 35 seconds of this one haunt Cowboys fans to this day. 
It was the end of the line for the Cowboys that season. And we didn't realize it at the time, but it was the last time that OSU head coach Eddie Sutton would darken the door of the NCAA Tournament again. But we'll get to that.
Oh, by the way, the national champion that year? You know, right? Roy Williams at North Carolina. As if the first-round loss by the Jayhawks wasn't enough to drive the fan base nuts that offseason.
**Want to win a $25 gift card? Go sign up here and join our conversation! The best poster each week wins a gift card to your favorite establishment!**