Big 12 News
Oklahoma, Texas Lead Big 12 Odds to Make College Football Playoff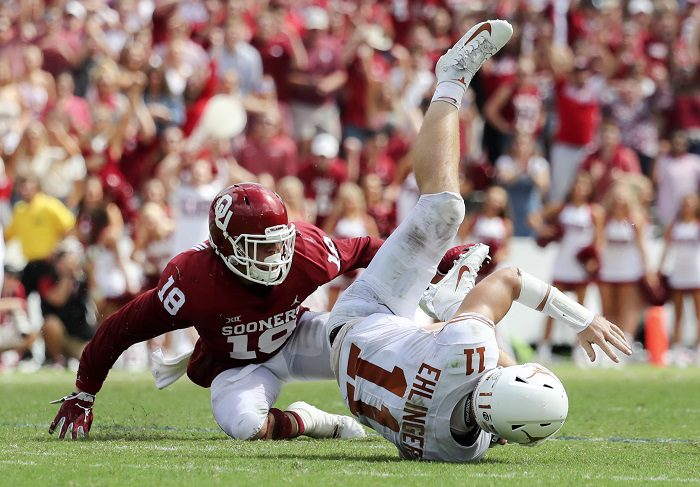 Sure, it feels like sports will never return and the fear that the college football season might be delayed is apparently getting more traction. I, for one, am an optimist who believes that we will be back to relative normalcy by that point.
So for more optimism, how about a look at some odds for who is most likely to make the College Football Playoff in 2021? The latest odds are out from BetOnline.AG.
As you'll see below, the Oklahoma Sooners have the best odds in the Big 12 and fourth-best odds in the country to reach the playoff, while the Texas Longhorns are in the top ten with 4/1 odds. Also making the list are Oklahoma State (14/1) and Iowa State (20/1). These were the only Big 12 teams to make it.
Here's the full rundown.
Odds to Make the 2021 College Football Playoffs
Clemson 1/2
Ohio State 2/3
Alabama 4/5
Oklahoma                     5/4       
Georgia 3/2
LSU 2/1
Notre Dame 11/4
Florida 7/2
Texas                           4/1       
Texas A&M 4/1
Auburn 5/1
Oregon 5/1
Penn State 6/1
Michigan 13/2
Washington 10/1
Wisconsin 10/1
Florida State 14/1
Oklahoma State            14/1     
Tennessee 14/1
Utah 14/1
Miami FL 16/1
Minnesota 16/1
Iowa State                    20/1     
Nebraska 20/1
Iowa 25/1
**Want to win a $25 gift card?  Go sign up here and join our conversation! The best poster each week wins a gift card to your favorite establishment!**