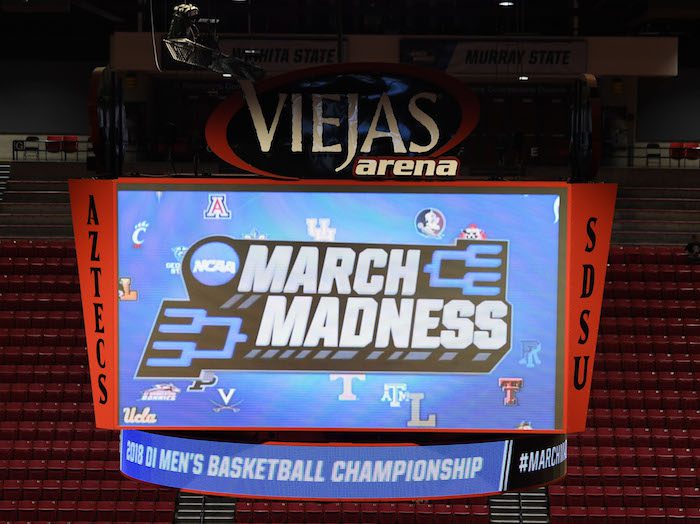 This March Madness Big 12 Rewind for 2007 takes you back to how the Big 12 Conference did in the 2007 NCAA Tournament.
THE BIG 12 IN 2007
Do you like coaching changes? Boy then we have the Big 12 season for you. Because after the 2005-06 season, the coaching carousel spun without brakes, as six new head coaches entered the conference.
First, a legend took his leave. Oklahoma State's Eddie Sutton departed after the 2006 NIT Tournament, as the Cowboys finished 17-16. Sutton resigned in May, and the Cowboys immediately installed Eddie's son, Sean, as his replacement. Eddie Sutton would coach one more time — as a half-season replacement at the University of San Francisco — before hanging it up for good. Sutton left the game with 804 career wins, three Final Four appearances and two AP national coach of the year awards. He is still waiting for a place at the Basketball Hall of Fame, though he was inducted into the College Basketball Hall of Fame in 2011.
Next was Nebraska, which was done with Barry Collier after the 2005-06 season. Collier's term in Lincoln was unmemorable, as he went 89-91, logged two winning seasons and made two NIT appearances. His Huskers never finished better than sixth in the Big 12. Collier returned to his former coaching home, Butler, as its athletic director. In his place came Doc Sadler, who oddly enough replaced Texas A&M head coach Billy Gillispie at UT-El Paso. In two seasons in El Paso he maintained the excellence that Gillispie built, winning 48 games, making an NCAA Tournament appearance and an NIT Tournament appearance.
Iowa State went coach-hunting after the 2006 NCAA Tournament ended, as they let Wayne Morgan go. Morgan won 55 games in three seasons, led the Cyclones to the NCAA Tournament once and to the NIT Semifinals once. But that wasn't quite enough. The Cyclones went out and grabbed a rising coaching star in Greg McDermott. The Iowa native went to Northern Iowa and had most recently returned to his alma mater as head coach. In five seasons at UNI, McDermott won 90 games and took his team to the NCAA Tournament three straight times.
In Missouri, the Melvin Watkins era ended as soon as the 2006 Big 12 Tournament ended. Watkins took over for Quin Snyder at midseason after Snyder resigned. The Tigers hired Mike Anderson to take over. Anderson was a Nolan Richardson disciple, and had been Richardson's assistant at Tulsa and Arkansas before taking over at UAB in 2002. In four seasons with the Blazers, Anderson won 89 games and led them to three NCAA Tournament berths (including a Sweet 16) and one NIT berth.
Meanwhile the Kelvin Sampson era came to an end at Oklahoma. Sampson took the open job at Indiana, but to be fair the NCAA had been tracking Sampson's conduct at OU for about three years. The National Association of Basketball Coaches had reprimanded him for ethics violations, the irony being that Sampson had formed the ethics committee while NABC president. So it was probably best Sampson moved on, as controversy continued to dog him. Sampson won 279 games at OU and led the Sooners to the NCAA Tournament nine times, leading them to the Final Four in 2002. The Sooners hired former Duke player Jeff Capel to replace Sampson. Then at Virginia Commonwealth, Capel won 79 games in four seasons and led the Rams to the NCAA Tournament once.
And, finally, Huggy. Yep, Bob Huggins would finally join the Big 12 Conference for the 2006-07 season, albeit with the Kansas State Wildcats. Jim Wooldridge's six-year tenure at KSU had led to nothing tangible. He had two winning seasons, never finished better than a tie for seventh in the Big 12 and never reached the NCAA Tournament. Huggins was looking for a new home after a year off following his resignation at Cincinnati. This was an easy hire for KSU — Huggins had won 399 games at Cincy and led the Bearcats to a Final Four.
So, there you have it. Six coaching changes in a conference that had been relatively steady for several years. So, naturally, with all this change, Kansas won the whole darned thing, taking its first solo Big 12 title under head coach Bill Self.
The Jayhawks went 14-2 in league action, and Self continued to build around a young core that included a ridiculous amount of future NBA talent — guard Brandon Rush, guard Mario Chalmers, forward Julian Wright, forward Darrell Arthur and guard Sherron Collins. All five were either freshmen or sophomore, and two holdover juniors — forward Darnell Jackson and center Sasha Kaun — would find their way to the NBA at some point. But the youngsters would lead this Kansas team to the Big 12 title and beyond. Kansas finished the regular season at No. 2 in the nation.
Texas A&M would record its best finish in Big 12 history, coming in second behind Kansas at 13-3 in league action. The Aggies would spend a good portion of the season in the AP Top 10, built around star guard Acie Law and an influx of young talent, including sophomore forward Josh Carter and freshman guard Donald Sloan. The Aggies had a set of twin towers, steady senior center Antanas Kavailauskas and and junior center Joseph Jones. Both scored in double figures, along with Law and Carter.
Texas came in a game behind the Aggies at 12-4 and third in the Big 12. The Longhorns lost the core that made the previous season's team so good, including forward LaMarcus Aldridge. But head coach Rick Barnes' 2006 recruiting class was a tour de force. In came forward Kevin Durant, who averaged 25.8 points per game, along with guard D.J. Augustin, forward Damion James and center Dexter Pittman. All four would end up in the NBA one day. Sophomore guard A.J. Abrams squeezed into the rotation, averaging 15.5 ppg.
Kansas State enjoyed a quick renaissance under Huggins, improving by four wins in Big 12 play and finishing fourth, led by senior forward Cartier Martin, who scored 17.1 ppg before moving on to the NBA.
Texas Tech was the only remaining Big 12 team with a winning record in league action, as the Red Raiders were 9-7. Jarrius Jackson led the Red Raiders, averaging 19.9 ppg, while Martin Zeno averaged 16.6 ppg.
Missouri (7-9), Oklahoma State (6-10), Iowa State (6-10), Oklahoma (6-10), Nebraska (6-10), Baylor (4-12) and Colorado (3-13) rounded out the Big 12.
The regular-season award winners included Durant (player of the year), Chalmers and Oklahoma State guard Marcus Dove (defensive player of the year), Missouri G Stefhon Hannah (newcomer of the year), Durant (freshman of the year), Martin (sixth man) and Gillispie (coach of the year). The All-Big 12 First Team included Rush, Wright, Oklahoma State forward Mario Boggan, Durant, Law and Jackson.
For the first time the Big 12 Tournament went to the Ford Center in Oklahoma City, Okla. Kansas relatively cruised to the championship game as the No. 1 seed, beating Oklahoma and Kansas State along the way (the win over the Wildcats was by six points). Texas, the No. 3 seed, defeated Baylor and Oklahoma State, each by five points, to earn a meeting with the Jayhawks. It was the first Big 12 Championship game to go to overtime, as Kansas outlasted Texas, 88-84. In defeat, Durant was the tournament's most outstanding player, while Baylor's Curtis Jerrells, Rush, Wright and Abrams were on the All-Tournament team.
Only four Big 12 teams reached the NCAA Tournament. Kansas went in as a No. 1 seed, while Texas A&M (No. 3 seed), Texas (No. 4 seed) and Texas Tech (No. 10 seed) joined the Jayhawks. Kansas State and Oklahoma State reached the NIT.
FIRST ROUND
Kansas didn't need much effort to beat Niagara in the first round, 107-67. Texas A&M made relatively easy work out of Ivy League champ Penn, 68-52. And Texas defeated New Mexico State, 79-67.
The one first-round loss was Texas Tech, which fell to Boston College, 84-75. It marked the end of Bobby Knight's sixth season in Lubbock, and transition was coming to town.
SECOND ROUND
The second round in Chicago was a blueblood masterpiece between Kansas and Kentucky, two of the game's most storied programs. The Jayhawks pulled away, winning 88-76 over a No. 8-seeded Wildcats team. The Sweet 16 awaited the Jayhawks for the first time since 2004, erasing the taste of those first-round upsets the previous two seasons.
Texas A&M, out for its first trip beyond the NCAA Tournament's first weekend since the Shelby Metcalf era, defeated another college basketball power, Louisville, 72-69. The Aggies held off the Cardinals — on Kentucky's home floor, no less — to claim a berth in the Sweet 16 (and, just so you know, that Kentucky part will come in handy in our next March Madness roundup).
Texas, as it turned out, would be the Big 12 team to exit in the second round, despite the greatness of Kevin Durant and three other future NBA players. The loss would come at the hands of USC, as the Trojans defeated the Longhorns, 87-68. And, with that, Durant would head to the NBA as an early entry.
SWEET 16
Kansas finally found a challenger in the third round, against of all teams Southern Illinois. The Salukis were a No. 4 seed that year, buoyed by a 29-win season, a Missouri Valley title and a No. 14 national ranking under head coach Chris Lowery. Jamaal Tatum, Randal Falker and Matt Shaw ran the show for SIU, and they were out for an upset over the Jayhawks. It was a weird game for Kansas, as just one player hit double figures — Brandon Rush with 12 points. But four other players had at least eight points for Kansas, and the Jayhawks had the final word in the 61-58 victory.
Texas A&M didn't have it quite as easy. Facing Memphis in the Sweet 16, the Aggies fell, 65-64, in a heartbreaker. Antanas Kavailauskas had 17 points for Texas A&M, while Acie Law had 13 points and Joseph Jones had 14 points. Jeremy Hunt blew up with 19 points off the bench for Memphis, while Chris Douglas-Roberts had 15 points. The sad thing for Texas A&M is the Aggies had every chance to win, and they couldn't pull it off.
ELITE EIGHT
Kansas was looking for its first trip to the Final Four since the Roy Williams era ended. Head coach Bill Self looked like he had the team to do it. The Jayhawks just had to get past No. 2 seed UCLA in the Elite Eight.
Yeah, um, about that …
UCLA ended up winning, 68-55. It was not a fitting end to what the Jayhawks had built that season. Brandon Rush scored 18 points and Russell Robinson had 11. Mario Chalmers had just two points. Julian Wright only had eight points. The Jayhawks shot 41.1 percent for the game, but were only behind four at the break. UCLA turned it on in the second half, led by Arron Afflalo with 24 points and Darren Collison with 14 points. The Bruins would move on to the Final Four and the Jayhawks would sweat over what might have been for another season.
**Want to win a $25 gift card? Go sign up here and join our conversation! The best poster each week wins a gift card to your favorite establishment!**