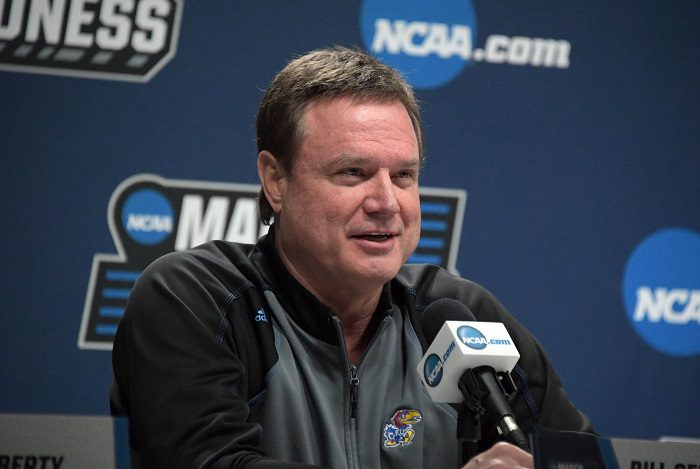 The loss of the NCAA Tournament and March Madness got you down? At Heartland College Sports, we get it. We're down about it too. Well, leading up to the night that would have been the 2020 national championship game, April 6, we will rewind what happened to the Big 12 in March Madness for each year of its existence. Today, we dissect 2008.
THE BIG 12 IN 2008
The first four seasons of the Bill Self era at Kansas had been somewhat of a mixed bag. Season 1 turned out to be a run to the Elite Eight, though Self had mostly Roy Williams' players at his disposal. As Years 2 and 3 passed, questions started to linger about Self's coaching acumen in the NCAA Tournament. The Jayhawks had back-to-back first-round exits as a No. 3 seed, and then as a No. 4 seed. But in 2007, with a group of players there basically Self's own recruits, the Jayhawks once again found themselves in the Elite Eight, only to fall again.
Entering Year 5 Self and his Jayhawks started the season as the No. 4 team in the AP Poll and as the preseason's top pick in the Big 12. Kansas was just plain stacked, too. Kansas had experience and NBA prospects at its disposal. Six of those NBA prospects where on the team the previous year — forward Darrell Arthur, guard Brandon Rush, guard Mario Chalmers, forward Darnell Jackson and guard Sherron Collins. Senior center Sasha Kaun also returned. The seventh future NBA prospect was freshman center Cole Aldrich, who would become a star for the Jayhawks later down the line.
As the season progressed, the Jayhawks found themselves locked in what had become a semi-annual tug-of-war for the top spot with the Texas Longhorns. For the third time since 2003 the Jayhawks and Longhorns would finish either 1-2 in the Big 12 or tied for the title (in 2008, it was the latter). Kevin Durant may have exited stage left for the NBA after his freshman year, but head coach Rick Barnes had plenty of talent leftover. Guard D.J. Augustin emerged as Texas' leading scorer that season. Forward Damion James was a heavy contributor. Center Dexter Pittman, a sophomore, continued to evolve as a player. All three made it to the NBA one day. A.J. Abrams was the Longhorn's second-leading scorer, while Connor Atchley, Justin Mason and Gary Johnson all played roles.
By season's end both Kansas and Texas had more than 30 overall wins and 13 Big 12 wins. Kansas and Texas shared the Big 12 title by a three-game gap. Texas beat Kansas in its one Big 12 meeting, sewing up the No. 1 seed in the Big 12 Tournament for Texas.
While the coaching changes in the Big 12 were not as pronounced as the six-job turnover before the 2006-07 season, four jobs did change hands.
When John Beilein left West Virginia for Michigan, Bob Huggins couldn't resist returning to his alma mater. It was hard to blame him. And don't worry — we'll reconnect with Huggy later. The Wildcats elevated Frank Martin from assistant coach to head coach, Martin's first ride in the first chair.
Billy Gillispie's three-year run at Texas A&M ended, too, as he couldn't resist the temptation of coaching the Kentucky Wildcats. Again, hard to blame him. Sadly, Gillispie fell from grace quickly for personal reasons. The Aggies snagged Mark Turgeon from Wichita State, where he led the Shockers to 128 wins in seven seasons, an NCAA Sweet 16 trip in 2006 and three other trips to the NIT.
Colorado let Ricardo Patton go after the 2006-07 season ended. Patton had been at CU for more than a decade, winning 184 games. But he only led the Buffs to two NCAA Tournaments in that span. Jeff Bzdelik took his place. The former head coach of the Denver Nuggets had most recently been at Air Force, where he won 50 games in two seasons and led the Falcons to an NCAA Tournament berth and an NIT berth.
Finally, Bobby Knight retired for good on Feb. 4, 2008, shortly after winning his 900th career game. Tech was 12-8 when Knight handed the reins to his son, Pat, who had been the head-coach-in-waiting since 2005. Pat went 4-7 the rest of the way.
Martin kept the progress going at K-State, where the Wildcats finished in third place by themselves in the Big 12. Jeff Capel led the Oklahoma Sooners back into the top half of the Big 12, tied in fourth with Baylor. The Bears, after four seasons languishing at the bottom of the big 12, were finally starting to gather some steam under fifth-year head coach Scott Drew. That team include Curtis Jerrells, LaceDarius Dunn and Kevin Rogers.
Turgeon led the Aggies to an 8-8 record in the Big 12 in his first season, followed by Nebraska (7-9), Texas Tech (7-9) and Oklahoma State (7-9). Missouri (6-10), Iowa State (4-12) and Colorado (3-13) rounded out the standings.
The regular-season award winners included Kansas State forward Michael Beasley (player of the year), Oklahoma State guard Marcus Dove (defensive player of the year), Missouri F DeMarre Carroll (newcomer of the year), Beasley (freshman of the year), Collins (sixth man) and Barnes (coach of the year). The All-Big 12 First Team included Jerrells, Arthur, Rush, Beasley, Oklahoma forward Blake Griffin and Augustin. Rush became the second player in Big 12 history to earn three All-Big 12 First-Team selections.
It was no big surprise when Kansas and Texas, the top two seeds, met for the Big 12 Championship game at the newly-opened Sprint Center in Kansas City, Mo. It was the second straight meeting in the Big 12 title game for the two teams and Kansas' second straight victory, 84-74. Rush was the tournament's most outstanding player, with Chalmers, Abrams, Augustin and Texas forward Damion James making the all-tournament team.
Based on their seasons, it was no big surprise that Kansas was a No. 1 seed and Texas was a No. 2 seed when the NCAA Tournament bracket was announced. With the Final Four in San Antonio, Big 12 fans had dreams of a Kansas-Texas meeting for a third time that season (if it happened, it would be for a national title). Oklahoma was a No. 6 seed, while Texas A&M was a No. 9 seed. Kansas State and Baylor squeezed into the tournament field as No. 11 seeds.
FIRST ROUND
Baylor made its first NCAA Tournament appearance since 1988 a short one, as the Bears fell to Purdue, 90-79. But as astute Big 12 fans know, this was only the beginning for Drew and his program.
Otherwise, the other five Big 12 teams won their first-round games. Kansas blew out Portland State, 85-61, while Texas eased by Austin Peay, 74-54. Oklahoma beat St. Joseph's, 72-64, while Kansas State took care of USC, 80-67. Texas A&M had the only real squeaker, beating BYU by five points, 67-62.
SECOND ROUND
By the end of the second round three more Big 12 teams would be headed home. But that would not include Kansas and Texas. The Jayhawks rolled right past UNLV, 75-56, while Texas needed help to squeak by Miami (FL), 75-72. But both had tickets for the Sweet 16.
Kansas State, after upsetting USC, couldn't sustain the momentum against No. 3 Wisconsin, losing 72-55. With that came the end of Michael Beasley's short, but brilliant, career at KSU. Like Kevin Durant the previous year, the NBA Lottery was calling, and Beasley would be the No. 2 overall pick for the Miami Heat.
The bottom fell out for the Sooners against No. 3 Louisville, as the Cardinals destroyed the Sooners, 78-48. The good news is that the NBA wasn't coming to call for Blake Griffin just yet. So the Sooners and their fans had that to look forward to in Norman.
The Aggies had the one close game among the three Big 12 teams that exited in the second round, pushing No. 1 seed UCLA to the brink in a 51-49 loss. With freshman center DeAndre Jordan and future NBA prospect Donald Sloan on the roster, the Aggies finished the game with 12 points from Sloan and 10 points from Josh Carter. That UCLA team had a bushel of future NBA players, including Russell Westbrook, Kevin Love and Darren Collison. Collison had 21 points while Love had 19 points and 11 rebounds. Westbrook only had five points, but he had five rebounds, four steals and three assists. Plus, the exclamation point.
SWEET 16
The dream was alive as Kansas and Texas headed to their separate regionals. Not only could they both reach the Final Four, but they were on opposite sides of the bracket, meaning that if they met in San Antonio it would be for a national title. But, two more wins were necessary for both teams.
First, Kansas. At the regional in Detroit the Jayhawks faced a former NCAA champion in Villanova. Wildcats coach Jay Wright was starting to rebuild Villanova, as he had the program in the regional semifinals for the second time in four seasons. Unfortunately for Wright, the Jayhawks were still worlds better at that point. For a Sweet 16 game, it was quite a blowout, with Kansas winning, 72-57. Kansas was headed for its third Elite Eight in five years.
Texas expected a closer game with Stanford, a No. 3 seed. That didn't happen either. The Longhorns cruised, 82-62. Texas was in the Elite Eight for the second time in three years.
Kansas and Texas had now taken care of business for three straight tournament games. Now, it came down to Sunday, the Elite Eight and one more win each for a ticket to San Antonio.
ELITE EIGHT
Kansas was the top seed in that year's Cinderella bracket. Villanova had been a No. 12 seed. Davidson was the No. 10 seed, led by some pesky, skinny guard named Stephen Curry. The matchup was like lit dynamite.
Curry, despite plenty of defensive attention, was brilliant, scoring 25 points while playing all 40 minutes. But the team, as a whole, didn't shoot that well (38.6 percent). That gave Kansas an upper hand. The Jayhawks shot 44.2 percent. Mario Chalmers and Sasha Kaun had 13 points, while Brandon Rush had 12 points. The game was close from the start. Kansas had a five-point lead in the final minute and then hung on, because that's what you do when the opponent has Stephen Curry.
Kansas won, 59-57, giving Kansas head coach Bill Self his first trip to the Final Four as Kansas coach, and the program's first trip to the Final Four since 2003, Roy Williams' last season in Lawrence.
Now, all we needed was Texas.
C'mon, Texas. Really?
The Longhorns ended up falling hard to Memphis, 85-67. To that point John Calipari's Tigers had lost just one game and was the region's No. 1 seed, so it's not hard to understand why the Longhorns fell. It's even easier when you look at that Memphis roster — Antonio Anderson, Joey Dorsey, Chris Douglas-Roberts, Robert Dozier and a guard named Derrick Rose. The Tigers were up 11 at the break and never let up.
A.J. Abrams (17) and D.J. Augustin (16) combined for 33 points. But Texas never had a chance in this one. The Longhorns would have to watch as Kansas represented the Big 12 in the Final Four in San Antonio, just an hour or so from campus.
FINAL FOUR (NATIONAL SEMIFINALS)
The NCAA Tournament committee crafted a national semifinal matchup straight out of central casting. On one side of the Alamodome was Kansas and Bill Self, chomping at the bit to win the program's first title in 20 years. On the other side? A ghost, North Carolina head coach Roy Williams, Self's predecessor in Lawrence.
In the five seasons since Williams left Lawrence, he had finally accomplished that one elusive resume builder — winning a national title, which came in the 2005 NCAA Tournament. Williams had his sights on a second title in four seasons in Chapel Hill, armed with a roster that included Tyler Hansbrough, Wayne Ellington, Ty Lawson, Deon Thompson and Danny Green.
In the end, oddly enough, it was no contest. Kansas won handily, 84-66, as the Jayhawks ran out to a 44-27 halftime lead. It was as if the program was exorcising a ghost. Brandon Rush went off for 25 points. Darnell Jackson had 12 points. Mario Chalmers and Sherron Collins had 11. Kansas shot 53 percent from the floor. The Tar Heels never had a chance. Williams had to shake his successor's hand a loser that night in San Antonio. And when Memphis won its semifinal game, the Jayhawks had their national title matchup. It was hard to dispute that we had the two best teams in the country squaring off for the crown.
FINAL FOUR (NATIONAL CHAMPIONSHIP GAME)
Let's break this down for just a second. Memphis entered the game as the nation's No. 2 team, as crowned in the AP Top 25 to end the season. Head coach John Calipari was carrying around a quartet of NBA prospects in Chris Douglas-Roberts, Derrick Rose, Antonio Anderson and Joey Dorsey. All four started that national title game against Kansas. The Jayhawks were No. 4 in the final AP Poll and carried seven future NBA prospects on their roster. Four of them started — Darrell Arthur, Brandon Rush, Mario Chalmers and Darnell Jackson.
The game was as quality as it gets in the NCAA Tournament. Douglas-Roberts led Memphis with 22 points. Rose had 18 points and 8 assists. Dozier had 11 points and 10 rebounds. At the break Kansas had a five-point lead, and four Jayhawks finished in double figures — Arthur (20 points, 10 rebounds), Chalmers (18), Rush (12) and Sherron Collins (11).
The Tigers and Jayhawks couldn't decide the game in 40 minutes, either. Remember? Memphis roared back, took that lead and Kansas had to rally from nine down with two minutes left?
And, then, Super Mario (after Memphis misses three of its final four free throws).
Chalmers' jumper gave the Jayhawks new life. Kansas outscored Memphis, 12-5, in the overtime, and won, 75-68. As the horn sounded, the celebration of Kansas' third NCAA Tournament championship was on.
The Jayhawks had not won a national title since the "Danny and Miracles" team of 1988. Before that, it was the 1952 team, led by head coach Phog Allen. Before the NCAA Tournament, the Jayhawks had won two Helms titles, in 1922 and 1923. Kansas had work to do when the Jayhawks returned to Lawrence. They had a banner to sew to raise to the top of Allen Fieldhouse.
For the first time, the Big 12 Conference claimed a national title in men's basketball.