Big 12 News
Lincoln Riley is Rightfully Annoyed with How Conferences are Handling Coronavirus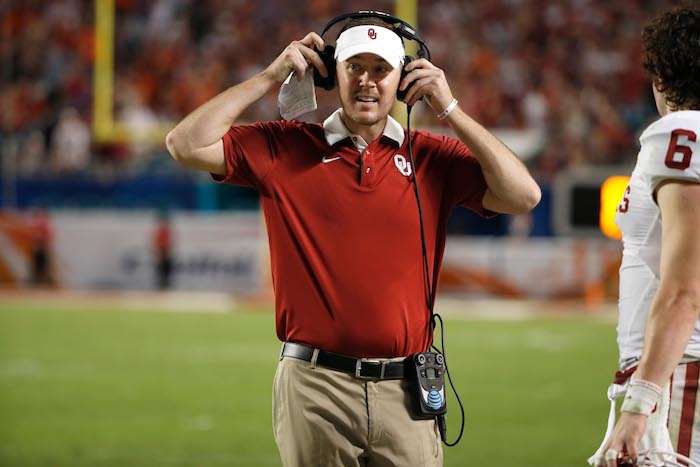 With the Coronavirus shutting down college athletics for the foreseeable future, that means no spring practice for football teams across America. However, Oklahoma head coach Lincoln Riley is rightfully bothered by how conferences are being allowed to set their own rules, which Riley believes is hurting the Big 12 more than other conferences.
Riley is upset that the rules haven't been equal across the Power 5 conferences and would not mind the NCAA stepping in. The head coach said in a recent radio interview, "Our conference has been more stringent on it. We've not been able to do virtual meetings. Our players have not been able to come into our weight rooms even on an individual basis. We haven't been able to send them equipment, whereas a lot of other conferences like the ACC right now, they've been able to do all those things. That hasn't been a positive."
The coach said from a health and safety standpoint, spring football isn't necessary given what the nation is dealing with, but simply wants the NCAA to set some guidelines across the Power 5, so each conference is on the same page.
Big 12 commissioner Bob Bowlsby said on a conference call on Thursday that the conference was close to giving programs additional guidelines, mentioning Sunday, March 29th, as a date to reconsider its actions taken earlier this month.
As for when things get back to normal? Obviously Riley has no idea, as none of us do.
The OU head coach added, "It's all going to be predetermined by our nation's response to this virus and how seriously people take it. Hopefully our nation will continue to get more serious about this and respond in a positive way."
**Want to win a $25 gift card?  Go sign up here and join our conversation! The best poster each week wins a gift card to your favorite establishment!**