Big 12 News
Kansas State AD Gene Taylor Calls Out Kirk Herbstreit For Terrible Coronavirus Take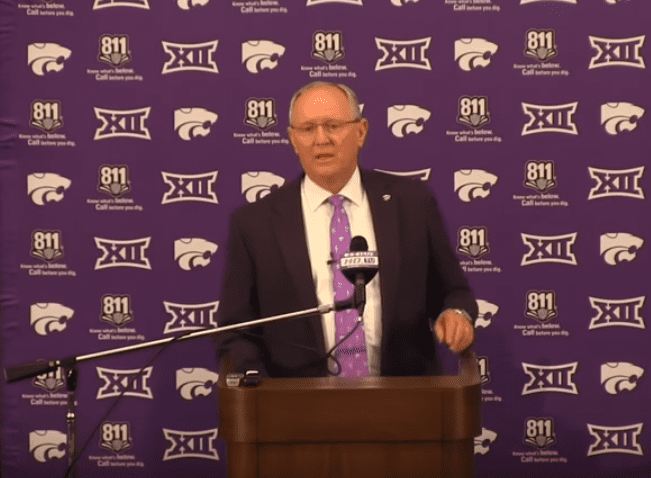 Suddenly, everyone is a medical expert in the midst of our coronavirus pandemic. That apparently includes ESPN college football analyst Kirk Herbstreit.
Herbstreit now infamously said on ESPN Radio this past week, "I'll be shocked if we have NFL football this fall, if we have college football. I'll be so surprised if that happens."
How could Herbstreit, a college football analyst, know so much more than the rest of us? Well, as he went on to explain, "Just because from what I understand, people that I listen to, you're 12 to 18 months from a [coronavirus] vaccine. I don't know how you let these guys go into locker rooms and let stadiums be filled up and how you can play ball. I just don't know how you can do it with the optics of it."
Well, a vaccine is not needed to stem the tide. A treatment, which is rapidly being worked on and there have been some early positive results like hydroxychloroquine, which should give us all optimism, especially since we are nearly five months away from having to worry about college football.
While Herbstreit is considered untouchable in the world of college football, kudos to Kansas State AD Gene Taylor for calling out the analyst for his opinion that is based in little to no facts.
K-State AD Gene Taylor was frustrated with Kirk Herbstreit saying he'd be "shocked" to see football played this fall:

"I appreciate Kirk becoming a medical doctor and telling us what we should or shouldn't do. I'm not ready to go there yet."

— John Kurtz (@jlkurtz) March 31, 2020
BOOM. GO GENE TAYLOR WE LOVE YOU MAN!
See, you won't see athletic director or coaches at blue bloods call out Herbstreit, because they'll worry that he would possibly opine on them in a negative way if their program is in the College Football Playoff hunt next year.
Gene Taylor doesn't care because let's be honest, that's less likely to be the case for Kansas State. But Taylor is spot on.
There is already some proof we are starting to flatten the curve, as the number of daily cases of coronavirus in the past four days has sit between 18,000 and 20,000. Hopefully that's a reason for optimism and Kirk Herbstreit looks incredibly foolish when college football is in full swing come August.
**Want to win a $25 gift card?  Go sign up here and join our conversation! The best poster each week wins a gift card to your favorite establishment!**