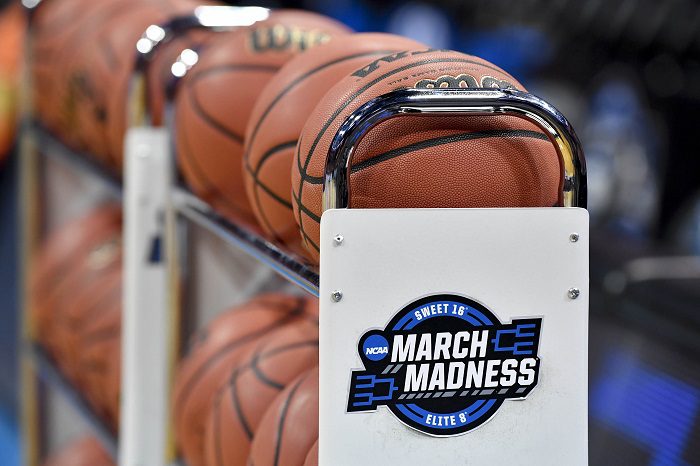 This March Madness Big 12 Rewind for 2014 takes you back to how the Big 12 Conference did in the 2014 NCAA Tournament.
THE BIG 12 IN 2014
Stability. The Big 12 finally seemed to have that going for it entering the 2013-14 season. The hassles of realignment were behind the league. The conference had committed membership. And it had just one basketball coaching change.
Chris Walker wasn't able to hang onto the job at Texas Tech after an 11-20 season that included just three Big 12 wins. The interim head coach was shown the door. It wasn't the most ideal situation for Walker, but the Red Raiders were look for a stable coach. And Texas Tech found one in Tubby Smith.
Once Smith got his first head coach job in 1991 — after nearly 20 years of waiting — he remained in demand throughout the country. By the time Texas Tech hired him, Smith had led four different programs to the NCAA Tournament, with the high point being in 1998, when he led the Kentucky Wildcats to a national championship in his first season as head coach. Smith had just wrapped up his sixth season at Minnesota when the Red Raiders came calling. With the Golden Gophers he won 124 games and led them to three NCAA Tournament berths.
Smith entered a conference where the Jayhawks remained the top dog, starting the season in the nation's Top 10 and never leaving that rarefied air, finishing No. 10 in the final AP Poll. Still, it didn't quite feel like a typical Kansas team. The Jayhawks went 14-4 in Big 12 action. Yes, Kansas had a half-dozen future NBA players on the roster, but head coach Bill Self was highly reliant on freshmen — Andrew Wiggins, Wayne Selden, Joel Embiid and Frank Mason. Sophomore Perry Ellis gave the Jayhawks a solid backbone, as he averaged 13.5 points per game. But Wiggins led the way, averaging 17.1 points per game. Embiid had 11.2 points and 8.1 rebounds per game. The Jayhawks ended up winning the Big 12 regular season crown for the 10th straight year, one of the most imposing streaks in the nation.
Oklahoma finished a clear second, but finished two games behind the Jayhawks in the Big 12 at 12-6 in league action. Lon Kruger's system was really starting to take hold in Norman, and sophomore Buddy Hield took a starring role. Hield would lead the Sooners in scoring with 16.5 points per game. Cameron Clark (15.6 ppg), Isaiah Cousins (11.0 ppg) and Jordan Woodard (10.3 ppg) formed the backbone for a team that finished the season in the AP Top 25.
Texas bounced back after an uncharacteristic under-.500 season in Big 12 play with an 11-7 record and finished tied for third in league action with Iowa State. Longhorns head coach Rick Barnes lured freshman guard Isaiah Taylor to campus, and he led them in scoring with 12.7 points per game. Jonathan Holmes (12.8 ppg), Javan Felix (11.6 ppg) and Cameron Ridley (11.2 ppg) were also in double figures for the season. At one point the Longhorns reached No. 15 in the country before dropping out of the poll.
Meanwhile, Iowa State finished the regular season in the AP Top 10 and third-year coach Fred Hoiberg was fulfilling the vision he had for his program. Four different Cyclones were in double figures by season's end — DeAndre Kane (17.1 ppg), Melvin Ejim (17.8 ppg), Georges Niang (16.7 ppg) and Dustin Hogue (11.6 ppg). Ejim and Hogue averaged at least eight rebounds per game. Three other future NBA players were on the roster, too — Nazareth Mitrou-Long, Monte Morris and Matt Thomas.
Bruce Weber and his Kansas State Wildcats dropped off a bit from the previous season, when they shared the Big 12 regular-season title with Kansas. But the Wildcats still won 20 games behind the leadership of freshman guard Marcus Foster, who averaged 15.5 points per game. Thomas Gipson averaged 11.7 points per game. Plus, Weber had a future NBA prospect to cultivate in Wesley Iwundu.
Baylor and West Virginia finished 9-9 in Big 12 action, but were heading in slightly different directions. The Mountaineers barely finished above .500 for the season, but it was a step up from the previous season's under-.500 season and the Mountaineers found their way to the NIT. Juwan Staten had a huge season averaging 18.1 points per game, while Eron Harris (17.2 ppg) and Terry Henderson (11.7 ppg) were steady all season.
Baylor was in the Top 25 pretty much all season, with a high of No. 7 in the AP Poll while winning 26 games. The Bears finished the season at No. 23. Cory Jefferson (13.7 ppg, 8.2 rpg) led the way for the Bears, while Brady Heslip (11.7 ppg), Isaiah Austin (11.2 ppg) and Kenny Chery (11.5 ppg) also averaged double figures. Two other NBA prospects were on the roster and building up their skill sets — Royce O'Neal and Taurean Prince. Plus, Rico Gathers was still developing as well.
Oklahoma State finished under-.500 at 8-10 in league action, but the Cowboys won 21 games for the season. The Cowboys started the season at No. 9 in the country, got as high as No. 5 and ended up falling out of the Top 25. But the play of Markel Brown (17.2 ppg), Marcus Smart (18.0 ppg), Le'Bryan Nash (13.9 ppg) and Phil Forte (13.3 ppg) kept the Cowboys in the hunt for a NCAA Tournament berth.
Smith's first season in Lubbock ended with the Red Raiders under-.500, but playing better, going 14-18 overall and 6-12 in Big 12 action. Jaye Crockett led the Red Raiders with 13.9 points per game. TCU came in last, failing to win a single league game and going 9-22 overall.
The regular-season award winners included Ejim (player of the year), Embiid (defensive player of the year), Kane (newcomer of the year), Wiggins (freshman of the year), Oklahoma's Tyler Neal and Forte (sixth man) and Barnes (coach of the year). The All-Big 12 First Team included Ejim, Kane, Wiggins, Smart and West Virginia guard Juwan Staten.
At the Sprint Center in Kansas City, the Big 12 Tournament was absolutely full of surprises, and that included Kansas falling in the semifinals. The No. 1-seeded Jayhawks lost to Iowa State, 94-83, while No. 7-seed Baylor took out Texas, 74-65, setting up a Cyclones-Bears Big 12 title game. The Cyclones won the title game, 74-65, giving ISU its first Big 12 Tournament title since 2000. Kane was the tournament's most outstanding player, while Ejim, Niang, Austin and Wiggins were named to the All-Tournament team.
On Selection Sunday the Big 12 received seven invitations to the NCAA Tournament — Kansas (No. 2), Iowa State (No. 3), Oklahoma (No. 5), Baylor (No. 6), Texas (No. 7), Kansas State (No. 9) and Oklahoma State (No. 9).
FIRST ROUND
The Big 12 got four teams out of the first round of the NCAA Tournament. Kansas, led by Andrew Wiggins and his 19 points, defeated Eastern Kentucky, 80-69. Iowa State, fresh off the Big 12 title, needed little trouble defeating North Carolina Central, 93-75, as Georges Niang led ISU with 24 points. He was one of five players in double figures, but he also broke his foot in the game and missed the rest of the tournament.
Baylor met an old friend in Nebraska, and the Bears rolled, 74-60. Cory Jefferson led the Bears with 16 points, while Royce O'Neale had 10 rebounds despite scoring only three points. And Texas held off Arizona State, 87-85. Six different Longhorns hit double figures for the game, as Cameron Ridley had 17 points and 12 rebounds and Texas shot 53.4 percent from the floor.
And Ridley would beat the buzzer to win the game for Texas.
Oklahoma took the biggest fall of the three Big 12 losers in the first round, as the No. 5-seeded Sooners lost to No. 12 North Dakota State in overtime, 80-75. Cameron Clark had the big game for the Sooners, scoring 25 points. But Buddy Hield didn't have the game the Sooners were hoping for, scoring just nine points. Lawrence Alexander led NDSU with 28 points.
Kansas State fell to Kentucky, 56-49. Marcus Foster led the Wildcats with 15 points, while Julius Randle led Kentucky with 19 points and Aaron Harrison added 18.
Oklahoma State took a first-round loss too, as the Cowboys fell to Gonzaga, 85-77. Marcus Smart and Markel Brown both had great games, scoring 23 points and 20 points, respectively. Kevin Pangos led Gonzaga with 26 points.
SECOND ROUND
The Big 12 had four teams that could potentially move on to the Sweet 16, but only two would make the cut. Iowa State had to sweat it out against North Carolina, defeating the Tar Heels, 85-83. It ended up being a terrific game. DeAndre Kane led the Cyclones with 24 points (and 10 rebounds), while Melvin Ejim had 19 points, Dustin Hogue had 14 points, Monte Morris had 13 points and Nazareth Mitrou-Long came off the bench with 12 points. Marcus Paige led five Tar Heels in double figures with 19 points, while Kennedy Meeks had 15 points and 13 rebounds.
Kane would end up breaking the tie with a layup with less than two seconds left to send The Cyclones on to the Sweet 16 for the first time since 2000.
Baylor flat-out destroyed Creighton, 85-55. Five Bears were in double figures, led by Brady Heslip and Isaiah Austin with 17 points each.
Texas wasn't going any farther in the tournament after a 79-65 loss to Michigan. Texas shot just 37 percent from the floor and Isaiah Taylor led Texas with 22 points. Michigan's Nik Stauskas led the Wolverines with 17 points, while Jordan Morgan had a double-double with 15 points and 10 rebounds.
Kansas had its eye on reaching the second weekend of the tournament for the fourth straight year. But Stanford had other ideas, as the Cardinal defeated the Jayhawks, 60-57. Kansas had an off-night, as Tarik Black led the way with 18 points and Conner Frankamp added 12 points off the bench. As a team the Jayhawks shots just 32.8 percent from the floor, and leading scorer Andrew Wiggins had just four points. Stanford's Dwight Powell led the Cardinal with 15 points.
And, yet, it was a one-possession game at the end. But Kansas couldn't overcome the Cardinal's lead.
SWEET 16
The Big 12 had big dreams for the Sweet 16. They were done in a couple of nights.
First, Baylor faced Wisconsin, and the Badgers prevailed, 69-52. Baylor took a tumble, shooting just 31.6 percent from the floor while Cory Jefferson led the way with 15 points. Kenny Chery and Isaiah Austin scored 12 points each.
Wisconsin had a 13-point lead at halftime and Frank Kaminsky led the way with 19 points.
Then, Iowa State fell to UConn, 81-76. The Huskies had a 10-point lead at halftime and held on from there. Dustin Hogue did all he could to keep ISU in it, scoring 34 points. DeAndre Kane added 16 points and Monte Morris had 12 points. DeAndre Daniels led UConn with 27 points and 10 rebounds, while Shabazz Napier had 19 points and Ryan Boatright added 16 points.
**Want to win a $25 gift card? Go sign up here and join our conversation! The best poster each week wins a gift card to your favorite establishment!**