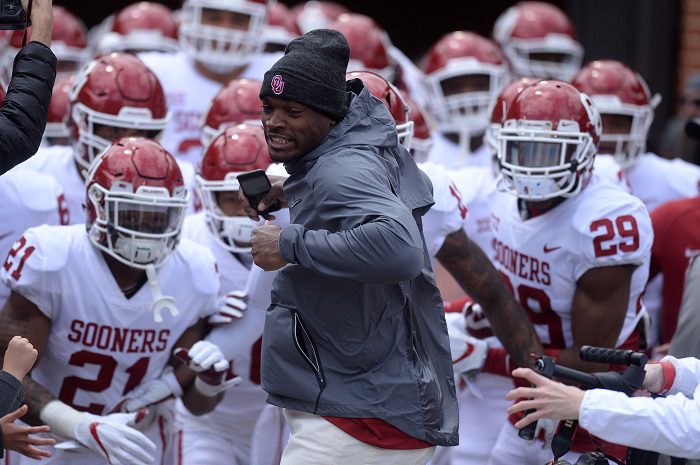 Every second that ticks by, is another second in this world without sports. No matter how you are filling the void in your heart without sports, everyone is trying desperately to ease the pain. Myself? I like to do a little day drinking and watch tv. I am not big on watching reruns of games I already know the outcome of although Longhorn Network does a great job of showing the Texas/USC Rose Bowl matchup three times a day.
However, Twitter seems to be always buzzing lately with debates and brackets and recently, a tweet from Fox College Football caught my attention and not necessarily in a positive way. Just a couple days ago, they posted this chart listing the best Big 12 recruit (According to 247 Sports) for each current Big 12 team since the year 2000. Obviously, this modern day Big 12 wasn't the same as it was 20 years ago but it was certainly interesting to see some of these names on this list. Whether you have heard of them or not, I thought it would be fun to do a little lookback at the names on this list. This will be part one and part two will come out later this week.
Texas Longhorns
Vince Young (2002 5-Star QB from Houston, Texas)
If you lived in the Houston area or followed recruiting in the state of Texas in the early 2000's, you knew of Vince Young before his days at Texas. Young was a highly sought-after prospect out of high school. He enrolled at Texas in 2002 and after redshirting that same year, he would finally make his first start in 2003 as a redshirt freshman. From 2003 to 2005, Young was a forced to be reckoned with as he led the Longhorns to an 11-1 finish and a Rose Bowl in 2004. Just a season later in 2005, he led Texas to a perfect 13-0 record and most importantly a national championship victory over then two-time defending champion USC in the Rose Bowl. We all remember legendary broadcaster Keith Jackson's "Fourth and five with the National Championship on the line." right before Young would score the go-ahead touchdown late in the game. Vince would be taken third overall by the Tennessee Titans in the 2006 NFL Draft and even though Jeff Fischer and him butted heads, he would be a two-time pro bowler in the NFL. His last NFL job was in 2014 where he was a practice squad member of the Cleveland Browns.
Oklahoma Sooners
Adrian Peterson (2004 5-Star RB from Palestine, Texas)
To me, Adrian Peterson is the best player on this list. Coming out of Palestine, Peterson was already labeled as one of the best high school running backs ever in the state of Texas. That's a big label but man, did he live up to the hype. In his freshman season in 2004, Peterson racked up 1,925 rushing yards and 15 touchdowns which was good enough to finish second in the 2004 Heisman race only behind USC quarterback Matt Leinart. And while a broken foot in 2005 slowed his sophomore season down, he still managed to rush for over 1,100 yards and 14 scores. In his final season in 2006, a broken collar bone would slow AD (Yes, All Day) down a bit but in just seven games, he managed to rush for 1,012 yards and 12 touchdowns.
Despite playing less than three full seasons, Peterson still was a three-time All Big 12 first teamer and to this day is a top five rusher in Oklahoma history. He declared for the draft after three seasons in Norman was taken by the Minnesota Vikings with the seventh overall pick in the 2007 NFL Draft. There in Minnesota, AD would become a seven-time pro bowler and even won the 2012 NFL MVP where he rushed for over 2,000 yards in a season. Peterson is still playing pro ball and is now going in his fourteenth NFL season and his third with the Washington Redskins. I'd say he had a damn good career and will be a lock for the NFL Hall of Fame once he calls it a career.
West Virginia Mountaineers
Noel Devine (2007 5-Star RB from North Fort Myers, Florida)
I can hear it now, "But Derek, West Virginia wasn't in the Big 12 when he played." Well, I am just going off this list people and it's a good way to include every current Big 12 team. As a true freshman in 2007, Devine was going to be the next solid Mountaineer running back as Steve Slaton was finishing up his career in Morgantown. In his freshman season, Devine rushed for 627 yards on just 73 carries in limited action while also scoring six times that year. Going into 2008 (Sophomore season) his head coach Rich Rodriguez bolted for Michigan and coach Bill Stewart took over. In 2008, Noel was the starter and racked up over 1,200 yards but finished the year with less than five scores.
However, he had a monster junior year in 2009 as he finished the season with 1,465 yards and 13 scores. He decided to forgo the NFL and come back for his senior year in 2010 but it wasn't the season he thought he would have with 934 yards and 6 touchdowns. Still, when it was all said and done, he had rushed for over 4,300 yards during his time in Morgantown which is impressive as hell. And even though he had the stats in college, his size (5'8) played a major part to him being undrafted in the 2011 NFL Draft. He would spend a very short time with the Philadelphia Eagles practice squad but after being cut after a few months, he jumped around the CFL for a bit. The last I have seen was that he played in the Spring League back in 2017.
Baylor Bears
Robbie Rhodes (2013 5-Star WR from Fort Worth, Texas)
Unless you are a die-hard recruiting junkie or Baylor fan, you are probably asking yourself, "Who in the hell is this guy?" and I would totally understand that. Keep in mind during this time, the Art Briles era was going on in Waco and receivers were flocking to Baylor to play in the high-powered offense. Unlike the first three guys on this list, Robbie's story is short. He played in just ten games and caught ten passes for 157 yards and that was it for his Baylor career.
He wound up getting into some trouble and left Baylor and sat out the 2014 season before going to Bowling Green. However, his troubles didn't end there. After playing in just seven games in 2015 for Bowling Green, he was dismissed from the team in 2016 and hasn't played football since. Keep in mind, not all these stories are going to end up happy.
Oklahoma State
Bobby Reid (2004 5-Star QB From Houston, Texas)
Another Houston guy, Bobby Reid was a popular man in the Bayou City. He led Texas high school power North Shore to a state title in 2003 and chose Oklahoma State over some high-profile schools. During his redshirt year, Reid broke his shoulder in practice and the following year in 2005, another injury cut his season short as he threw for 602 yards and two touchdowns. Finally, 2006 was his first full season as a starter as he led the Pokes to a 7-6 record. While his play was up and down, he finished the year with throwing for over 2,200 yards and 24 touchdowns. He was subbed in and out at times during the season for quarterback Zac Robinson. The same went on during the 2007 season as Zac Robinson eventually took over the starting role for the Cowboys and then the famous "I'm a man, I'm 40." rant came out after just the fourth game of the season after a win against Texas Tech.
After the famous rant, Reid would throw just fourteen more passes for the Cowboys before transferring to Texas Southern. A knee injury would cut his 2008 season short and spent a season in the Arena League. Surprisingly, he would wind up at Oklahoma State again in an administrative role. After that he went to coach at SMU in 2015 and now is a high school football coach.
**Want to win a $25 gift card?  Go sign up here and join our conversation! The best poster each week wins a gift card to your favorite establishment!**