After 100,000 casted votes, a winner has been chosen..
Youngstown State Penguins defeated the Marshall Thundering Herd for the best college mascot.
I've got to hand it to Youngstown State – we are a Big 12-based website and I NEVER in a million years would've guessed that the Penguins would come out on top of this 64-team bracket to try and get us through March Sadness.
Kudos to all you Youngstown State fans who stepped up and voted for your team and beat out some of the biggest programs in the nation, including Marshall in the finals (and how about the Thundering Herd, hey WVU fans, bad job by you stopping them from getting that far!).
Thanks to all for the participation and I am seriously so impressed with Youngstown State getting this done! TONS of respect for you all and whenever you're set to play a Big 12 team next, I'll have a special place in my heart for y'all.
Thanks and I hope if you follow the Big 12 you'll be back to our site.
-Pete Mundo, owner/publisher
What is the best college mascot?
Probably over a decade ago, there were some cell phone commercials about brackets. One of those commercials featured a man talking about how his wife picked a No.15 seed to upset a No. 2 seed because she found the mascot to be adorable. At the end of the commercial, the man said, "I call it my How's Your Furry Little Mascot Now? Plan."
There have also been numerous commercials implying that someone without a certain product is suffering from "March Sadness". Well, here we are. The product we are without is the 2020 NCAA Tournament, which at best, has been suspended indefinitely. It will also likely never be played.
The field of 64 should've started today. The past two days should have featured the First Four games. We all miss sports across the board. There is no NBA, no NHL, no XFL and no MLB Spring Training.
To give us all some minor relief, why not have a "Furry Little Mascot" Bracket? We have time to kill while the world quarantines itself.
Let's start off with the Big 12. The teams who made the bracket are: Kansas, Oklahoma, TCU, Texas and Texas Tech.
I'll go in-depth more on each team below.
Now, the way this bracket was created was through creativity. Never would we see a team from the WAC, much less UT Rio Grande Valley, as a No.1 seed. Well, the Vaqueros are here. This bracket is subjective. The RPI of any team named the "Tigers", the "Wildcats" or the 'Bobcats" plummeted down past 300. Sorry, Kansas State fans. When thousands of high schools are also called the "Wildcats", we expect an institution of higher education to come up with a better nickname. Not to add insult to injury, but your archrival took a historic figure in the "Jayhawkers", turned it into a creative and colorful bird and made this tournament. That's what we are looking for.
How scarce is your nickname? The South Dakota State University Jackrabbits have a scarce nickname. Now, that's not the only example of scarcity. For example, Ivy League teams named themselves after colors. The Harvard Crimson. The Dartmouth Big Green. The Cornell Big Red. It's uninspiring. Interestingly enough, Alabama's Crimson Tide was the fourth team out of this bracket. Why? Well, if you think about it, there really is a "crimson tide" and for many, that could mean concerning things. I'm not pinpointing any medical problem in particular, whether, but to me, Crimson Tide means a tide of blood. As a human whose first emergency room visit was because I stepped on a piece of a broken vase, I'd say it's a fairly frightening nickname.
If there was no reason to fear the opponent, it likely needed a historic reference. I felt compelled by history lessons. For example, the Stanford Cardinal is worthless. The mascot is a tree. They try to imply some sort of religious reference when the school really doesn't want any religious affiliation at all. I mean, Stanford has ensured BYU remains outside the Pac 12. On the flip side, the Cardinal is a reference to a Catholic title and they're represented by a tree. It makes no sense.
However, a tree did make it into the bracket. The Indiana State Sycamores were named for their geographical location. Terre Haute had a lot of Sycamore trees when the mascot was thought up. Sure, a Lumberjack can cut down a tree. A tree can also kill a Lumberjack in an accident. A tree can also create an environment filled with fear. Snakes can fly off trees and bite its prey. People can get stuck high on one or fall to their death. It can be the home to poisonous spiders, hold a bird's nest for certain animals to be fed to chicks. A tree can be more devastating to an opponent than one might think.
Speaking of the State of Indiana, the Hoosiers are a nod to the people of Indiana. There's a story behind that. A story behind an odd name makes the mascot that much better.
Wake Forest University is the No.1 overall seed. One may wonder, "why the Demon Deacons". A Deacon doesn't sound too frightening. It sounds like a mascot living on a prayer when the Miami Hurricanes come into town. It needs a higher power. However, the Demon Deacon is No.1 because it's the ultimate troll job. Wake Forest University came up with their mascot because it's a religious institution whose main rival is Duke. Wake Forest is a Baptist school while Duke, originally named Trinity, belongs to the United Methodists. Why a religious school would call themselves the "Devils" is beyond me. Wake Forest did an awesome job coming up with their name. The name Demon Deacons came to light during a game in which Wake Forest defeated Duke. It will always be there because of a victory over a rival religious institution. That's trolling at its best and the Wake Forest crowd can always point out that their name stems from a victory.
Big 12 Conference College Mascots
As you might be able to tell, the Baylor Bears didn't make the tournament. If they had, we would have to include Morgan State, Maine, and Northern Colorado. It's a common nickname and Baylor could certainly do better. Meanwhile, there are three schools who made it because of the scarcity of their name. The Texas Longhorns and Oklahoma Sooners do not have the best names in the world. What they do have are names that suit the location and history of their schools. Those two teams are also the only ones who typically use their name. Yes, there are a few high schools in Texas named the Longhorns, but it's still a scarce name. Almost every district with multiple high schools has at least one Tiger, Wildcat, Eagle, or Panther. It's quite ridiculous. Hell, the SEC has three teams named "Tigers' and two named "Bulldogs". Thus, I understand why academics are so awful at most SEC schools.
Texas Tech gets in because the Red Raiders is the name they changed to from the Matadors. Had they been named the Matadors, they would be out much like Cal State Northridge. The Red Raiders is a reference to geography and the school's Spanish architecture. Meanwhile, the TCU Horned Frogs picked a name that is menacing, scarce and has a geographical reference. In fact, Texas named the Horned Frog its official state reptile in 1992. Thus, TCU makes it into the bracket.
West Virginia University fans probably have the biggest gripe for being left out. West Virginia is a mountainous territory. Unfortunately, so is Boone, North Carolina. There are many NCAA teams with the name "Mountaineers". Appalachian State and Mount St. Mary's are two examples of how this nickname kept WVU out. I think the name fits WVU perfectly, but it's just not scarce enough. The same could be said about Oklahoma State. It fits the location, but then we'd have to let McNeese State in. It's still way better than their previous names of Aggies and Tigers.
Iowa State fans probably feel the snub. Rightfully so. In the year 2020, the word "cyclone" seems more like a hurricane in the south pacific that's about to hit Asia. Little did I know that it was used well over a century ago for the tornadic activity which took place in the state. Yes, it's a scarce name. It got left out because most people today think of a devastating storm in the Eastern Hemisphere. If there is any consolation for our awesome Iowa State audience, it's that the Hawkeyes nickname didn't even make the Top 300. The Cyclones are definitely in the Top 100.
Added onto the consolation: the Cornhuskers are just a bit above the all of the various Panthers. Lewisville High School has a better name in the "Fightin' Farmers" than Nebraska did. What's so scary about someone husking corn? A cornhusker is likely more to die of an infectious disease than it is to win a battle.
So, there you have it. Five teams from the Big 12 have cracked the field of 68 for Division 1's best mascot name. The match ups are below.
2020 March Sadness Mascot Tournament Bracket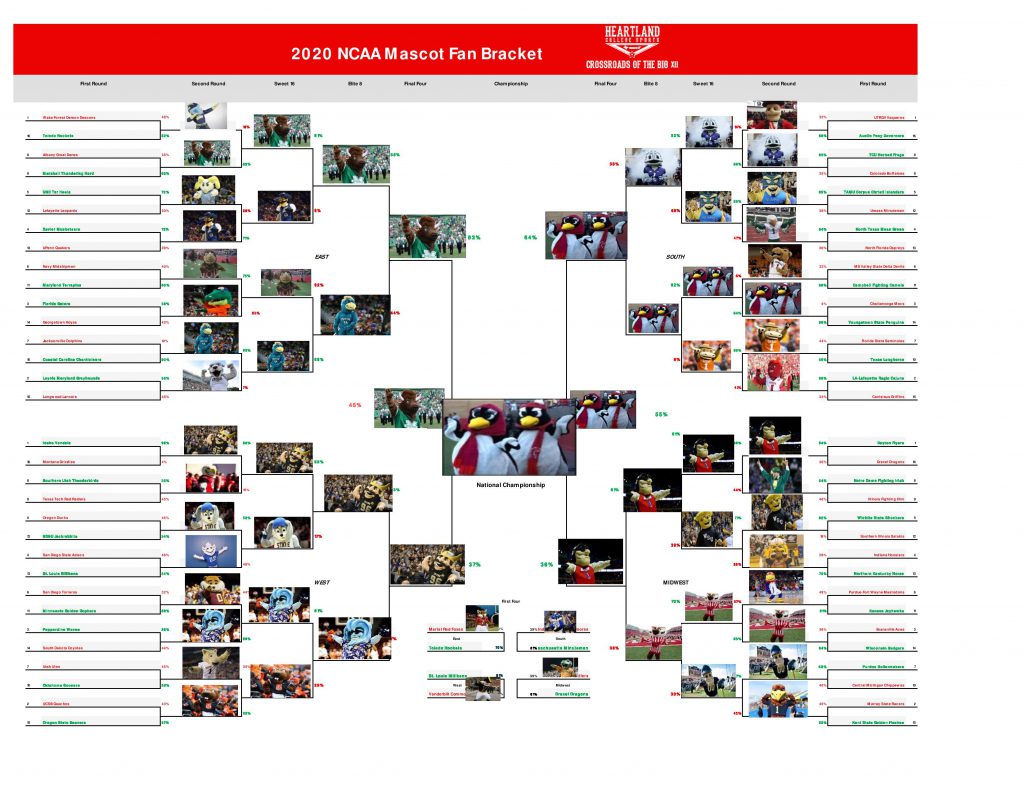 First Four
East: 16. Marist Red Foxes vs. 16. Toledo Rockets
Midwest: 16.Florida A&M Rattlers vs. 16.Drexel Dragons
South: 12.Indiana State Sycamores vs. 12.Massachusetts Minutemen
West: 13.Saint Louis Billikens vs. 13.Vanderbilt Commodores
East Bracket
1.Wake Forest Demon Deacons vs. 16.Marist/Toledo
8.Albany Great Danes vs. 9.Marshall Thundering Herd
5.North Carolina Tar Heels vs. 12.Lafayette Leopards
4.Xavier Musketeers vs. 13.Pennsylvania Quakers
3.Florida Gators vs. 14.Georgetown Hoyas
6.Navy Midshipmen vs. 11.Maryland Terrapins
7.Jacksonville Dolphins vs. 10.Coastal Carolina Chanticleers
2.Loyola Maryland Greyhounds vs. 15.Longwood Lancers
Midwest
1.Dayton Flyers vs. No.16.Florida A&M/Drexel
8.Notre Dame Fighting Irish vs. 9.Illinois Fighting Illini
5.Wichita State Shockers vs. 12.Southern Illinois Salukis
4.Indiana Hoosiers vs. 13.Northern Kentucky Norse
3.Evansville Aces vs. 14.Wisconsin Badgers
6.Purdue Fort Wayne Mastodons vs. 11.Kansas Jayhawks
7.Purdue Boilermakers vs. 10.Central Michigan Chippewas
2.Murray State Racers vs. 15.Kent State Golden Flashes
South
1.UTRGV Vaqueros vs. 16.Austin Peay Governors
8.TCU Horned Frogs vs. 9.Colorado Buffaloes
5.Texas A&M Corpus Christi Islanders vs. 12.Indiana State/Massachusetts
4.North Texas Mean Green vs. 13.North Florida Ospreys
3.Chattanooga Mocs vs. 14.Youngstown State Penguins
6.Mississippi Valley State Delta Devils vs. 11.Campbell Fighting Camels
7.Florida State Seminoles vs. 10.Texas Longhorns
2.Louisiana-Lafayette Ragin' Cajuns vs. 15.Canisius Griffins
West
1.Idaho Vandals vs. 16.Montana Grizzlies
8.Southern Utah Thunderbirds vs. 9.Texas Tech Red Raiders
5. Oregon Ducks vs. 12. South Dakota State Jackrabbits
4.San Diego State Aztecs vs. 13.Saint Louis/Vanderbilt
3.Pepperdine Waves vs. 14.South Dakota Coyotes
6.San Diego Toreros vs. 11.Minnesota Golden Gophers
7.Utah Utes vs. 10.Oklahoma Sooners
2.UC Santa Barbara Gauchos vs. 15.Oregon State Beavers
First Four Out: Western Kentucky Hilltoppers, Loyola Illinois Ramblers, Stony Brook Seawolves, Alabama Crimson Tide
**Want to win a $25 gift card?  Go sign up here and join our conversation! The best poster each week wins a gift card to your favorite establishment!**