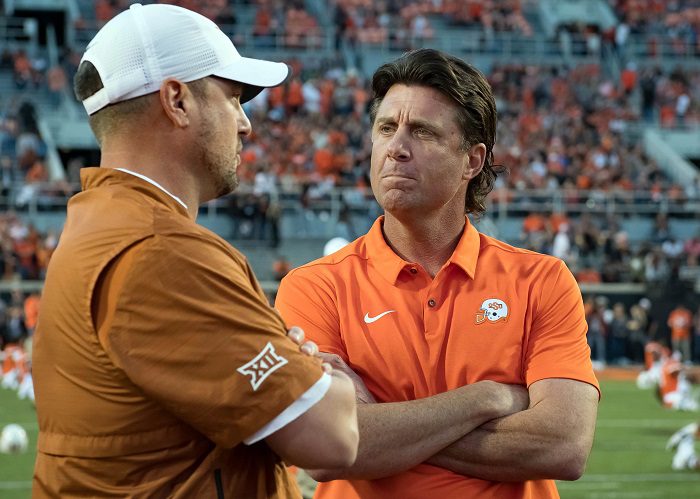 During these rough times of no sports and waiting for them to come back, people like me are bored out of their minds. Ok well maybe some more things are getting done around the house and those weekend projects become daily projects but how in the heck is that fun? Of course, the drinks stay flowing and happy hour turns into more than just an hour. But as I sit here wondering with a drink in my hand, there is one thing I have thought about quite often. If I had to be stuck with Big 12 coaches during this madness who would be the best coach to be around and who would be the worst?
Since I am bored and need some fun, I thought why not rank the coaches I wouldn't mind being stuck with for two weeks?
10. Baylor Head Coach Dave Aranda
Let me start by saying, I have no clue how Dave is and since he is the newcomer of this group, he gets the last slot. Maybe Dave is a cool guy to have a beer with or do whatever but since I don't know him and am not too familiar with him, unfortunately he gets the ten spot. Sorry Davey. 
9. TCU Head Coach Gary Patterson
By no means is Gary a bad guy but I am not sure I would want to be stuck with him for two weeks. He seems like he would easily lose his temper if I pissed him off and I know for a fact he plays guitar. That would drive me nuts considering I used to have a roommate who would rarely play the guitar but when he did, I found myself annoyed. 
8. Oklahoma Head Coach Lincoln Riley
While you can easily make a case that he is the best football coach on this list, you must admit he is about as boring as watching paint dry in his press conferences. Of course, I don't believe he is like that outside of football considering he enjoys fishing but still, would it kill you to crack a few jokes Lincoln?
7. West Virginia Head Coach Neal Brown
I haven't really gotten a great feel for Neal Brown quite yet, but I do know that he is a nice guy. He is someone who seems like he would be fun to chat with after a few cold ones, but I still don't know just yet considering he has only been around for one year. I'm sure time would help his case here but then again; I hope I will be writing about actual sports this time around next year. 
6. Iowa State Head Coach Matt Campbell
Iowa State fans are going to kill me for this and they have every right to do so but as much as I love Matt Campbell the coach, I am not sure if he would be that fun of a guy to hang out with. At some point in the two weeks, his positivity would wear off with me and I would start to roll my eyes considering most would call me a negative person. Sorry Cyclone fans. 
5. Kansas State Head Coach Chris Klieman
Coach Klieman is a football man through and through. I would love to hear him talk some football considering I enjoy his old school approach with a modern twist on things. He seems like just another one of the guys who enjoys some cold beers after a hard day of work and that would be right up my alley. 
4. Texas Tech Head Coach Matt Wells
After seeing his house tour, it's clear to me that Matt Wells enjoys his games considering he had a small two-story building connected to his house just for games. He had a ping pong table, small basketball court and a pool table. I'll bring the booze and two weeks in that house would fly by.
3. Kansas Head Coach Les Miles
You never know what Les Miles is going to say or do and that's why he is this high on my list. Expect the unexpected to happen and I am perfectly ok with that considering the things I plan out never go about the way I want them to. Plus, I would love to hear some of his stories from his Oklahoma State and LSU days. But you can count me out on eating grass. 
2. Texas Head Coach Tom Herman
Some people are going to throw a fit about this and that's ok. Is Tom Herman annoying sometimes? Sure. Can be a bit of an ass? Absolutely but so am I. I could easily see him knocking a few vodkas (Tito's of course) down and shooting the breeze talking crap about other coaches and I am all here for it. Plus, I would love to hear some of his Ohio State stories. 
1. Oklahoma State Head Coach Mike Gundy
Considering Gundy's comments last week, I could have pushed him down this list but there's just one problem. Gundy is just too fun not to be number one on this list. He would want to fish and knock beers back till sundown and that would be perfectly fine with me. And if I get by a snake heading to his tank, he will probably wash the wound with some vodka in a plastic bottle. Pour a little on and then take a swig for himself. 
**Want to win a $25 gift card?  Go sign up here and join our conversation! The best poster each week wins a gift card to your favorite establishment!**