Big 12 News
Bill Self on Coronavirus Recovery: 'This will be Mardi Gras times 10'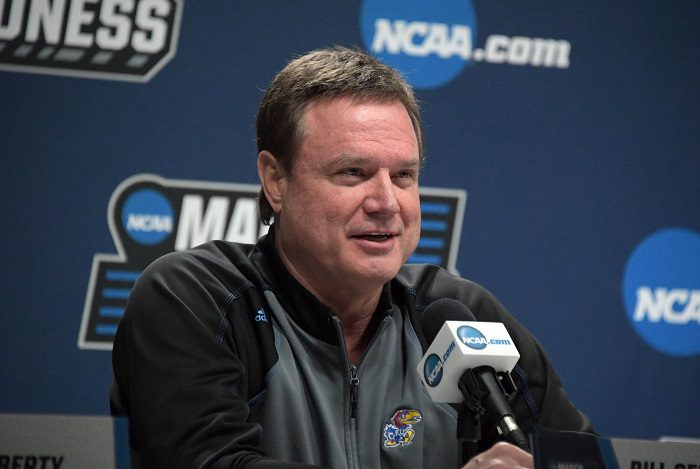 Despite the fact that Bill Self's best chance at winning a National Championship came to a premature end due to the coronavirus and the cancelling of the NCAA Tournament, the Kansas Jayhawks head coach remains optimistic about what's to come.
Self joined FoxSports.com and Shannon Spake's podcast, saying, "I'm hopeful that as we are flattening the (COVID-19 coronavirus pandemic) curve and some other things there could be some semblance of life as we knew it that could come back."
The head coach added, "I don't think fans attending events or social gatherings, things like that, are going to happen at the exact same moment. I think we will do it in stages. I don't think we are going to jump in and have it exactly the way it was before. I am obviously no expert. That's just my opinion. I do believe there's a lot of reasons across the world and especially in the United States to celebrate (once the virus is under control)."
As for when things return to a sense of normalcy? Self believes there will be plenty of celebration, saying, "This will be Mardi Gras times 10. There will be I believe a great celebration of life — the appreciation we have that maybe we took for granted before that will be a fun thing for all people to be a part of. Of course sports plays a huge role in that. I still think, unfortunately, and I am not an expert by any means, we are going to have to go in stages to get to that."
And Self, unlike Kirk Herbstreit and others, admits hes not an expert or a doctor, but is right to point out we will probably need to go in stages as has been pointed out by the recent re-opening plan put together by the administration.
**Want to win a $25 gift card?  Go sign up here and join our conversation! The best poster each week wins a gift card to your favorite establishment!**