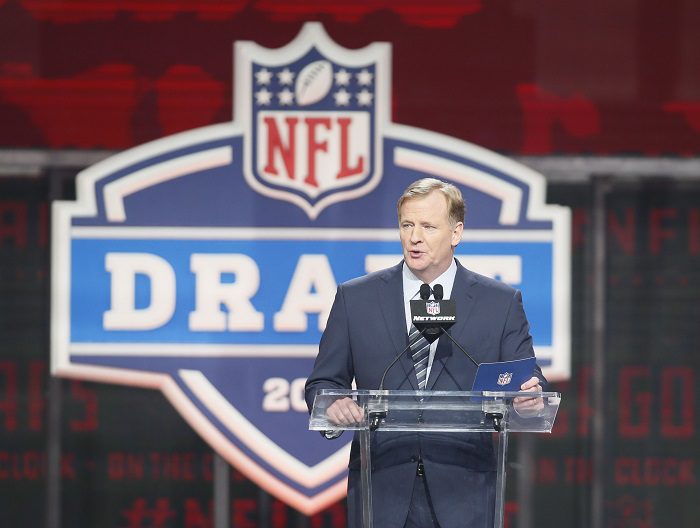 Well folks it is that time of year again. The time where the future stars of the NFL are selected to their new teams over the course of a three-day period. However, due to the circumstances of today's world, this draft will be one to remember as it will be a virtual draft and for the first time in forever, no fans will be allowed to be there in person to yell and scream at who their team just picked.
All jokes aside, with no other sports going on, I expect plenty of eyeballs to be watching the first round on Thursday night as well as the other rounds on Friday and Saturday to see who their team picks up as well as see where some of their favorite college players wind up. And do not forget the drama. But since we are a strictly Big 12 website and not to mention my favorite team (The Houston Texans) have few draft picks (Thanks Bill O'Brien), I thought it would be fun to share some of my thoughts about a few standout prospects from the Big 12 as they make their way to the next level.
Best Big 12 Player
Oklahoma WR CeeDee Lamb
This one was a no brainer to me. Over the last three years, CeeDee was a force to be reckoned with in the Big 12 and in my opinion, he was the best wide receiver in the conference the past two seasons. During his time in Norman, he racked up over 3,000 receiving yards and forty touchdowns as he torched defensive backs nearly every Saturday. At times CeeDee seemed unstoppable and to this day, there are several Texas defenders still trying to tackle him from last season's Red River Showdown game. He is fast, has good hands and is dangerous after the catch. The guy averaged over twenty-one yards per catch last season for crying out loud. Not only is he the best Big 12 prospect in this year's draft but I believe he is the best wide out in the entire class. Some team will get a steal if he does not go in the top ten.
Biggest Likely Big 12 Bust
Oklahoma QB Jalen Hurts
I hate to label someone a bust before they even play a down but considering the whispers, I am hearing about him being a second-round pick is head scratching to me. If he goes in the third round, I have no issue with that but if a team selects him as a top fifty pick, then I would consider him a reach. Was Jalen a good college quarterback? Yes. Was he better than Baker Mayfield or Kyler Murray? Absolutely not. To me, Jalen was more of running back playing quarterback at Oklahoma. Of course, playing under offensive genius Lincoln Riley helped a lot but Jalen rushed for over 1,200 yards this season as he carried the football 233 times. He is a decent passer but by no means should a team consider him a franchise quarterback and I would be shocked if he were starting for an NFL team next season. Do not get me wrong, he is a great guy, good leader and has a strong will to win and is as tough as nails but the arm and decision making is not there for me to be a top fifty pick. I hope I am wrong but if I had to pick one player to fill this spot, it is Jalen.
Best Big 12 Player Nobody is Talking About
TCU WR Jalen Reagor
Depending on who you ask, I have seen Jalen as a late first rounder to third round guy and if that is the case, it would be a shame. I know teams do not love guys under six foot but what Jalen lacks in size, he makes up for explosiveness. He had a breakout year in his sophomore season (2018) and without a doubt, he was the best player on that TCU team. Of course, this past season was disappointing but when your best quarterback play came from Kenny Hill (2017) during your time in Fort Worth, that is a problem. And to be honest with you, I feel like offensive coordinator Sonny Cumbie did not use him nearly enough this last year like he did in 2018. In a loaded wide receiver class, Jalen may slip to become a mid-second round player and some team will be lucky.
Best Value in the Big 12
Oklahoma DL Neville Gallimore
I know Neville only had one solid season in Norman but under new defensive coordinator Alex Grinch, Neville shined this past season. He is not the biggest interior defensive lineman, but he plays nasty and does a good job of clogging running lanes for his teammate Kenneth Murray (A possible first round pick) to rack up the tackles. There was talk of Neville being a late first rounder but now many have him as a day two pick. I believe he is a top thirty player in this class and if a team gets him in anywhere in the second round, it would be a great value as they will be getting a first-round pick on day two.
Best Big 12 Sleeper
Texas Tech LB Jordyn Brooks
I will be honest; I have no idea where Jordyn Brooks will land. Some say he is a day two player while others have him in the later rounds. But what I do know is that some team will hit the jackpot if he is still on the board when day three arrives. Jordyn is a playmaker and a tackling machine. Even though the defenses were not all that great during his time in Lubbock, it was not due to his play. At 240 pounds, he can cover lots of space and suits the NFL game well with his coverage skills and his ability to tackle in space. In his senior season, he had 108 tackles and 20 of those tackles were for loss. The guy can flat out play football and I always loved watching him play and wherever he ends up, he will be a starter for a long time in the NFL.
Other Early Big 12 Names to Watch
Baylor WR Denzel Mims
TCU DT Ross Blacklock
Oklahoma LB Kenneth Murray
**Want to win a $25 gift card?  Go sign up here and join our conversation! The best poster each week wins a gift card to your favorite establishment!**