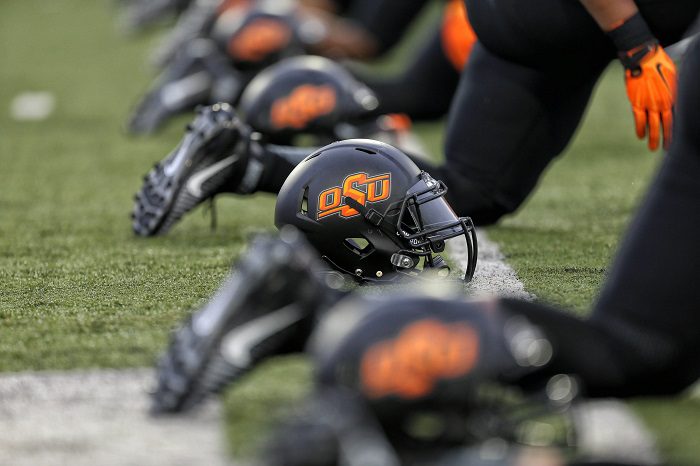 Whether football fans think of the Big 12 system as a vital cornerstone of the pro game or merely an elitist setup, there is no shortage of vindication for it. Only last year, the presence of the Big 12 received the biggest possible 'vindication', with Oklahoma State alumni Emmanuel Ogbah being part of a Kansas City Chiefs side that went on to win the Super Bowl back in February.
Back to back
Even though the defensive end did not play in the last Super Bowl, he does at least have the opportunity to join some very exclusive company. That 'opportunity' is to become a Big 12 alumni within a Super Bowl-winning franchise for a second successive season.
Ogbah's $15 million contract with the Miami Dolphins (which he signed in March 2020) is a lucrative one, but his chances of winning the next Super Bowl with them appear remote. The Dolphins are priced at +1200 just to win their division in the outright betting markets, making them rank outsiders.
Nonetheless, Ogbah's route to success is steeped in hard work and honest graft, and this will stand him in good stead throughout his latest venture.
Before he was famous
After graduating from George Bush High School, Ogbah's choice of college was driven partly by the advice of Russell Okung, an Oklahoma State attendee five years his senior, and two-time 'All American' to be.
Ogbah made an immediate impact at Oklahoma State, playing in every game of the 2013 college campaign. By the end of his freshman season, Ogbah had made 20 tackles and four sacks. His sophomore year represented an even bigger improvement, with a tally of 49 tackles and 11 sacks seeing him win the Big-12 Defensive Lineman of the Year award.
Prior to the draft, Ogbah recorded a time of 4.63s in the 40-yard dash, and 4.5s in the 20-yard shuttle. He was timed at 7.26s in the three-cone drill, while recording 0.9m and 3.07m in the vertical jump and broad jump test respectively. This was enough to see him become a second-round pick in the NFL draft of 2016.
Becoming a pro
It was the Cleveland Browns who took him on, making him pick number 32 of the whole draft. A four-year contract worth $6.6m up front – plus a signing bonus of $3m – was largely seen as shrewd business. The return on investment was reasonably good, with Ogbah playing every regular-season game, being ranked sixth overall within the Browns squad, having made 53 tackles and a team-high of 5.5 sacks.
His second pro season would be disrupted after ten games due to a foot injury, hastening his departure to Kansas City in April 2019. Despite again playing just ten matches before tearing his pectoral, Ogbah matched his personal best of 5.5 sacks in 2019, additionally making 32 tackles. His contribution towards the success story that was the Chiefs' 2019 season is in no doubt, but it's likely to be a while at the very least before he tastes success once again.
2020 represents a long shot for Ogbah
When compared to their divisional rivals, the Dolphins seem to have very little chance of reaching the playoffs, let alone winning the Super Bowl, regardless of whether or not Ogbah's fitness holds up. Yet, permitting an injury-free season for Ogbah, it is a prime opportunity for him to show the world exactly what he can achieve in the face of adversity.