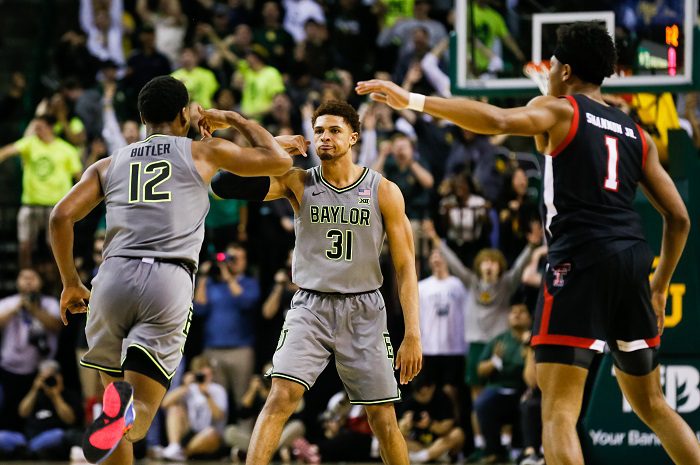 Record: 26-4 (15-3 in Big 12)
Postseason: All postseason tournament action was canceled due the coronavirus. Baylor would have likely been a No. 1 seed in the NCAA Tournament. Baylor finished No. 5 in the final Associated Press Top 25.
Seniors/lettermen losing: G Devonte Bandoo (7.6 ppg, 38.5 percent from 3-point line), G Obim Okeke (played in nine games), F Freddie Gillespie (9.6 ppg, 9.1 rpg, team-leading 66 blocked shots, 33 steals).
Any NBA Bound?: Of the three seniors on the team, F Freddie Gillespie has the best shot of making it to the NBA. Some scouts see him as a second-round pick. But it's more likely he will go undrafted and sign with an NBA team this offseason, with the hope of making it to a team's G-League affiliate. Don't rule out Gillespie receiving a 'two-way contract,' which would allow him to play with both an NBA team and its G-League affiliate his first season.
Any One-and-dones or early entries?: G Jared Butler and G MaCio Teague are "testing the waters" for the NBA Draft, which means they're seeking an evaluation of where they fit into the draft before they make a final decision. The pair has until June 3 to decide whether to stay in the draft or return for another season at Baylor.
Any transfers: None. However, SicEm365.com has reported that Evansville F Deandre Williams has Baylor as one of his top four schools to transfer to for next season.
Top players expected to return: G Jared Butler (16.0 ppg, 3.2 rpg, 3.1 apg, 1.6 spg), F Tristan Clark (4.0 ppg, 2.4 rpg), G/F Matthew Mayer (4.8 ppg, 1.9 rpg), G Davion Mitchell (9.9 ppg, 2.7 rpg, 3.8 apg, 1.5 spg), G MaCio Teague (13.9 ppg, 4.6 rpg, 1.9 apg, 1.0 spg), F Flo Thamba (2.3 ppg, 2.2 rpg), G/F Mark Vital (6.1 ppg, 6.2 rpg, 1.8 apg, 1.7 spg).
*-Note: Butler and Teague are 'testing the waters' for the NBA Draft and have the option to return.
The player(s) you don't know about: Thamba is a player I asked Drew about two years ago at Big 12 media days and he was legitimately excited anyone knew who Thamba was. The 6-foot-10 forward has an enormous wingspan (7-foot-5). But he hasn't been able to get into a regular rotation the past two seasons. With Gillespie leaving the program, now is the time. But he'll have to compete with Mayer and Clark for playing time. Adam Flagler's progress is worth tracking this offseason. The 6-foot-3 guard sat out last season after transferring to Baylor from Presbyterian, where he was a five-time Big South Freshman of the Week and averaged 15.9 points per game, leading to BSC Freshman of the Year honors. Ken Pomeroy (namesake of the KenPom rankings) noted that Flagler's scoring average went up to more than 17 points per game against Tier A and B teams (read: teams like Baylor). Finally, there is Jonathan Tchamwa Tchatchoua, the 6-foot-8 transfer forward from UNLV who sat out last season after averaging nearly four points and four rebounds per game as a freshman for UNLV in 2018-19. He's had a year to learn how Baylor does things. The Cameroon native has been around the world to play the game, and he's a graduate of the NBA Centre of Excellence in Australia.
2020 recruiting class: C Dain Dainja, 6-foot-9, Park Center (Minneapolis, MN); G LJ Cryer, 6-foot-1, Morton Ranch (Katy, TX); C Zach Lovelady, 7-foot, Huntington Prep (Huntington, WV).
This is a hefty class. Dainja is the centerpiece, ranked No. 57 nationally. Cryer is also in the Top 100, and Lovelady is just outside of it. Stealing Lovelady out of West Virginia's backyard is quite the coup. The class is big on size and the Bears will need it with the departure of Gillespie. Given the potential depth of this entire roster, I could see the Bears redshirting this entire class.
Commitments yet to sign: The Bears don't appear to have any additional signings for the 2020 class, per 247Sports.com.
Summarizing the season: Baylor will wonder 'what might have been' for a long time. This was their best team since the Elite Eight team of 2012, and the Bears spent most of January and February as the nation's No. 1 team. After a first-week loss to Washington in Anchorage, Alaska, the Bears didn't lose again until late February to Kansas in Waco. Along the way the Bears set Big 12 and program records for overall winning streaks and winning streaks to start Big 12 play. Gillespie's rise from Division III Carleton to Baylor became one of college basketball's best stories. Scott Drew was the Big 12 Coach of the Year, while Bandoo was the league's Sixth Man of the Year and Mitchell was the Newcomer of the Year. Butler earned first-team honors, Teague and Gillespie second-team honors, while Mitchell and Vital earned third-team honors. Gillespie, Mitchell and Vital were on the Big 12 All-Defensive team, while Mitchell and Teague were on the Big 12 All-Newcomer Team. It's a shame the Bears weren't able to carry this legacy into the NCAA Tournament, as they could have reached the Final Four.
Looking ahead to 2020-21: Assuming Butler and Teague return, this team is silly deep. Gillespie is the only notable loss, and the Bears have a cadre of players that could step into his place (Clark, Mayer, Thamba or Tchamwa Tchatchoua, or a combination of all four). Flagler would add depth to a guard group of Butler, Teague and Mitchell, while Vital would float around and the hyper-hustle guard/forward we know him to be. The incoming freshmen will likely redshirt, but they're also good enough to contribute if injuries happen. I don't expect the lightning in a bottle that we saw last season. A winning streak from November to late February is hard to duplicate two years in a row. But, in terms of being a Big 12 favorite going into next season, the Bears would have all they need to make another run at being the Big 12's best team, and perhaps the nation's.
**Want to win a $25 gift card?  Go sign up here and join our conversation! The best poster each week wins a gift card to your favorite establishment!**