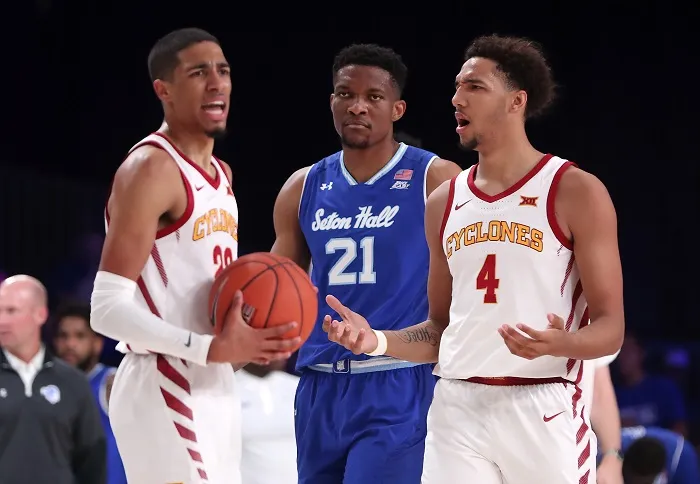 Record: 12-20 (5-13 in Big 12)
Postseason: None.
Seniors losing: G Prentiss Nixon (9.0 ppg, 3.3 rpg, 2.1 apg), F Michael Jacobson (7.6 ppg, 5.9 rpg).
Any NBA Bound?: Nixon and Jacobson would be hard-pressed to slip into the NBA Draft. But there could be a training camp roster spot for either of them somewhere.
Any One-and-dones or early entries?: G Tyrese Haliburton. At one point Haliburton was on his way to a Big 12 scoring title. But on Feb. 10 Iowa State announced Haliburton would miss the remainder of the season with a wrist injury. He averaged 15.2 ppg, 6.5 apg and 2.5 spg, some of the best numbers in the Big 12. Already considered a lottery pick, it was easy for Haliburton to declare early for the NBA Draft shortly after the season ended.
Any transfers: F Luke Anderson (transferred to USF), G Zion Griffin (transferred to Illinois-Chicago), G Caleb Grill (transferred to UNLV), G Marcedus Leech Jr. (transferred to Iowa Western CC), G Terrence Lewis (transferred to South Alabama).
Iowa State expects Memphis G Tyler Harris to transfer in for the 2020-21 season. The Cyclones reportedly have other transfers in their sights.
Top players expected to return: G Rasir Bolton (14.7 ppg, 3.4 rpg, 2.8 apg), G Tre Jackson (4.1 ppg, 1.3 apg), F Solomon Young (10.1 ppg, 4.0 rpg), F George Conditt IV (7.0 ppg, 4.8 rpg).
The player(s) you don't know about: Javan Johnson played two seasons at Troy before transferring to Iowa State and sitting out last season. Johnson averaged more than 10 points per game, along with 4.2 rebounds, in his sophomore season at Troy. He's a solid 3-point shooter, too. With the departure of five transfers, you can be sure Johnson will get a chance to see considerable floor time once the season begins.
2020 recruiting class: C Xavier Foster, 7-foot, Oskaloosa (Oskaloosa, IA); F Dudley Blackwell, 6-foot-5, Somerset Academy Charter (Pembroke Pines, FL); F Darlingstone Dubar, 6-foot-5, Scotland Performance Institute (Scotland, PA); G Jaden Walker, 6-foot-5, Discovery (Lawrenceville, GA).
As of May 3 head coach Steve Prohm has cultivated a Top 25 recruiting class, according to 247Sports.com. Foster is the centerpiece, a Top 100 national player and it's a coup that Prohm was not only able to keep him in the state, but keep him away from Iowa. Blackwell, Dubar and Walker will add wing depth and some may redshirt.
Commitments yet to sign: None as of May 3.
Summarizing the season: After winning the Big 12 Tournament title in 2019 and losing players like Nick Weiler-Babb and Lindell Wigginton, a step back was to be anticipated. But, frankly, this was not what I expected at all. Haliburton was unquestionably the team's best player from Day 1, but the rest of the team had a hard time coalescing around him. Young had a great back half of the season, Nixon played well and asserted himself once Haliburton was out of the lineup and Jackson produced nicely at times. But it was Bolton that truly became the glue that held the team together for the entire season. Looking back his transfer to ISU from Penn State was the best thing to happen to the Cyclones for the 2019-20 season, especially since Bolton will be in Ames for at least one more season.
Looking ahead to 2020-21: This feels like a make-or-break season for Prohm. Losing five players to transfer after the season is a big hit, plus the losses of Nixon and Jacobson. The recruiting class is solid, and there are a couple of players that could start earning playing time right away. Bolton, Jackson, Young and Conditt form a nice core. Johnson will need to play at least like the player he was at Troy. If Harris were allowed to play right away, that would help too. The Cyclones appear to be in the market for more transfers, and that could change the landscape for next season. But Prohm has work to do here, and after a forgettable season in Ames — and his second losing season in three years — his job may be on the line. If you need a template for what happens when you lose this many transfers in one season, look no further than TCU, which was good, but not great, last season after losing a similar number of transfers the previous season.
**Want to win a $25 gift card?  Go sign up here and join our conversation! The best poster each week wins a gift card to your favorite establishment!**