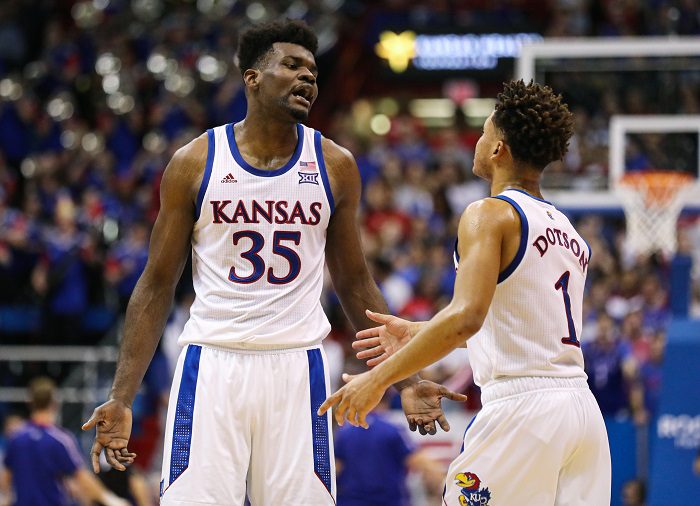 Record: 28-3 (17-1 in Big 12)
Postseason: All postseason tournament action was canceled due the coronavirus. Kansas would have likely been a No. 1 seed in the NCAA Tournament, and perhaps the No. 1 overall seed. Kansas finished No. 1 in the final Associated Press Top 25.
Seniors losing: G Isaiah Moss (7.9 ppg, 2.3 rpg, 38.7 percent from 3-point line), C Udoka Azubuike (13.7 ppg, 10.5 rpg, 80 blocks).
Any NBA Bound?: Azubuike is a candidate to be drafted in the 2020 NBA Draft. For most of the spring mock drafts have had Azubuike going in the second round. Moss will likely be looking for a spot in the G-League.
Any One-and-dones or early entries?: G Devon Dotson (18.1 ppg, 4.1 rpg, 4.0 apg, 63 steals) put his name in the NBA Draft for the second straight year. This time, however, he's not testing the waters. He appears unlikely to return, although he has until early June to change his mind.
Any transfers: None. The Jayhawks lost G Isaac McBride before the start of last season, as he chose to transfer to Vanderbilt.
Top players expected to return: G Marcus Garrett (9.2 ppg, 4.5 rpg, team-leading 144 assists, 56 steals), G Christian Braun (5.3 ppg, 2.9 rpg, 44 percent from 3-point line), F Silvio De Sousa (2.6 ppg, 2.8 rpg), G Ochai Agbaji (10.0 ppg, 4.2 rpg), F David McCormack (6.9 ppg, 4.1 rpg), F Mitch Lightfoot (chose to redshirt during 2019-20 season).
The player(s) you don't know about: Jalen Wilson was the centerpiece of the Jayhawk's Top 15 2019 recruiting class. The 6-foot-8 forward played at Guyer High School in Denton, Texas, and was the No. 53 recruit in the nation. Unfortunately, he played less than three minutes before he broke his foot and sat out the season. With Azubuike, Dotson and Moss on the roster, redshirting was probably the smart move, even if it was the injury that prompted it. Wilson feels like a forward that can be plugged into the front court as part of a rotation right away next season, with a chance to start by January.
2020 recruiting class: G Bryce Thompson, 6-foot-5, Booker T. Washington (Tulsa, OK); G Tyon Grant-Foster, 6-foot-7, Indian Hills CC (Iowa); F Gethro Muscadin, 6-foot-10, Aspire Academy (KY), native of Gonaives, Haiti; G Latrell Jossell, 5-foot-11, Central (Keller, TX).
What NCAA investigation? Grant Foster is 247Sports.com's No. 2 recruit nationally, while Thompson is No. 19 nationally (and pulling him from Oklahoma State's backyard is quite the coup). Both are No. 1 in their respective states. Both could play right away. Muscadin and Jossell feel like a pair of freshmen who will redshirt next season. That's not a bad thing for either player or for this team.
Commitments yet to sign: The Jayhawks don't appear to have any additional signings for the 2020 class, per 247Sports.com.
Summarizing the season: Baylor received a lot of publicity during the regular season, and rightly so. But it was Kansas that actually won the Big 12 regular-season title, with its only league loss coming to Baylor, and finished the season with the No. 1 overall ranking. The Jayhawks' only losses were to Duke, Villanova and Baylor. The Jayhawks rolled into Kansas City for the Big 12 Tournament on a 16-game winning streak and were poised to be the No. 1 overall seed in the NCAA Tournament. Unfortunately, the coronavirus stopped that potential run in its tracks. So we'll never know if Kansas had the goods to win the national championship, and we have no idea if the NCAA will recognize Kansas' No. 1 overall ranking as a 'national championship' or not. Head coach Bill Self did say they would do something to recognize this team. And they should. It's among the best in program history. It's a shame they didn't get the chance to chase history.
Azubuike was the Big 12 Player of the Year, while Garrett was the Big 12 Defensive Player of the Year for the second straight year. Azubuike and Dotson were on the first team, Garrett was on the third team, Azubuike and Garrett were on the All-Big 12 Defensive Team and Braun was on the All-Big 12 Freshman Team.
Looking ahead to 2020-21: One would assume that losing players like Azubuike and Dotson would be a death sentence. But this is Kansas, after all. The Jayhawks just reload and there is competition at every position group. Garrett is poised to be the No. 1 option next year, as he spent the second half emerging as the shot-creator and facilitator that took the pressure off of Dotson. He's no longer just a great defensive player anymore. He's a great player, period. McCormack should be the starter inside, and he'll need to take a step forward. Agbaji gives the Jayhawks rare athleticism, and Braun gives them a gritty defender that can shoot the three. The return of Lightfoot gives the Jayhawks their Swiss Army knife player back. De Sousa now has a chance to get more playing time and grow. Wilson will need to show he's up for a bigger role after missing all of last season. Dajuan Harris, who signed with Kansas in late August of last year and redshirted, could contend for playing time at the point guard spot. We haven't even mentioned Tristan Enaruna yet, a guard from the Netherlands who has played internationally and got some playing time last year. And don't expect Thompson nor Grant-Foster to just sit there and take notes. They're Top 20 recruits nationally and they're coming to Kansas to play. The Jayhawks may not have two high-level players like Azubuike and Dotson to start the season, but it could end that way. And Kansas, without question, will be deeper than a year ago. Only a stunning development from the current NCAA probe into Kansas' basketball program can stop this freight train from having all the tools it needs to defend its Big 12 crown.
**Want to win a $25 gift card?  Go sign up here and join our conversation! The best poster each week wins a gift card to your favorite establishment!**