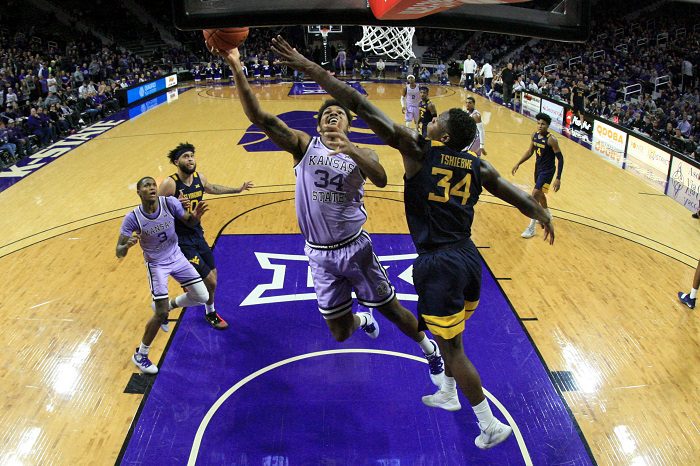 Record: 11-21 (3-15 in Big 12)
Postseason: All postseason tournament action was canceled due the coronavirus. Kansas State was not expected to advance to any postseason tournaments.
Seniors losing: G Xavier Sneed (14.4 ppg, 4.7 rpg, 1.7 apg), C Makol Mawien (7.5 ppg, 5.4 rpg), G Pierson McAtee.
Any NBA Bound?: Sneed submitted his name for the NBA Draft last year to get a gauge of where he fit and what he needed to improve upon. He's an unlikely draft selection, but he has enough talent to get on someone's training camp roster and work his way into a G-League spot.
Any One-and-dones or early entries?: None.
Any transfers: G Cartier Diarra transferred to Virginia Tech. F James Love III transferred to Eastern Michigan. F Nigel Shadd transferred to Pacific. G David Sloan transferred to East Tennessee. G Shaun Williams transferred to Cal State Bakersfield.
K-State has taken in one transfer for the 2020-21 season — C Kaosi Ezeagu (UT-El Paso). He joined the program at mid-season.
Top players expected to return: G Mike McGuirl (6.9 ppg, 2.2 rpg, 1.7 apg), G Dajuan Gordon (6.4 ppg, 3.5 rpg), F Montavious Murphy (5.2 ppg, 3.7 rpg), F Antonio Gordon (4.2 ppg, 3.7 rpg), F Levi Stockard III (3.6 ppg, 2.6 rpg).
The player(s) you don't know about: Ezeagu is a bit of an unknown right now, given that he transferred in at mid-season and he can't play until the spring of 2021. But with the departure of Love, he's now the tallest player on K-State's roster with D-I experience. He only averaged 3.2 points per game his freshman year at UTEP, but he led the team in field goal percentage, was the Miners' best rebounder off the bench and led the team in blocked shots despite only starting eight games. He has an inside presence the Wildcats will sorely need next season.
2020 recruiting class: F Davion Bradford, 7-foot, Mehlville (St. Louis, MO); G Luke Kasubke, 6-foot-5, Chaminade (St. Louis, MO); G Selton Miguel, 6-foot-4, West Oaks Academy (Orlando, FL); G Nijel Pack, 6-foot, Lawrence Central (Indianapolis, IN), F Seryee Lewis, 6-foot-9, Compass Prep (Chandler, AZ); G Rueadale Williams, 6-foot-3, Northeastern Oklahoma A&M (Miami, OK).
It's a massive class, and K-State still has a scholarship to give. The inordinate number of transfers prompted some late signings in the April period. Pack is the centerpiece of the high school recruits, as he finished at No. 101 in 247Sports.com's final player rankings for the 2020 class. Rueadale is the No. 3 juco recruit in the country and he helps pull the class' rating up considerably (No. 28 nationally). Weber and his staff cultivated a solid mix of height and perimeter game.
Commitments yet to sign: Per 247Sports.com the Wildcats have a hard commit from C Carlton Linguard, who is 6-foor-11, played at Temple College in Temple, Texas, and is the No. 12 juco recruit in the country.
Summarizing the season: We knew the Wildcats were going to take a step back without Barry Brown Jr., Kamau Stokes and Dean Wade. But this was a severe step back. Sneed and Diarra had the talent to be a solid 1-2 punch, and at times they were. But the Wildcats didn't give them the help they needed. Mawien didn't make the progress he needed to on the floor for his senior year. Neither did McGuirl. Frankly, any player that had been on the roster the previous two seasons with Brown, Stokes and Wade missed their chance to develop as a player and make a significant mark on the 2019-20 season. Weber and his staff had to turn to younger players as the season unfolded. Dajuan Gordon, Sloan, Murphy and Antonio Gordon gave them some nice minutes along the way, and even with the transfer of Sloan that remaining trio could form a nice mix for the future. But this season was lost pretty much from the start because the players that were there behind Brown, Stokes and Wade either didn't develop or didn't have the talent ceiling the coaching staff expected. That's a combination of a player failure and a coaching/recruiting failure.
Looking ahead to 2020-21: This sounds like a season in which Weber should tell his team that every role, starting and reserve, is up for grabs. Diarra's transfer robs the Wildcats of the one player with vast experience that would have been the focal point of their offense and, certainly, their grittiest perimeter defender. The quintet of McGuirl, Dajuan Gordon, Murphy, Antonio Gordon and Stockard feels like a starting lineup one should write down in pencil. Dajuan Gordon is likely the best player of the five and could end up being the Wildcats' top scorer next season. But with the bevy of talent coming in, who knows? Normally freshmen redshirt, but this year in Manhattan you can expect at least a few to work their way into the lineup immediately, with Pack, Williams and Bradford the most likely suspects. With one additional scholarship, Weber can seek a transfer that can play immediately, too. One wants to be optimistic about a Wildcat rebound in 2020-21. But with so many moving parts and so few players that have proven anything at the Division I level, one can expect an exciting camp leading up to the regular season, and a lot of tinkering on Weber's part as he tries to find the eight to ten players that make the most sense going into Big 12 play. A winning record for this team? Hmmmm… let's not get ahead of ourselves.
**Want to win a $25 gift card?  Go sign up here and join our conversation! The best poster each week wins a gift card to your favorite establishment!**