During these tough times everyone (including myself) is trying to fill that empty sports hole inside with just about anything we can think of. Whether it is debates on social media or in the office, now more than ever, people just want their sports back. While they may not be back just yet, I have been trying to keep up with all the latest trends going on in the land of Twitter and something caught my eye last week. Someone decided to rank their top ten favorite college football helmets and I thought why not do one for the Big 12?
Here I will pick my favorite helmet from each Big 12 team and see how they stack up against one another. Keep in mind, I did not research too far because some teams have worn so many different helmets that it would be nearly impossible to find them all and compare them. So instead, I just took helmets from recent years to make things a little simpler. So, without further due, these are my favorite Big 12 helmets.
1. Oklahoma State's Classic Pistol Pete
What is there not to love about this helmet? Oklahoma State has the best uniform combos probably in the entire country and that includes helmets. I could debate all day what their best homecoming helmet is, but I decided on a classic here. The cowboy hat, the mustache and the pistol make this thing a beauty. Again, so many options to go with here for the Cowboys but this is my favorite one. Do you think we could get a Mike Gundy mullet helmet soon?
2. Texas Tech's Throwback Double T
Every time I see these, I wonder why Tech has not worn these more often. When paired with the uniform, they are about as pretty as pretty can get. I know some people love the white helmet like this, but I think the black looks so much better here. 
3. TCU Chrome Purple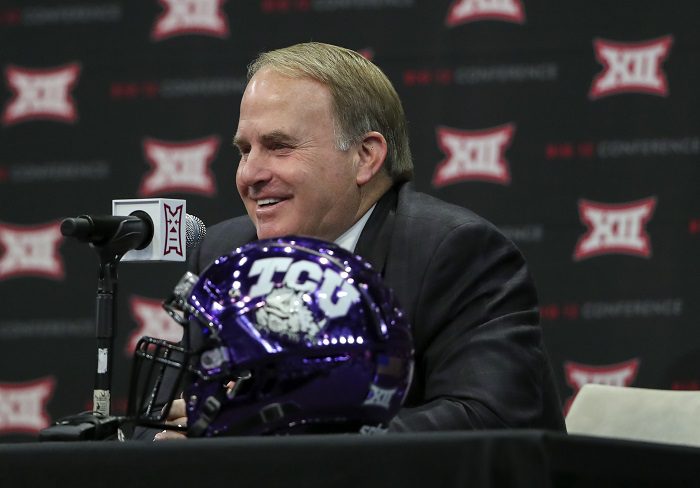 I fell in love with these a long time ago and I am not going to lie, I am a sucker for chrome helmets. Maybe I am stuck in 2014 but these things still look just as good as they did years ago and I wish TCU would wear them more.
4. Texas Longhorns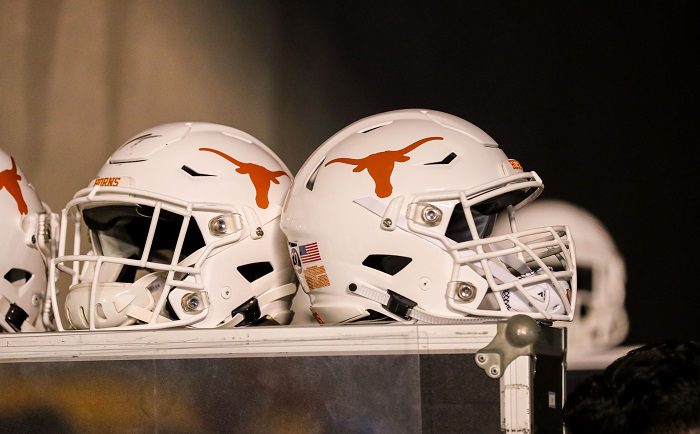 I can already hear people whining. Texas is an iconic brand. When you see the Longhorn logo there is no mistaking on who it is. I respect the hell out of traditional helmets and uniforms but that does not mean it has to be the best just because it is old. Is it a great look? Yes, but I enjoy the newer styles and crazy combinations a tad better. I am sure this should cause some controversy on social media.
5. Oklahoma Sooners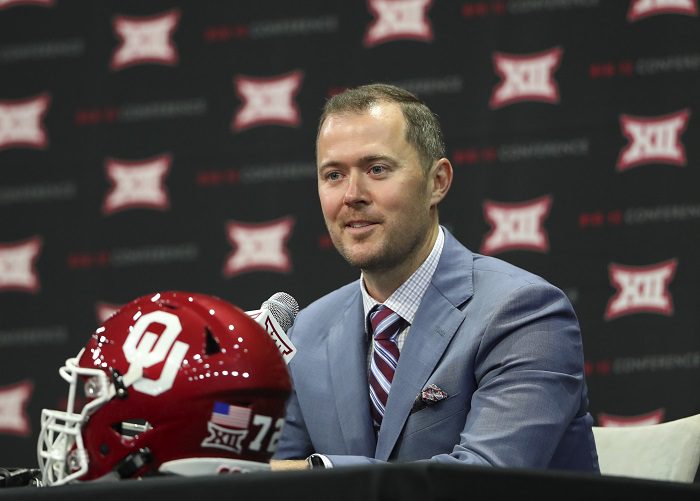 I can still hear the people complaining about the Texas helmets and now you Sooner fans can join them. And by the way, Oklahoma should not have any other helmet besides this one. You do not mess with this helmet. Is it too low? Not in my opinion. I like a good classic blueblood helmet, but I prefer the more creative ones out there. Just like Texas, the logo is an icon that will live on forever, but it is not my favorite.
6. Baylor's Chrome Gold
I know you are wondering why TCU's chrome helmet is much higher, but I will be honest with you. These kind of remind me of a knockoff or modernized Notre Dame helmet. While I like these a thousand times better than the current Baylor helmets, they are not my favorite chrome helmets, but they are still nice, and I wish Baylor would bring them back.
7. Kansas State's Scripted Cats
It was hard to go away from the classic purple logo and the silver helmet, but these things are sweet. I love the old school script style writing and I think that these give Kansas State a fresh yet throwback type of look that other schools should be looking more into if they can.
8. West Virginia's Classic Helmet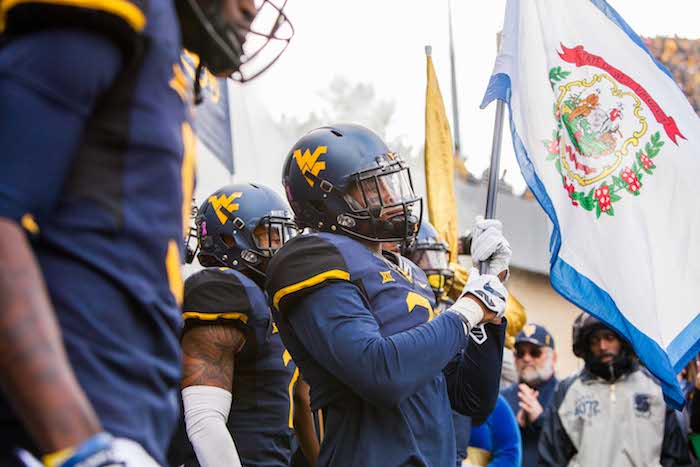 When paired with the gold uniform, these things look awesome but on its own, I went with the originals. It is slick and you can not really go wrong with these. They have been a staple for the Mountaineers for a long time now.
9. Iowa State's White Helmet
If we were doing a throwback helmet ranking, the Cardinal with the tornado underneath would have been a top choice for me. However, those days are long gone, and we are stuck with these. I know the black helmet is a popular choice, but I am not all that crazy about it. I went with the white classic helmet because I think it makes the logo pop more. Sorry Cyclone fans but I am not digging the helmets.
10. Kansas KU Helmet
Not much to say here. I think the Jayhawks have the worst helmets in the Big 12 and that is fitting for their football team. The oversized Jayhawk is an abomination, so I had to go with the "KU" logo helmet. I prefer the blue, but the white is not all that bad.
**Want to win a $25 gift card? Go sign up here and join our conversation! The best poster each week wins a gift card to your favorite establishment!**