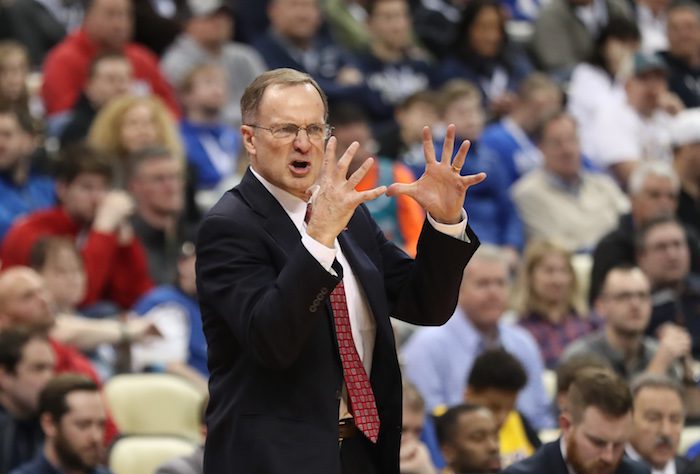 Record: 19-12 (9-9 in Big 12)
Postseason: All postseason tournament action was canceled due the coronavirus. Oklahoma was a bubble team for the NCAA Tournament.
Seniors losing: F Kristian Doolittle (15.8 ppg, 8.9 rpg, 2.0 apg).
Any NBA Bound?: Doolittle has a potential NBA future. He won't be drafted, but he'll have the chance to go to training camp with an NBA team and find a place with a G-League team.
Any One-and-dones or early entries?: None.
Any transfers: Jamal Bieniemy put his name in the transfer portal. C Corbin Merritt transferred to Austin Peay.
Elijah Harkless is transferring from Cal State Northridge and Umoja Gibson is transferring from North Texas.
Top players expected to return: F Brady Manek (14.4 ppg, 6.2 rpg), G Austin Reaves (14.7 ppg, 5.3 rpg, 3.0 apg), De'Vion Harmon (7.4 ppg, 1.8 rpg, 2.0 apg), G Alondes Williams (6.0 ppg, 1.9 rpg).
The player(s) you don't know about: Jalen Hill was the No. 2 player in Oklahoma's four-player 2019 recruiting class. He played little during his freshman season, but with the departure of Doolittle, plus Merritt's transfer, it opens up the door for Hill to take a more assertive role in the rotation next season. He was the Nevada Gatorade state player of the year for the 2018-19 season.
2020 recruiting class: G Trey Phipps, 6-foot-2, Booker T. Washington (Tulsa, OK).
With only one senior out the door, and two transfer scholarships already accounted for, there wasn't much room for a large class this year. Phipps comes from a hotbed school in the Tulsa area and is the No. 4 ranked recruit in Oklahoma. There is enough depth on this team to allow him to redshirt if the Sooners desire.
Commitments yet to sign: The Sooners don't appear to have any additional signings for the 2020 class, per 247Sports.com.
Summarizing the season: Not much was expected of Oklahoma at the start of the season, as the Sooners were ranked No. 8 in the Big 12 preseason coaches' poll. But the Sooners ended up as the No. 3 seed in the Big 12 Tournament, even though they finished with a 9-9 league record. The Sooners were on the of the few programs that finished the season with three players averaging at least 14 points per game (Doolittle, Manek and Reaves). If Baylor and Kansas were elite, then Oklahoma was the best of the rest in the Big 12 and head coach Lon Kruger squeezed as much as he could out of that team. Harmon proved a solid player in the starting lineup as a freshman, while Williams developed into a nice role player off the bench. Aside from that this was not a deep Sooners team in 2019-20 as Kruger relied heavily on his starting five and Williams by season's end.
Doolittle was on the All-Big 12 First Team, Manek was on the All-Big 12 Third Team and Reaves was on the All-Big 12 Newcomer Team.
Looking ahead to 2020-21: The Sooners should be better in 2020-21, as they lose just one senior, though the departure of Doolittle is significant. With the two scholarships left from the transfers of Bieniemy and Merritt, Kruger was able to lure a pair of transfers that averaged double-figures last year — Harkless and Gibson. That should make a difference offensively for the Sooners, as they're trading in about 24 points per game (Harkless and Gibson) for the six points Bieniemy and Merritt averaged last year. Manek should move front and center as a senior, and Reaves should continue to be one of the best 3-point shooters in the Big 12. Harmon's growth from freshman to sophomore year should allow him to emerge as one of the Big 12's better players, and Williams should grow into a more prominent role. From there, Kruger and the Sooners need players like Kur Kuath, Victor Iwuakor and Hill to be more meaningful contributors off the bench to fill out a rotation that Kruger likes to have eight or nine players deep by Big 12 action. The Sooners look like the could be the 'best of the rest' team once again next season, if a few players develop the way Kruger and company are hoping. But, right now, the Sooners don't look like a team that has the goods to challenge the Big 12 co-favorites, Baylor and Kansas. 
**Want to win a $25 gift card?  Go sign up here and join our conversation! The best poster each week wins a gift card to your favorite establishment!**