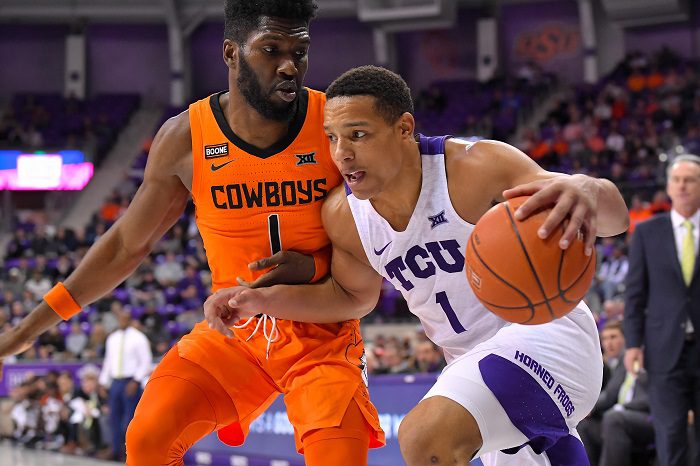 Record: 16-16 (7-11 in Big 12)
Postseason: All postseason tournament action was canceled due the coronavirus. TCU was tracking as a bubble team for the NIT Tournament.
Seniors losing: G Desmond Bane (16.6 ppg, 6.3 rpg, 3.9 apg), G Edric Dennis Jr. (6.4 ppg, 1.6 rpg, 2.4 apg), F Jaire Grayer (7.7 ppg, 4.6 rpg, 0.5 apg).
Any NBA Bound?: Bane has the talent and potential to be drafted by the NBA. If he's not, there will be a rush to get him on a camp contract by a number of NBA teams, and a two-way NBA/G-League contract isn't out of the question.
Any One-and-dones or early entries?: None.
Any transfers: C Russell Barlow is transferring to Cal Baptist.
G Charles O'Bannon transferred from USC. O'Bannon redshirted last season.
Top players expected to return: G RJ Nembard (11.8 ppg, 3.8 rpg, 98 assists), C Kevin Samuel (10.1 ppg, 8.4 rpg), G PJ Fuller (5.7 ppg, 1.8 rpg), G Francisco Farabello (3.9 ppg, 64 assists).
The player(s) you don't know about: F Kevin Easley is absolutely a Horned Frog to watch next season. The transfer from Chattanooga sat out the 2019-20 season, and frankly TCU could have used him. In his freshman year with the Mocs he led the team with 14.2 points per game, and he also hauled in 6.7 rebounds and shot nearly 40 percent from the 3-point line. The departure of Bane is going to leave a big hole in the backcourt. Easley is a player that could absolutely fill it next season.
2020 recruiting class: F Terren Frank, 6-foot-7, Sierra Canyon (Chatsworth, CA); G Mike Miles, Lancaster (Lancaster, TX); C Eddie Lampkin, Morton Ranch (Katy, TX).
Even with three recruits, TCU finished the cycle with the No. 47 recruiting class in the country, thanks to a pair of Top 200 national recruits in Frank and Miles. Both would be nice additions to the rotation. Lampkin is a developmental prospect that Samuel can tutor. The thing is, with as many returning players as the Horned Frogs have, this trio might not even need to take the floor in 2020-21. They could all redshirt.
Commitments yet to sign: The Horned Frogs don't appear to have any additional signings for the 2020 class, per 247Sports.com.
Summarizing the season: The Horned Frogs entered last season with a wave of players that had transferred away the previous spring, and to answer that wave head coach Jamie Dixon nearly left for the west coast and UCLA. Once it was clear he was staying, the Horned Frogs took in four transfers and four more recruits to try and answer the bell for the season. The Horned Frogs has a core of three players to build on — Bane, Samuel and Nembhard. All three had fine seasons. The rest of the team filled in as best they could, but no one became a consistent, assertive fourth option. One night it was Grayer, one night it was Dennis and one night it was Fuller. Farabello is a player the Horned Frogs were hoping would be a starting point guard right away, but he had an up-and-down year and by season's end Bane was the primary ball handler. The Horned Frogs had nine players that played at least 25 games, but only a half-dozen had a real impact. Most nights, if Bane didn't play great, the Horned Frogs didn't win. Still, the Horned Frogs managed to fight through a six-game losing streak midway through the Big 12 season to finish .500 for the season.
Bane was an All-Big 12 First Team selection.
Looking ahead to 2020-21: First, losing Bane is a huge blow for this team, much like losing Kenrich Williams two years ago. He was a do-everything kind of player for the Horned Frogs and will be hard to replace. But, Samuel should be one of the top two or three centers in the Big 12. Nembhard made such strides from his freshman year to last year that I could see him being the focal point of the perimeter offense and building on his scoring average from last season. Then comes the hard part. There's a lot of potential and a lot of unknown. Fuller and Farabello will have to take on larger roles offensively next season. Both have the potential to do it, and Fuller showed real progress at the end of the season. Jaedon LeDee (a transfer from last season) and Diante Smith, a member of the 2019 recruiting class, will get more opportunities next season.  Then there are two key transfers. Easley should be an instant plug-and-play offensively. Charles O'Bannon, who transferred to TCU after starting last season at USC before a finger injury sidelined him for the season, should be available at some point next season. His father, Charles, and his uncle, Ed, played on UCLA's 1995 national championship team. So he has basketball pedigree. The Horned Frogs were a chemistry set last season, and TCU managed a .500 record. Dixon and staff will have to play mad scientist again next season, only without their most reliable offensive weapon. 
**Want to win a $25 gift card?  Go sign up here and join our conversation! The best poster each week wins a gift card to your favorite establishment!**