During these tough times everyone (including myself) is trying to fill that empty sports hole inside with just about anything we can think of. Whether it is debates on social media or in the office, now more than ever, people just want their sports back. While they may not be back just yet, I have been trying to keep up with all the latest trends going on in the land of Twitter and something caught my eye last week. Someone decided to rank their top ten favorite college football uniforms and I thought why not do one for the Big 12?
Here I will pick my favorite uniform from each Big 12 team and see how they stack up against one another. Keep in mind, I did not research too far because some teams have worn so many different uniforms that it would be nearly impossible to find them all and compare them. So instead, I just took uniforms from last year to make things a little simpler. So, without further due, these are my favorite Big 12 uniforms.
1. Oklahoma State's All Black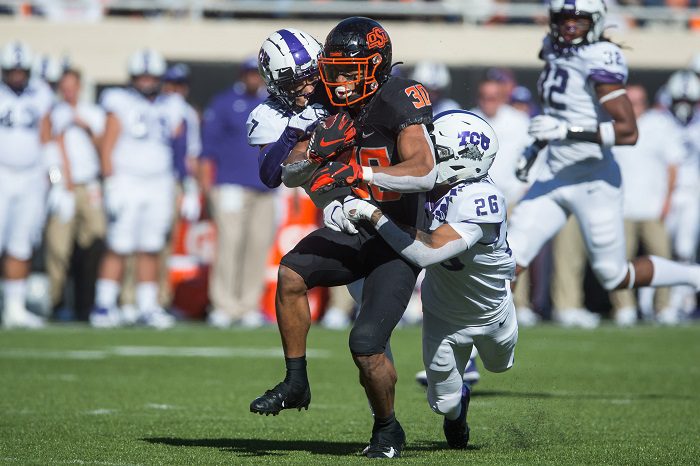 I just could not help myself. I am a sucker for all black uniforms and when you add a touch of color in them, I am all in. These are sleek, and the orange number really pops. Oklahoma State wears a ton of uniforms and while the homecoming ones are always the best, these have been a staple for years and this look never disappoints. 
2. Texas Tech's Red Throwbacks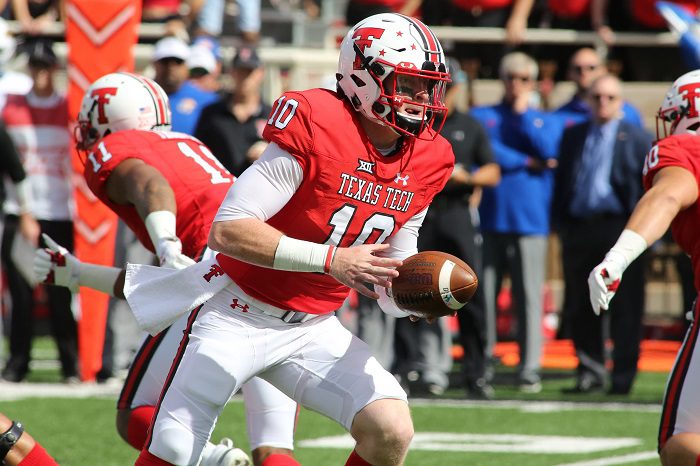 I get it, there is nothing special or iconic about these uniforms. They are plain red but boy do these uniforms look good. Maybe it is the white numbering that makes them shine but when paired with the white pants, I think this is the most underrated look in the entire conference. I just wish Tech would wear them more than once a year.
3. Texas All White
Obviously burnt orange is what comes to mind when you think about Texas but how about these icy whites? Every team does the all whites now, but I still think Texas has the best road uniforms in the Big 12 and maybe even the entire country. It is clean and the burnt orange in it makes you know exactly who is playing when you turn on the tv.
4. Oklahoma's Regular Home Uniforms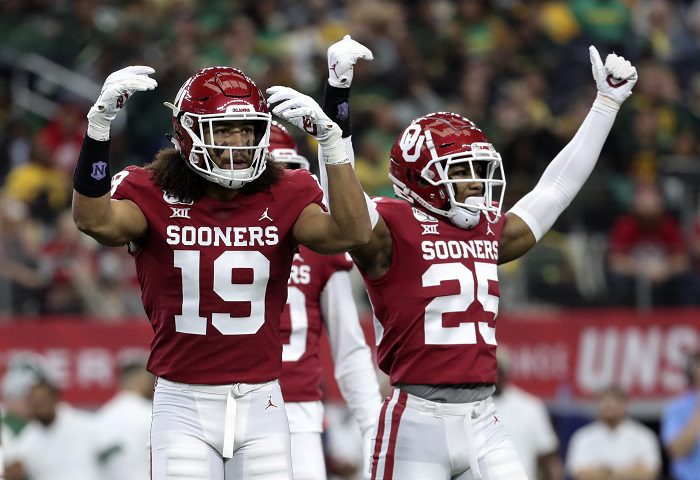 I really hate that Oklahoma has different versions of these but to me, this should be the only one. The classic crimson and the clean pants make this thing a beauty. It takes you back years and years ago and this look will never get old. Much like the Texas uniforms, these are a college football staple.
5. Iowa State's Road Uniforms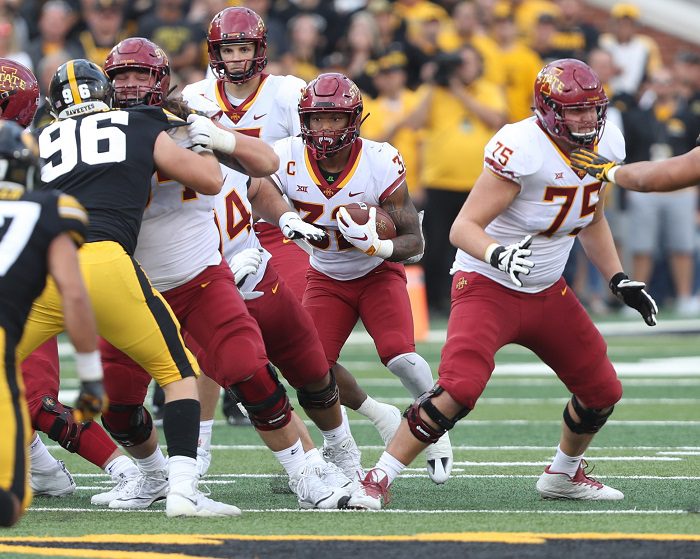 I know people will ask me about the all black uniforms, but I will be honest. I am not crazy about those and to me these are my favorite Cyclone jerseys. The shade of the numbers in that light cardinal and the gold look shiny when worn on those white uniforms. Much like the Tech old red uniforms, these are underrated in my eye when we talk about Big 12 uniforms.
6. West Virginia's All Gold
Now West Virginia has an array of uniforms but for some reason, these have always been my favorite. When worn with the gold helmet, these are a thing of beauty or an eye sore depending on who you ask. But to me, these are beautiful.
7. Kansas State's Home Uniforms
There is nothing fancy about these, but they just work. They are sharp, and the silver helmets work perfectly with this. Again, nothing crazy here but I think it works simply fine in my book.
8. Baylor's All Green
I wish Baylor never had the uniform changes last year, but I understand it was time for a new look. I am not a huge fan of any current Baylor uniform but gun to my head, I will take the all green look.
9. Kansas All Blue
Hey, Kansas is not last in something football related! That is a good start for 2020, right? While I do not hate this look, I do not exactly love it either. I wish the Jayhawks would try something different, but these are not too bad.
10. TCU's All Black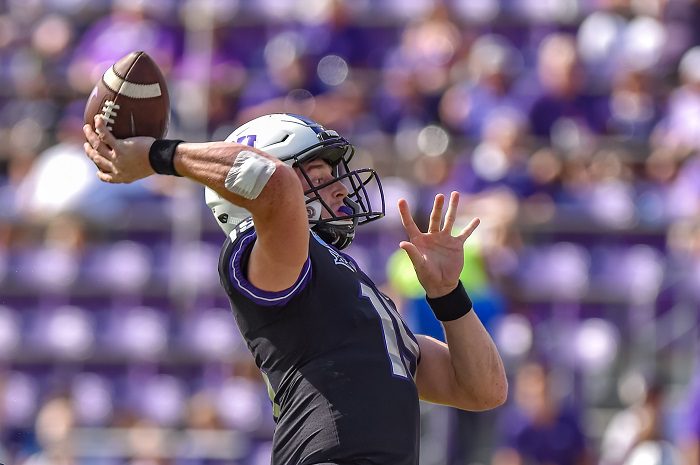 This may be a hot take to some but my gosh TCU, what in the hell did you guys do last year? They went for a new revamped look and I believe it fell flat on its face. I used to think TCU had some of the best uniforms out there but now every jersey has these ugly diamond shapes around the collar and to me, this completely kills the opportunity of looking good. 
**Want to win a $25 gift card?  Go sign up here and join our conversation! The best poster each week wins a gift card to your favorite establishment!**